Home to over 30 million people, Malaysia, in Southeast Asia, is quite the melting pot when it comes to cultures and ethnicities. Diverse, welcoming, beautiful, there is so much to see and do in Malaysia. Most of the tourists coming here visit Peninsular Malaysia rather than East Malaysia which is on the island of Borneo, and far quieter and less developed. Getting around Peninsular Malaysia is quite easy, with good transportation options to take you from the border with Thailand in the north, down to the border with Singapore in the south. Roads are well maintained, and other transport infrastructure is very good compared to some other countries in the region, making getting from A to B even easier.
Is it Safe to Travel by Bus in Malaysia?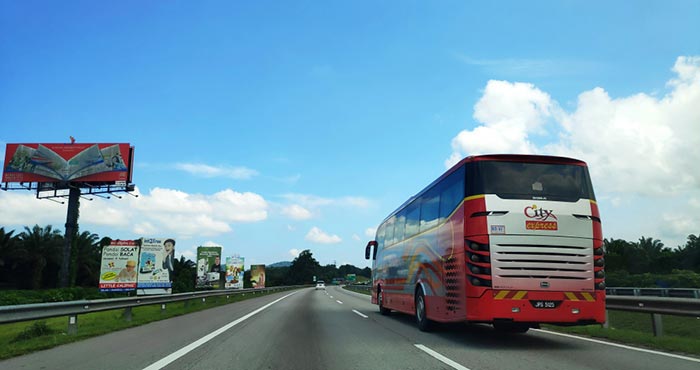 As we mentioned above, the highway network and condition of roads in Malaysia is surprisingly good if you've been used to traveling around other Asian countries and experienced roads that are not in good shape. Local roads may be a little rougher than the main highways, but in general you'll have a smooth ride on a bus in Malaysia. The road network covers the majority of Peninsular Malaysia including the North-South Expressway which runs up and down the country, covering a distance of 966 kilometers (604 miles), so this is the longest expressway in the country, helping to get you from one city to another in good time. With more roads in Malaysia than there are railway lines, getting around by bus is also more convenient (and cheaper) than traveling by train as you can get to far more places by road than you can by rail, while saving money over the cost of a train ticket.
But is it safe to travel by bus in Malaysia? Like in any country there are always some risks to taking public transportation. Malaysia has seen some bad bus crashes in recent years, but so too have other countries in the region. Usually the problem is a speeding bus driver and some questionable overtaking so that the bus can make up time and try to arrive at its next destination on schedule. Unfortunately, this doesn't always work out. If you're traveling on a long-distance bus in Malaysia, be sure to book with a reputable company. Some have speed limiters installed on their buses so that the bus cannot exceed safe speeds, and although it may take you a little longer to get to your destination, a bus that travels slower and has regular rest breaks for its driver, will be safer than one that's speeding.
As a single woman traveling alone on buses in Malaysia, you shouldn't have any problems, especially on the private bus companies. On public buses you may be approached more often but on a private bus this is less likely to happen, or when traveling on a minibus as you'll generally be sharing minibuses with foreign tourists anyway. Just be vigilant, as should anyone traveling alone, and keep your expensive or personal belongings on you and out of sight.
Types of Buses in Malaysia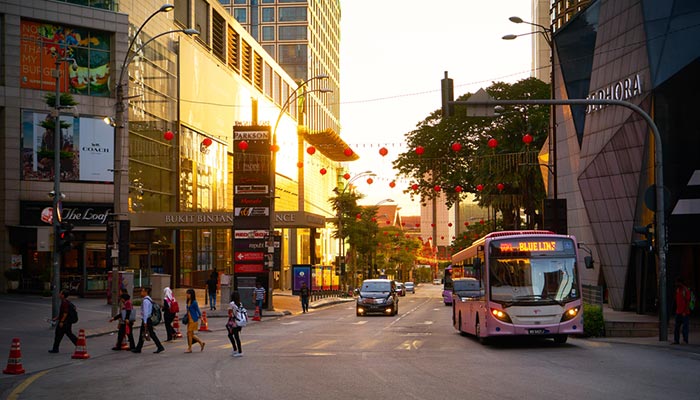 When you're traveling around larger cities like Kuala Lumpur you might take advantage of local bus services to get you from attraction to attraction within the city, and to get you to some of the city suburbs. With traffic being renowned as extremely heavy though, you may actually prefer to travel by light rapid transit as these cover a large part of the city and should get you around much faster.
In smaller towns and rural areas, you're going to have to rely on local buses as there won't usually be any other options. The good news is that traveling by bus in Malaysia is always incredibly cheap, so it won't cost you much to travel from place to place. The bad news is that the local roads are not as well maintained and the drivers in rural areas can tend to be even more crazy on the roads, so it can be a little hair-raising at times!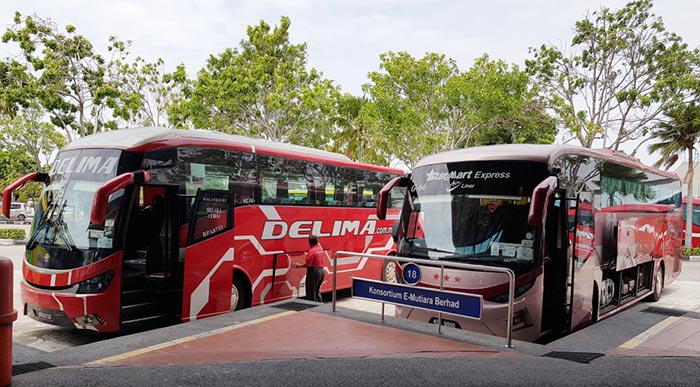 What you'll probably use most in Malaysia are the intercity bus services. These services are offered by many different private Malaysian bus companies, offering an affordable way to travel longer distances. There are lots of companies to choose from and their services are going to be pretty similar, but there are a few things you should look out for.
It's a good idea to read what previous passengers have said about the service, so look for reviews. If you're booking tickets online through a travel website like 12Go.asia, you can search for tickets and read reviews all in one place, very easily. Things to look out for include whether the buses departed on time and arrived on time, how many stops they had, whether it felt safe, and what the facilities onboard were like.
You can also compare bus types and book accordingly on 12Go. If you're able to go for one of the more luxurious buses, this is highly recommended. Standard buses will have around 44 seats on them, but if you look for one with fewer seats, around 24 or 27 seats, you will end up with far more space, resulting in a more comfortable journey. These buses will cost more, but if you're on a long trip, the extra cost is certainly worth the money considering going by bus in Malaysia is far cheaper than other transport options anyway.
The best known and usually most respected bus companies include Super Nice and Aeroline, while several different bus companies are actually part of Malaysia's largest bus operator (Konsortium Transnasional Berhad). These includes the brands Transnasional, Nice, Plusliner and Cityliner.
All of these companies will offer modern buses with air conditioning, but do be aware that the air conditioning is often set way too high, resulting in a very cold bus! It's highly recommended that you wear long pants and bring a sweater and possibly even a small blanket, because the chances are high that you'll feel cold.
There are also Airport Buses in Malaysia, if you're traveling from one of the major airports into the city center, and, you may be surprised to hear that there are some free bus services within the bigger cities too, to encourage people to use public transport. This includes in KL and the state of Selangor, as well as special shopping mall buses, so do look out for these if you're traveling around a city.
Where to Buy Your Tickets for Bus Travel in Malaysia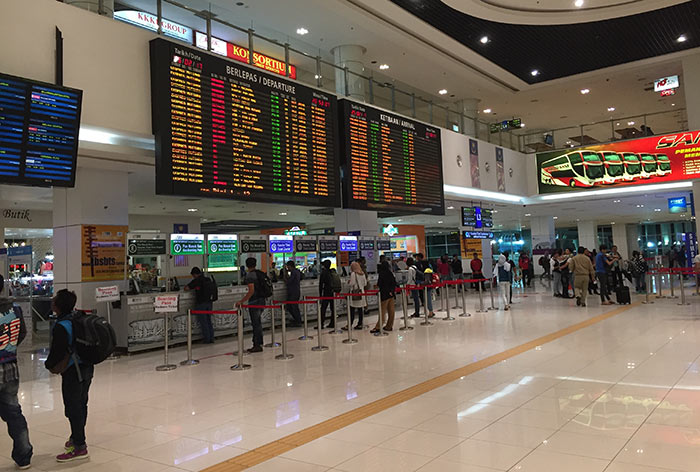 Before we talk about where to buy your Malaysian bus tickets, let's discuss whether you should buy tickets in advance. Let's be honest, if you can buy your tickets in advance it's always a good idea to do so for your own peace of mind. If you're already booking your hotels and attractions in advance, it makes sense to book your transportation too, and when you can easily book online these days it's very simple to book in advance. As mentioned above, websites like 12Go are a great source for this as they give you multiple bus company options and multiple departure times and departure points, and the opportunity to compare them all in one place.
Another thing to consider is the time of year you're traveling. During Malaysian holidays such as Ramadan, Chinese New Year, and Christmas, locals like to travel back to their home cities to be with family. Because bus is the cheapest way to travel, they will get booked up in advance, so you really must buy your tickets in advance if traveling during or around these, and other, holidays.
At other times of the year, because there are so many bus companies and multiple departures every day, you can often turn up at the bus station on the day you want to travel, and find a seat. As we said above though, if you can book in advance, we would recommend it as this way you get to choose the bus company and type of bus rather than having to settle for whatever is left.
So, where should you buy your tickets? You can go to the individual bus company's websites and search and book online with most of them. You can also go to major bus stations and buy your tickets directly from the bus company desk. If you do this, make sure you go to the desk and don't be fooled by people asking you if you need tickets and offering to help. They will usually charge you more than the ticket price and may get you on a bus that's not quite as good as other options.
Our recommendation would be to buy tickets for bus travel in Malaysia through 12Go as they are a well known and reputable company. If anything should go wrong, they are available to assist and it's always good to have a larger company backing you while on vacation.
Traveling by bus in Malaysia is convenient and affordable, with many buses always departing and multiple routes that can get you almost anywhere in Peninsular Malaysia. The flexibility of buses and their routes means they're often better for foreign tourists than trains or airplanes, and they certainly cost less. Although going by bus may take longer than flying, depending on the route you're traveling it could end up taking the same amount of time on a bus as going by train does.
How useful was this post?
Click on a star to rate it!
Average rating / 5. Vote count: