Situated 30 kilometers (19 miles) off the mainland coast of northwestern Malaysia, the island of Langkawi is a truly spectacular place to visit, renowned for its Cable Car and Sky Bridge, beautiful beaches, and Geoforest Park. With so much to see and do, taking a trip from Penang to Langkawi is highly recommended if you're hoping to see some of the best of what Malaysia has to offer.
What Ways are there to Travel from Penang to Langkawi?
From Penang to Langkawi by Air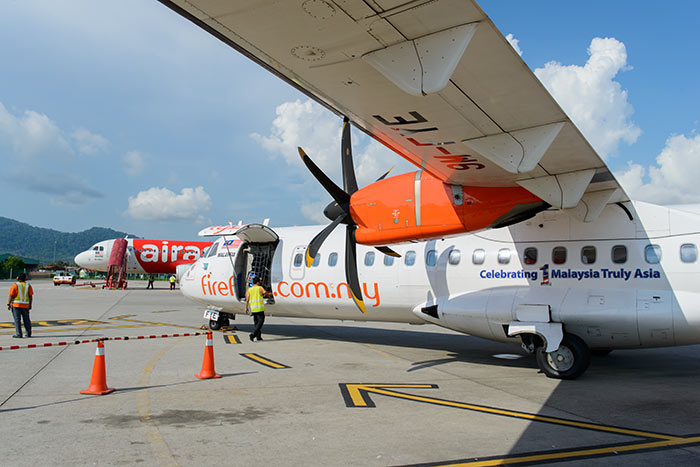 The advantage of traveling by air is that it's fast, and with only around 119 kilometers (74 miles) separating the islands of Penang and Langkawi, the flight is very quick. It's about a 35-minute journey, so if you choose to catch a flight to Langkawi from Penang, you won't be climbing very high; in fact, it will seem as though you've only just climbed from the runway at Penang and just a few minutes later you'll be descending to land already!
With flights being so fast, this is a great way to get between the two islands if you're trying to see as much of Malaysia as possible in the shortest amount of time. Usually the cost would be an inhibitor for catching a flight to Langkawi, but, tickets with the two airlines operating this route – AirAsia and Firefly – are surprisingly affordable. You may find that if you book your airplane tickets a little in advance, you can get a great deal that is actually not too much more expensive than taking the ferry. And, because the flight is so fast, even travelers who dislike flying would barely have time to think about it!
AirAsia operates flights to Langkawi from Penang three times per day, and they are all at sociable hours. Penang International Airport is one of the busiest in Malaysia, and although Langkawi International Airport is smaller, it is still well equipped for today's traveler.
The High-Speed Ferry from Penang to Langkawi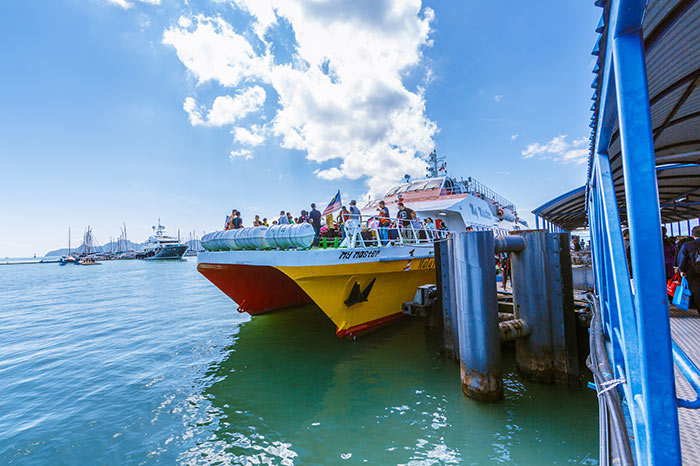 If you're not keen on flying, your journey to Langkawi will have to involve a ferry somewhere along the way. Among the most popular ways to get from Penang to Langkawi is the direct, high-speed ferry. There are two ferries per day operated by Langkawi Ferry Services, departing in the morning and early afternoon. The scheduled journey time is 2 hours and 45 minutes although it will often take longer than this if the water is rough because the ferry must travel at slower speeds. Bearing this in mind, anyone who suffers from sea sickness may want to consider flying because these ferries are often bumpy even when the waters are relatively calm.
Travel by Bus and Ferry from Penang to Langkawi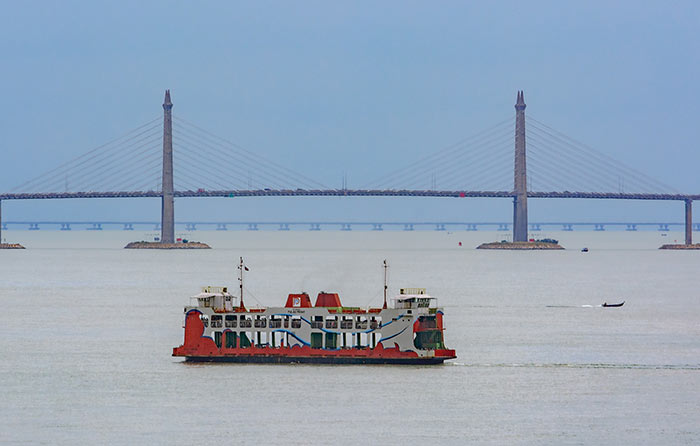 If the idea of traveling to Langkawi by ferry does appeal to you but you'd prefer a shorter ferry ride, there are several different options for ferries and buses. Some will involve a longer bus ride, but the advantage with this is that the ferry leg of the journey will be shorter. Although the whole journey will involve a couple of changes, getting from Penang to Langkawi by bus and ferry is quite a bit cheaper than buying a ticket for the high-speed direct ferry, so if you're traveling on a budget this could be a good option to consider.
So, there are a few different options. From Penang, you can take the ferry to the mainland, to Butterworth. The bus station is literally right next door to the ferry terminal, so walk a few steps and then catch a bus to Alor Setar. From Alor Setar you'll need to catch another bus which will take you the 15 kilometers (9 miles) to the ferry terminal, at Kuala Kedah.
Ferries from Kuala Kedah operate to Langkawi almost every hour, between the hours of 7am and 7pm. Compared with Penang to Langkawi, the ferry trip is quicker, taking approximately 1 hour and 45 minutes.
The other option is to catch a bus from Penang to Butterworth, then head north on a bus to Kuala Perlis. The advantage of taking this bus and ferry journey is that you're already traveling towards Langkawi, which is north of Penang. Kuala Perlis is then opposite Langkawi island so this results in the shortest ferry ride at approximately 1 hour and 15 minutes. In terms of the ferry leg of the journey, this is also the cheapest, and, like the Alor Setar ferry, they depart almost hourly between the times of 7am and 7pm. In total, with the buses and ferries added together, you should still only be paying about half of what the direct Penang to Langkawi ferry costs, so it's great if you're on a tight budget.
Take the Train and Ferry from Penang to Langkawi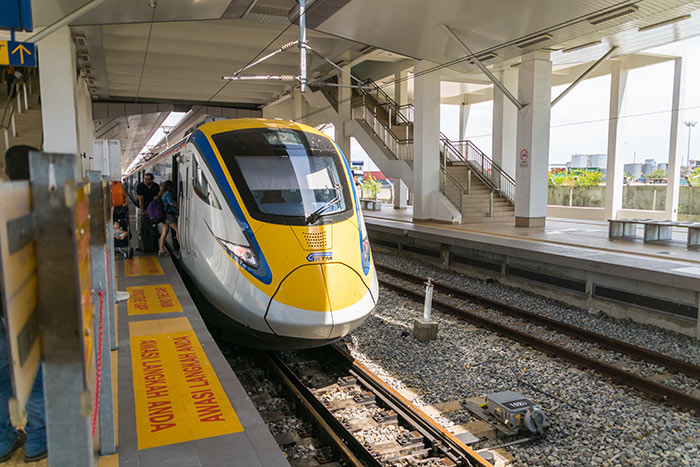 One final transport option to consider is a train and ferry. If you prefer trains over buses this can be a nice way to travel and you'll have several different trains to choose from, depending on your budget and schedule. First, you'll need to get over to Butterworth on the mainland then you can take a train either to Alor Setar or Arau, then transfer from the train to the ferry port. Komuter Trains are the cheapest but they are slow – perfect if you're not in a hurry, while the high-speed ETS Trains will get you to the ferry much quicker but costs more.
So, there are all the options for travel from Penang to Langkawi. Many travelers do opt for the fastest journey time, which is a flight, and considering that it does not cost substantially more than the high-speed ferry, catching a flight to Langkawi does seem to be a good idea.
How useful was this post?
Click on a star to rate it!
Average rating / 5. Vote count: