With its interesting mix of architecture, museums, beaches, parks and temples, Sri Lanka's commercial capital and largest city has plenty to keep tourists entertained or relaxed. Colombo sits on the island's west coast and you'll find there's influence today from all three of Sri Lanka's ruling colonists: the Portuguese, Dutch and British. Not too far to the south, the city of Galle has also retained architecture from the 16th century when it was founded by the Portuguese, and today it's car-free streets are a pleasure to wander around by foot. Galle Lighthouse and the old fort are top attractions in this UNESCO World Heritage listed city, making this a popular place to visit after a tour of the capital.
Read about:
• From Colombo to Galle by Train
• From Colombo to Galle by Bus
Getting from Colombo to Galle – The Options
It's only about 120 kilometers (75 miles) from Colombo to Galle so getting from one city to the other is really quite easy and doesn't have to take too long. By road there are two options – the faster expressway or the slower coastal route – and we'll discuss both of these in detail. You can travel by bus on either of these routes, or take a taxi, but many tourists prefer to take the train in Sri Lanka because it's relatively cheap and always treats you to some great scenery!
Take the Train from Colombo to Galle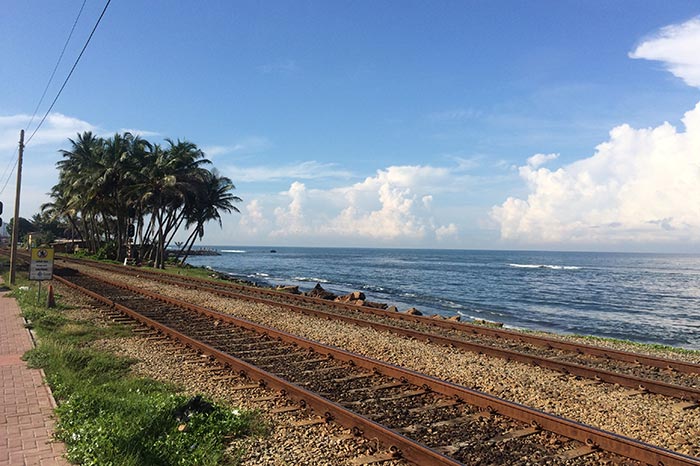 We'll start with the train because this is almost always the preferred way to travel in Sri Lanka, and getting from Colombo to Galle by train is no exception. If you've ever traveled by train in Britain, the whole Sri Lanka Railways system is sure to remind you of the trains and stations in Britain, and there's a good reason for this: the system was modeled from the UK when Britain ruled Sri Lanka and today it still retains that British colonial feel. The trains themselves may be a little more basic than what you're used to but they're still perfectly comfortable and there are toilets onboard.
The best thing about traveling by train from Colombo to Galle is the scenery. This particular railway line hugs the coast so you'll be treated to coastal vistas the entire journey as well as having the chance to see numerous smaller towns up close and personal as you travel through them.
The biggest thing to bear in mind when considering traveling by train from Colombo to Galle is that Sri Lanka Railways has a policy whereby you must book your seats at least 32 days in advance of your travel day. This means you cannot leave your transport bookings until the last minute and will have to plan in advance as to what day you want to travel between these two cities. Usually this isn't a problem, but if you're someone who likes to play your vacation time by ear, planning this far in advance may be something you're not used to!
Although it's not a long distance from Colombo to Galle, the trains aren't exactly fast. It takes around 3 hours and 15 minutes to cover the distance, but when you have all that beautiful scenery to look at the entire journey, the time should fly by! First class seats are available for a good price and although they're called first class, don't expect lots of luxuries – you're getting a comfortable seat and a great view, and that's about it! You will have to make an early start to catch the train though, as they depart at 6:55am from Colombo Fort.
From Colombo to Galle by Bus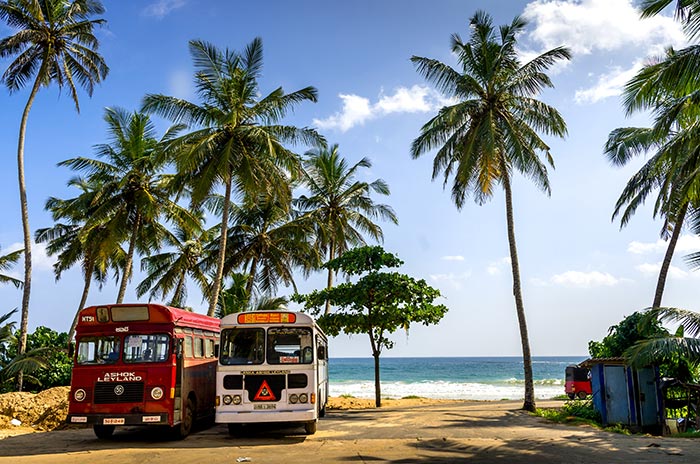 While we, and many other travelers, will recommend going by train, there are also some good options for traveling by road too, including two different buses. If getting up for a 6:55am train doesn't appeal or simply doesn't fit in with your schedule, traveling by bus from Colombo to Galle is a good alternative.
There are express buses that travel along the expressway we mentioned earlier. This is easily the fastest way to get from A to B as you'll be traveling along a dual carriage highway that is quite new and therefore has a nice smooth surface. The buses that travel this way are also newer, comfortable, and feature much needed air conditioning, and they depart regularly throughout the day.
It's recommended that you avoid peak times as these buses are popular with commuters and you may not get a seat, but with departures every 20 minutes, starting from 5am, you should be able to find a bus soon enough. The journey should take between 1.5 and 2 hours.
The second option for bus travel from Colombo to Galle is the coastal route. This has the advantage of taking you along the coast and through numerous coastal towns, like the train, except that these public buses are not half as comfortable as the train or the express buses. Expect hard seats, lots of people getting on and off, and no air conditioning, and a much longer journey. For this reason, if you want to travel along the coast, the train is definitely what we would recommend!
The advantage with the buses is that they're very cheap, so when traveling on a tight budget, this may be the best option for you.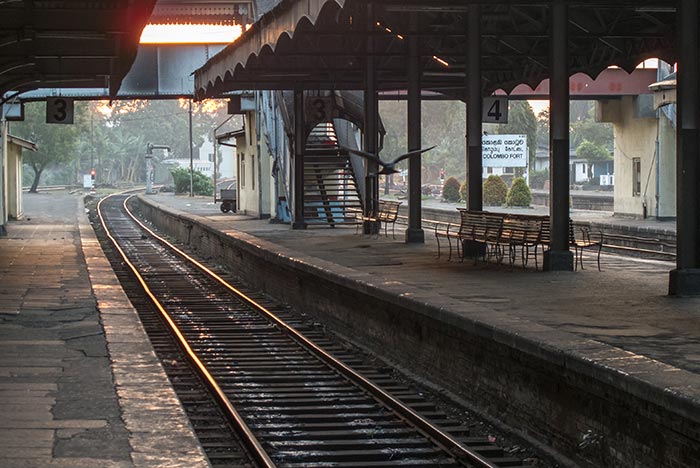 Don't forget, if you want to take the train from Colombo to Galle, be sure to book it at least 32 days in advance and use a reputable online booking service like 12Go.asia for peace of mind.
How useful was this post?
Click on a star to rate it!
Average rating / 5. Vote count: