Formerly known as Rangoon, the city of Yangon is the largest city in Myanmar. A bustling place filled with people, stunning pagodas and temples, and a mix of British colonial architecture blended with modern day high-rises, Yangon has much to see and do. When you tire of the busy atmosphere but still want to experience some of the best attractions in Myanmar, head north to the ancient city of Bagan where the historic Buddhist monuments and archaeological zone has been compared to the likes of Angkor Wat and Machu Picchu. Bagan is definitely one of those places that should be on your bucket list! So, if you're looking for the best way to travel from Yangon to Bagan, read on to find out more.
Read about:
• Yangon to Bagan by Flight
• Yangon to Bagan by Bus
• Yangon to Bagan by Train
Transport Options from Yangon to Bagan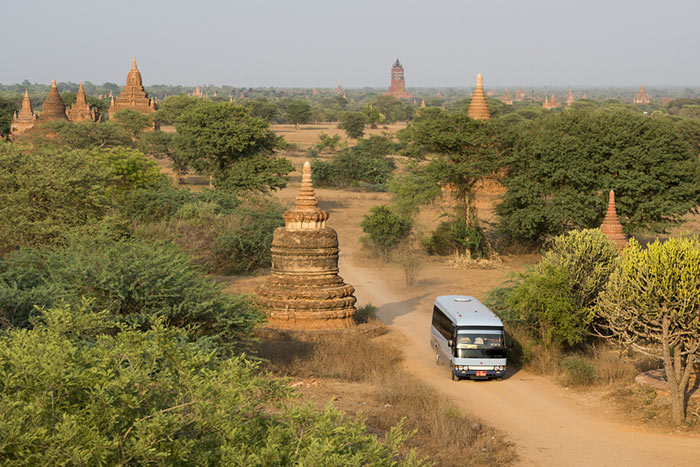 Unfortunately, it's quite a distance from Yangon to Bagan so getting from one city to the other does take some time, however, it's well worth the trip! By road it's around 620 kilometers (390 miles), and if you were traveling in a private car or taxi you should expect it to take around 9 hours, but, most travelers will opt for a bus, because it's nice and cheap, or even a train, which is equally as cheap. The most expensive way to get from Yangon to Bagan is to fly, and, even though it does cost considerably more than other methods it's a great way to quickly get to Bagan so you have more time there to see the old city. We'll discuss the different options below, and let you decide which is the best way to travel from Yangon to Bagan according to your budget and schedule.
A Flight from Yangon to Bagan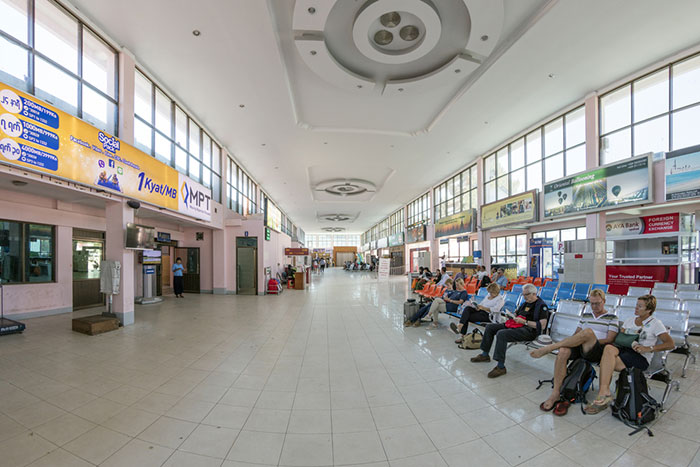 If cost is not an issue for you then catching a flight from Yangon to Bagan is definitely the best way to get there in our opinion, especially if you don't like sitting in fairly cramped conditions for hours on end. The flight only takes around 1 hour and 20 minutes and there are usually up to five different airlines offering this route, depending on time of year and say of travel. These are: Air KBZ, Asian Wings Airways, Mann Yatanarpon Airlines, Myanmar National Airlines, and Yangon Airways.
Tickets are expensive, but if you weight up how long it will take, and the comfort levels, compared to buses and trains, you may think it's worth the extra cost. Shop around for your tickets and if you're flexible on your day of travel you could save a little more. Also, during the low season there are usually some good deals, so look out for those too.
One of the best things with flying from Yangon to Bagan, apart from the short time it takes, is that when coming in to land at the Nyaung U Airport, you get amazing views of Bagan's temples, so do try to get a window seat!
From Yangon to Bagan by Bus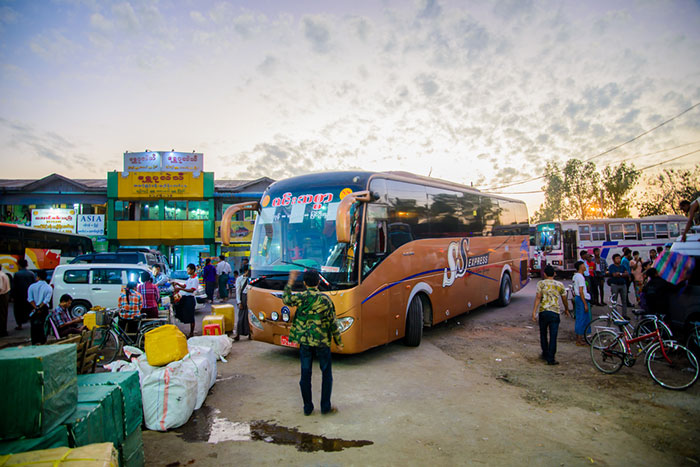 Traveling by bus from Yangon to Bagan is considered to be a good compromise if you're not able or willing to pay the high price for a flight. Yes, buses are fairly slow and the ride can be bumpy on Myanmar's roads, but when traveling on a budget, they are a great option.
Choose from two reputable bus companies: Bagan Min Tha, and JJ Express, and you can opt for both daytime and night buses. A daytime bus with Bagan Min Tha will leave Yangon at 0800, arriving in Bagan around 1800 the same day, so it takes about 10 hours. The advantage with daytime buses is that you can get to enjoy the passing scenery. And, you don't need to worry about feeling too hot when traveling during daylight hours, because the buses are always over-airconditioned!
Because of the length of time it takes a bus from Yangon to Bagan, a lot of travelers prefer to take a night bus in the hope of getting some sleep. The advantage with a night bus is that you're not wasting precious daylight hours, and you don't have to pay for a hotel for a night.
If you choose an Express bus you'll have standard seats and the benefit of toilets onboard, steward service, and snacks, but when traveling overnight it's usually advisable to spend a little more and take a VIP bus instead. Both companies mentioned above do have VIP buses, but for a slightly more luxurious journey, consider traveling with JJ Express.
By Train from Yangon to Bagan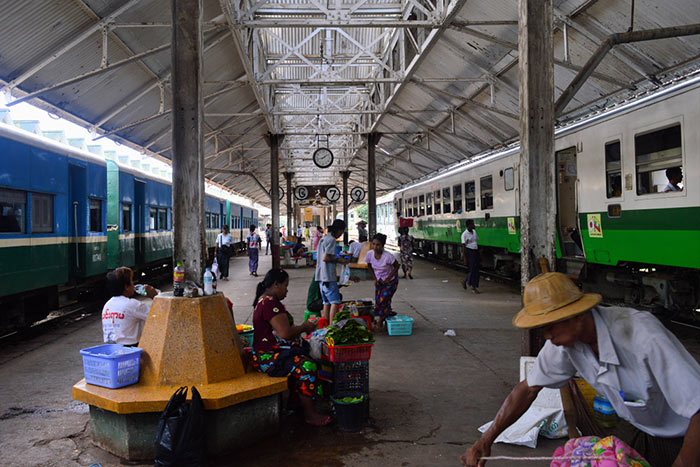 The final option for getting from Yangon to Bagan is by train. This is the slowest way to travel but it can also be one of the cheapest, depending on which class you choose. Going by train from Yangon to Bagan is not usually recommended because of the immense time the journey takes, but there are some advantages to traveling by train… first, it's an experience in itself! Going by train allows you plenty of time to sit and gaze out of the windows at the passing scenery and occasional stupas dotting the countryside. If you opt for a sleeper cabin you will have a bed to sleep on, and if you're traveling with family or friends this can be a nice way to travel if you're sharing a compartment. But, you will probably only want to travel by train if you have plenty of time to spare in your schedule because it takes around 17 hours from Yangon to Bagan!
If you are considering the train you should think about the fact that during the low season there are no sleeping cars offered on the daily train, so you will be restricted to a seat. This may be another reason to take the bus or a flight instead, but the decision is all yours!
How useful was this post?
Click on a star to rate it!
Average rating / 5. Vote count: