Two of the most popular tourist destinations in China are the major cities of Beijing and Shanghai. Beijing, of course, is China's capital; a city full of history and culture with a life stretching back 3,000 years. Home to some of the country's most iconic landmarks such as the Forbidden City, Tiananmen Square, the Great Wall of China, and the Temple of Heaven, Beijing is packed full of things to see and do. But, if you thought Beijing was busy and crowded, Shanghai is even busier. The largest city, Shanghai has quite a different atmosphere to Beijing, making this a popular place to visit after the capital. Situated on the coast, this futuristic looking city is the country's financial heart and is home to the famous Bund with its colonial-era buildings that stand in stark contrast to the high-rises and modern Oriental Pearl TV Tower.
Read about:
• Bus from Beijing to Shanghai
• Flights from Beijing to Shanghai
• Beijing to Shanghai by Train
Options for Travel from Beijing to Shanghai
Although separated by over 1,100 kilometers (700+ miles), the route from Beijing to Shanghai is well traveled, and you can get from one city to the other in record time, depending upon how you choose to travel! There are several options to consider, and which one you go for will probably come down to how much you're willing or able to spend. You can go by road, but we really wouldn't recommend this either in a rental car, or on a bus, as the drive will take you somewhere between 13 and 18 hours. When there are good train and flight options to consider, it's far better to sit back for such a long journey and let someone else do the hard work while you watch the world go by!
Bus from Beijing to Shanghai
We'll talk a little about the buses anyway, as this may be an option if you're traveling on a budget. Buses are the most affordable way to travel from Beijing to Shanghai but it's not good if you don't like being cramped in a relatively small space. The buses used are sleeper buses so that means you essentially get a bed to lie on and at least you can stretch your legs out, however, there is not much head room if you want to sit upright. You will have the benefit of the bus stopping every few hours so you can get off and stretch your legs, but, this does add to the overall journey time so it could take as long as 18 hours to get from Beijing to Shanghai.
Flights from Beijing to Shanghai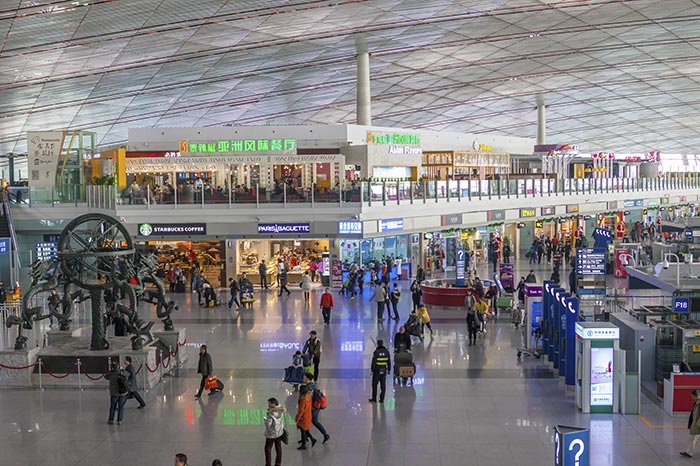 The fastest way to get from Beijing to Shanghai is by flying. The flight time is a little over 2 hours but remember to add in the time it takes to get to and from the airport at either end, and go through security etc. When you add these to your journey, you will probably find that going by air is roughly equal to how long the bullet train takes.
Next there's the cost to bear in mind. Generally, a flight from Beijing to Shanghai is going to be the most expensive way to travel between these two cities, and, there can be great variety between what each airline charges as well so be sure to shop around. You also need to look at which airports the different airlines are using as there are two airports in each city. From Beijing, most airlines will use the Beijing Capital International Airport and arrive at Shanghai's Hongqiao Airport, but, China Eastern Airlines, for example, arrives in at the Pu Dong Airport in Shanghai. Other airlines with flights from Beijing to Shanghai include Hainan Airlines, China Southern Airlines, Shanghai Airlines, and Air China. Of these, Air China appears to be the most expensive, but, as always, try to book your seats as early as possible in order to get the best deals.
Beijing to Shanghai by Train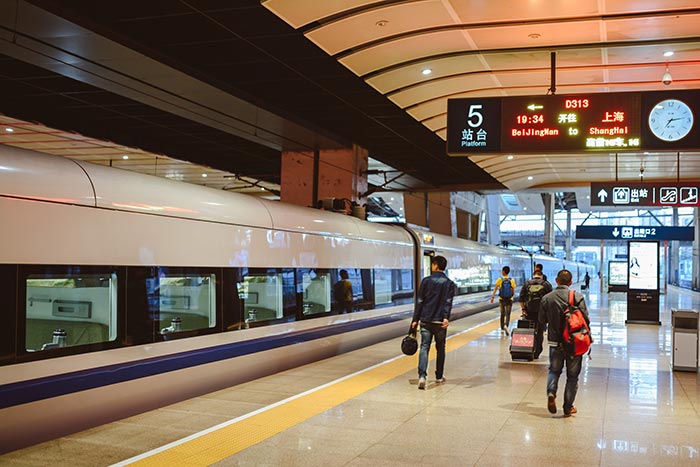 Now to what most travelers will tell you is the most exciting and rewarding way to travel from Beijing to Shanghai, the train! If you're considering the train, the first thing to think about is that there is not just one train traveling this route but multiple trains, and between the three different types of trains there are something like 40 departures every day! Even so, these trains are enormously popular so don't be thinking that you can leave it until the last minute to book your seat – most of the services can only be booked a maximum of 28 days in advance, so this actually gives you quite a small window of time in which to get your tickets sorted. If you know when you want to travel, it's advisable to book your ticket as soon as your day of travel goes on sale. Leave it much longer than this and you could be out of luck.
The three different types of train from Beijing to Shanghai are: G-category High-speed bullet train, D-category express overnight sleeper train, and T-category the original classic sleeper train. As you can probably guess, the cheapest of these is the classic train because it is also the slowest and for most tourists it's the least desirable of the three. If you're looking to save money though, there is absolutely nothing wrong with T-category trains except that they can take anywhere between 12 and 19.5 hours. The cheapest seat is a "hard seat" but do think carefully about buying a hard seat as you're going to be on that train for a very long time! Softer seats as well as soft and hard sleepers should also be available to buy on the T-category trains.
If you're happy to spend more, look at the D-category trains instead. These travel at speeds of up to about 250 kph (156 mph) but they can still take around 11 hours to travel from Beijing to Shanghai so it's a good idea to get a sleeper berth as you will be traveling all through the night. 2nd class seats are also available though if you want to save money.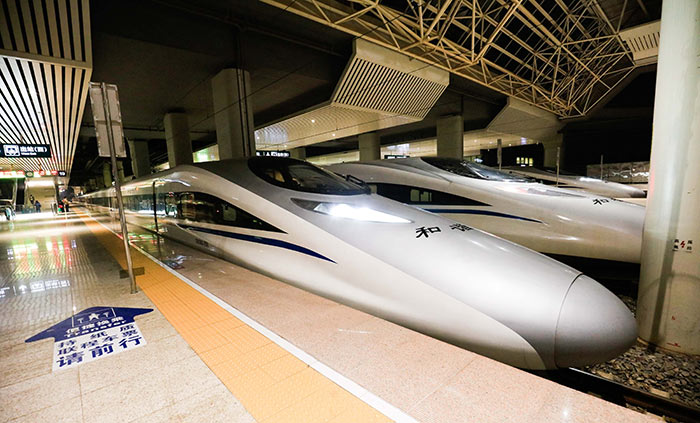 Finally, the most exciting way to travel by train from Beijing to Shanghai: the bullet train. These G-category trains are dedicated to Business, 1st and 2nd class seats because there's no need for sleeper berths when the journey only takes between 4.5 to 6 hours. These trains travel at impressive speeds of between 300 and 350 kph (187 to 219 mph) and they're comfortable too. The main drawback with the bullet trains is that they do cost a lot of money when compared to the classic trains or a bus, and, if you opted to travel business class or 1st class you could be spending as much as you would on a flight from Beijing to Shanghai. That being said, if you have the opportunity to ride on one of these trains, we'd highly recommend it over flying, just for the experience!
So, our recommendation for the best way to travel from Beijing to Shanghai is the train, and particularly the bullet, G-category high-speed trains. Remember, book your train ticket as far in advance as possible (maximum 28 days out) because the trains do fill up quickly!
How useful was this post?
Click on a star to rate it!
Average rating / 5. Vote count: