Known for its many beautiful Buddhist temples, the city of Luang Prabang was the royal capital of Laos up until 1975 and is the ancient capital of the Luang Prabang Province. A place filled with spirituality and heritage, the UNESCO protected Luang Prabang is a destination for your bucket list! Once you've explored the wats, take a trip south to the smaller town of Vang Vieng. It's a popular stop for backpackers and has a relaxed feel about its bars and restaurants making this a nice place to relax for a few days before setting off again. Explore the surrounding limestone mountains and karsts, and go tubing or kayaking on the river before leaving though!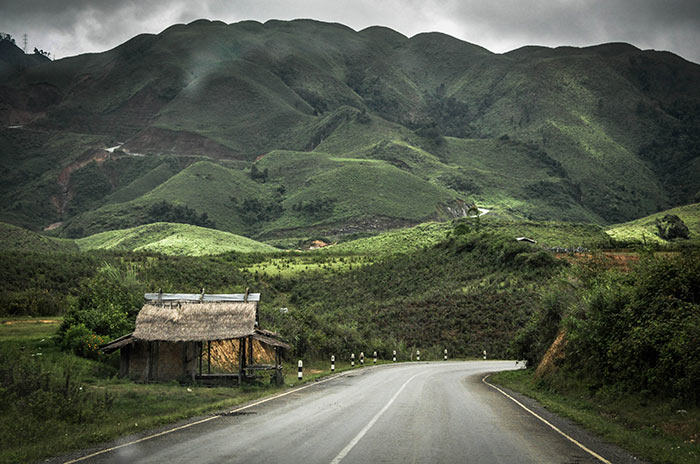 As the crow flies it's only about 110 kilometers (69 miles) from Luang Prabang to Vang Vieng, but, the scenic mountains that stand between these two towns mean that the actual journey by road is over 180 kilometers (114 miles). The distance, combined with the fact that the road winds its way through the mountains, means that this can be quite a lengthy journey by bus or by minivan and you'll probably read several stories of passengers getting travel sick along the way. The two options for travel between Luang Prabang and Vang Vieng are VIP bus and minivan, unless you want to risk driving yourself there, but we wouldn't recommend doing that for several reasons: the condition of the roads can be sketchy so if you're used to driving on smooth paved roads at home, this is going to be a shock for you, and then there's the scenery – if you're focusing on driving all of the time, you wont be able to admire the scenery out of the window!
Bus from Luang Prabang to Vang Vieng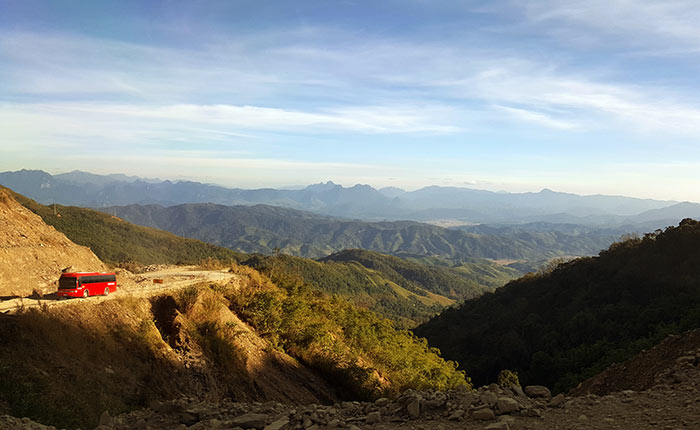 If you're considering taking a bus from Luang Prabang to Vang Vieng, there are a couple of things to bear in mind. First, be sure that you are booking a bus that's operated by one of the tour companies and not one of the local buses. Traveling by local bus will add another couple of hours to an already long journey time, and conditions are likely to be hotter, bumpier and more cramped than they would in a tour bus.
Naga Travel operates a VIP bus service from Luang Prabang Southern Bus Terminal to Vang Vieng. Traveling with them may be a little more expensive than some other options but there are several advantages to going by bus when compared to the minivans. You will have more space in the bus, for example, and you should have toilets onboard which are very useful in an emergency! There will be a stop along the way anyway for bathroom breaks and food, so don't worry about this.
The bus is likely to take about an hour longer than the minivans with a journey time of around 7 hours. One reason for this is that the buses travel at more sensible speeds so, if you're prone to travel sickness, the buses are usually the better option. With Naga Travel you can depart from Luang Prabang at 8am, arriving in Vang Vieng around 3pm.
Luang Prabang to Vang Vieng by Minivan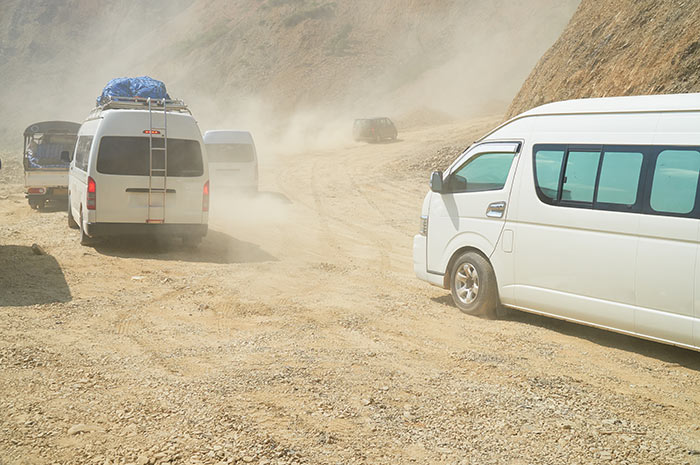 As you have probably already figured out from the bus description above, traveling by minivan is faster than going by bus, at least it does appear to be! In reality, minivans often run to their own schedules so if you have a ticket for a specific departure time, don't expect to leave at precisely that time; you may have one or more hours to wait before you actually depart. This is not specific to the Luang Prabang to Vang Vieng route though – it's specific to Laos and should be expected wherever you're traveling!
That being said, once you're on the road you will reach Vang Vieng faster in a minivan than you would in a bus, but the journey is not a good one if you're someone who easily gets motion sick. The roads are winding and bumpy and it's possible that your driver will be going faster than conditions really allow for. Having one or more passengers vomiting seems to be quite a common sight so you may have to stop a few more times for your fellow passengers to get some air.
Another drawback with minivans is that they can be quite cramped. You will have less space than you would on the bus and if you're sitting at the back you could find that you're sharing your leg room with everyone's luggage.
Traveling by van from Luang Prabang to Vang Vieng does have some other advantages though – there are more frequent departures so it's easier to find a space on a minivan that fits in with your schedule. There is also the cost saving as minivans are cheaper than the VIP buses. And there's the convenience too. Tickets can be purchased through your guest house or hotel and will include tuk-tuk transportation from where you're staying to the bus terminal so you don't have to worry about getting to the terminal yourself. Booking through your hotel is great for convenience if you're someone who isn't comfortable buying travel tickets.
Talking of buying tickets, you can often still find tickets right up to your day of departure but we would recommend buying your tickets a little more in advance to be on the safe side. You can get them through your guesthouse or hotel but for peace of mind, it's always advisable to buy them from a reputable travel company as you have more guarantees should something go wrong.
Whether you choose to travel by bus or by minivan from Luang Prabang to Vang Vieng, be sure to pack your camera for the beautiful mountain scenery you'll be passing along the way!
How useful was this post?
Click on a star to rate it!
Average rating / 5. Vote count: