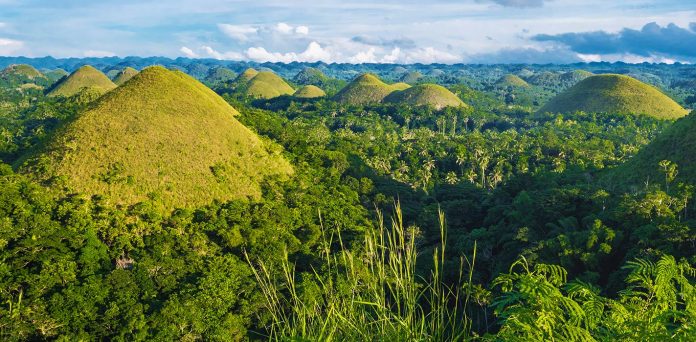 With thousands of islands in the Philippines, it makes sense to island hop while you're here! There are many recommended places to visit, such as Cebu City – the oldest city and first Spanish settlement – where there are still plenty of historical buildings and forts to explore, and the city is a gateway to great beaches and dive sites. From here you can pop over to Bohol, the tenth largest island of the Philippines, which is known for its excellent beaches and resorts as well as the scenic Chocolate Hills, caves, and waterfalls, plus some wonderful smaller islands just off the coast. Whether you want to relax on the beach or get more active, both Cebu and Bohol have beaches and plenty more.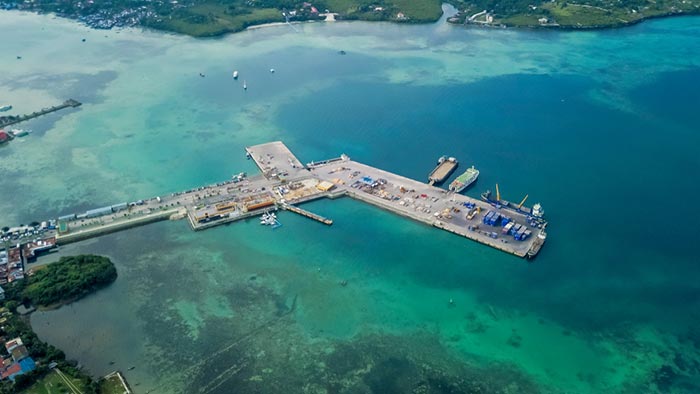 Options for Travel from

Cebu to Bohol
As both Cebu and Bohol are islands, and they are not connected by any bridges or tunnels, you're going to have to cross the water to get from Cebu to Bohol, across the Cebu Strait. It's roughly 38 kilometers (24 miles) in a straight line from one side to the other, but the main ferry crossing actually goes to Tagbilaran, on the south end of Bohol, which makes this more like a 90 kilometer (56 mile) trip. There are standard ferries which are pretty slow, but the better option for tourists are the fast ferries, because, even though they are fast they still take around 2 hours! Catching a flight from Cebu to Bohol is another option, but there aren't direct flights meaning you will have to stop over somewhere else first and then get a connecting flight. With the cost and the hassle of traveling by plane from Cebu to Bohol, we really wouldn't recommend it unless you are extremely adverse to traveling by ferry.
Fast Ferries from Cebu to Bohol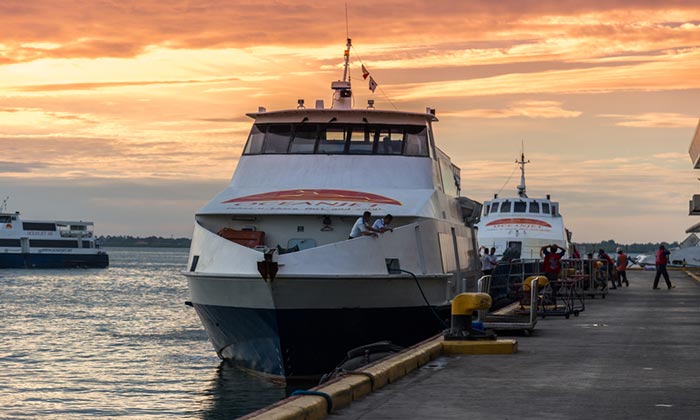 There is a total of five ferry companies who offer a fast service from Cebu to Bohol, and they all have multiple departures every day. FastCat and Weesam Express do have fewer departures than Super Cat, OceanJet, and Starcraft, but are still good options, and, no matter which ferry operator you decide to go with, the crossing time should always be around 2 hours, so no one ferry is faster than the others. Price-wise they should all be very similar as well, although be sure to check the different classes of seats because some are quite a bit more expensive than others.
You can book ferries from Cebu to Bohol online through the travel website 12Go.asia. They have partnered with OceanJet who have many departures all through the day, starting as early as 5:10am. There's not usually much more than an hour between all of their departures, and sometimes less when they have additional ferries operating during peak morning and afternoon hours. The last ferry of the day with OceanJet is at 6:40pm from Cebu, arriving at Bohol at 8:40pm.
With OceanJet you have three different ticket options, depending on your budget. The cheapest is to buy an Open-Air ticket. This will give you a seat (not an especially comfortable one at that) on a deck that is open to the sides without windows. While comfort levels aren't as good here, it's a nice way to enjoy the breeze and the fresh air, and watch the scenery. For just a couple of dollars more you may prefer to buy a Tourist Class ticket. This will give you a comfier seat inside where there's air conditioning and TVs for entertainment, but if you want an even more comfortable seat opt for Business Class as the seats are far more padded in this cabin. Business Class tickets cost about double what the Open-Air tickets do.
As we mentioned above, when you're traveling from Cebu to Bohol, you're going to arrive at Tagbilaran Pier on Bohol, on the south of the island, and when you depart from Cebu, you'll be going from Cebu Pier 1. Tagbilaran is the capital of Bohol Province and with hotels, resorts and beaches here, it's a good place to start your visit to Bohol.
Slow Ferries from Cebu to Bohol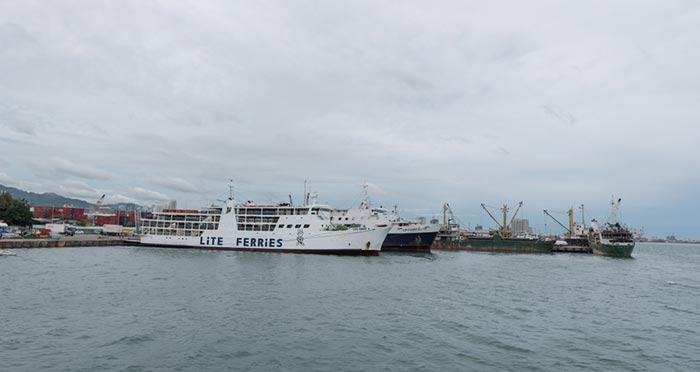 While most tourists will prefer to spend a little more to get from Cebu to Bohol faster and more comfortably on the fast ferries, slow ferries are an option too and are especially good if you're trying to stick to a tight budget.
Catching a slow ferry really does add a lot of time to your trip though. The crossing will be 4 to 5 hours, so you're at least doubling the time it takes on a fast ferry. The biggest advantage is that these are the cheapest way to get from Cebu to Bohol, and there are a few different ticket class options to consider too, ranging from Economy to a Private Room.
The ferry companies operating from Cebu to Bohol include Trans-Asia Shipping Lines, Lite Shipping Corporation, and F.J. Palacio Lines Incorporated. With some of these you can book through their websites, while others you will need to phone to book tickets. Be aware though, that because this is the cheapest way to travel it is very popular with local Filipino people who will look to travel on the slow ferries during holidays and the high season, particularly around the Holy Week; so if you're visiting during this time you will need to make sure you book your ferry from Cebu to Bohol as early as possible.
Both fast ferries and slow ferries are good options for getting from Cebu to Bohol so which one you choose will likely come down to your budget and timescale. Whichever one you choose though, remember that during the typhoon season it's always possible that there will be delays on the ferries, and possibly full cancellations if the weather is bad, so bear this in mind if planning to travel from Cebu to Bohol between September and February.
How do I get from Cebu to Bohol?
With no scheduled airlines providing direct flights from Cebu to Bohol, you're better off just catching a ferry. There are fast ferries, taking around 2 hours, with Super Cat, Weesam Express, FastCat, Starcraft and Ocean Jet, which are all bookable through travel agent, 12Go. Slow ferries are very popular with the locals because they're cheaper, but they take double the time.
How far is Cebu to Bohol?
Cebu and Bohol are different islands but are quite close together; it's about 30kms (19 miles) in a straight line between them and you'll need to take a ferry. Ferries take between 1.5 to 2 hours and there are several different piers that you can leave from and arrive to. To find the best tickets, look at 12Go and compare schedules and prices, then easily book online.
How long is the ferry ride from Cebu to Bohol?
There are a few different departure and arrival points for ferries from Cebu to Bohol, and which ones you choose will affect the travel time. To get there quickly, choose the fast ferries which you can book through 12Go: FastCat, Ocean Jet, Weesam Express, Super Cat, and Starcraft all operate multiple daily ferry services to the main town, Tagbilaran, taking around 2 hours.
How many hours Cebu to Bohol?
The main ferry crossing goes to the city of Tagbilaran on Bohol, and you can go by fast or slow ferry. The fast ferries operate regularly throughout the day and take about 2 hours, while the slow ferries are at least double that time but cost less. You can book fast ferries and some of the slow ones online at 12Go, where it's easy to compare prices and schedules.
How much does it cost to go to Bohol from Cebu?
The cheapest ferry from Cebu to Bohol takes the longest time, with tickets priced from 375PHP with Lite Shipping. FastCat is faster and more comfortable, costing from 425 PHP, while Ocean Jet tends to be most expensive, from 711 PHP for Tourist Class, up to 1,245 PHP for Business Class. Tickets for all three of these can be booked online at 12Go where prices and schedules can be easily compared for your travel dates.
How much is the ferry from Cebu to Bohol?
The main ferry companies traveling from Cebu to Bohol are SuperCat, FastCat, OceanJet and Weesam and you can compare the schedules and prices, and book online, for most of these daily services on travel website, 12Go. The cheapest tickets start around 425 PHP for Economy class with FastCat, up to 495 PHP for Business Class. OceanJet tends to charge a lot more for their tickets.
How useful was this post?
Click on a star to rate it!
Average rating / 5. Vote count: