Penang, and its lovely capital, George Town, is one of Malaysia's top tourist destinations, offering a mix of history, culture and sightseeing, combined with scenery and great beaches. Surprisingly, George Town is the second largest city in the country, and with its historic background it has been declared a UNESCO World Heritage Site. For a great change of scenery and cooler weather, a popular stop after Penang is the Cameron Highlands. The landscapes here are very different to those found on the coast, with its rolling green hills filled with tea plantations. Coming for tea, strawberries and pleasant weather has been a popular pastime for locals for close to a hundred years, since the first gardens and accommodation, as well as a golf course were developed during the British colonization period. Today, Cameron Highland's towns are bustling with tourists who come for tea and perhaps a nice hike.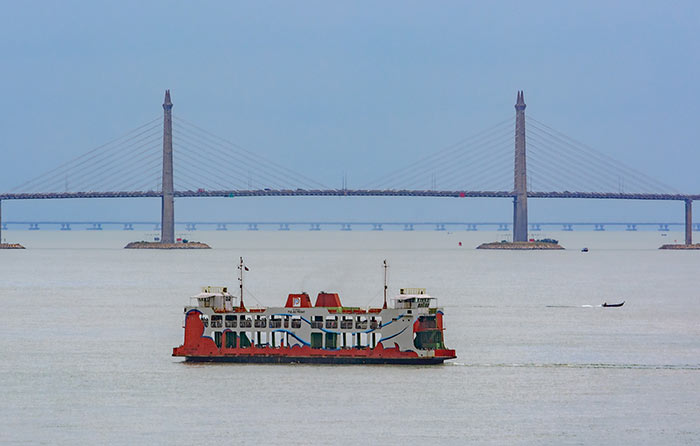 Options for Travel from Penang to Cameron Highlands
If you could fly from Penang to Cameron Highlands it wouldn't take long at all. The straight line distance between these two destinations is only around 160 kilometers (100 miles), but there are no airports in or around the Cameron Highlands to make flying a viable option. Going by road is actually your best bet as there are plentiful buses plying the route from Penang to Cameron Highlands, or you could take a taxi. The road distance is quite considerably more than the straight line distance because the roads gets rather winding as you make your way into the highlands, so this adds a lot of time to the journey. The shortest road route is about 250 kilometers (156 miles) but there is also an alternative road route that takes you further south first then travels into the highlands on a road that is straighter and therefore quicker. So, if you were driving yourself you could decide which way you wanted to go.
There is an alternative to traveling by road, and that is to take a train most of the way from Penang to Cameron Highlands. We say 'most of the way' because there isn't a train station right within the highlands, but there are several stations in the towns and cities surrounding the highlands. Getting a train to Ipoh, for example, is a good idea but you then have to transfer by bus or taxi into the Cameron Highlands.
Penang to Cameron Highlands by Bus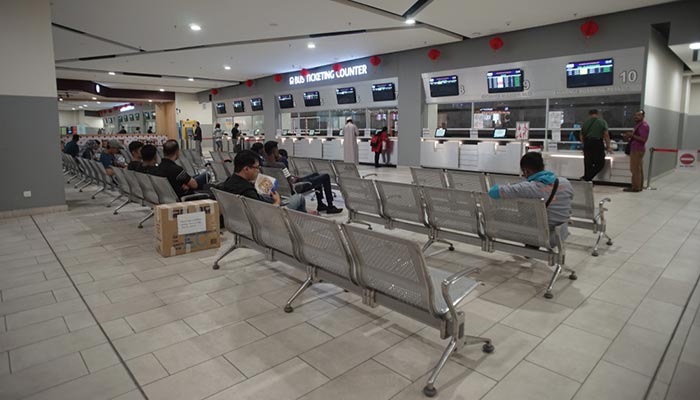 If you search online for recommendations on traveling from Penang to Cameron Highlands, you'll probably find that the majority of travelers who have made this trip would recommend taking the bus. This makes sense because the buses are very affordable and there are plenty of them to choose from every day, making them a flexible option. Add to this the fact that buses take you right into Cameron Highlands and this seems to also be the most convenient option. But, we'll let you decide for yourself once we give you a little more information.
There are three reputable bus companies you could consider, and all three can be booked very easily online through the travel website 12Go.asia. Their search page will show you results for these three companies as well as any train options, making this a very convenient way to plan your trip and make the booking.
New Asian Travel, Unititi Express, and Perak Transit all operate modern buses that are comfortable and have air conditioning as standard. Prices between Unititi Express and Perak Transit are very similar, but if you want to feel as though you're getting more for your money, book with Unititi Express as their buses have TVs and stewards, plus snacks onboard. Traveling with New Asian Travel you'll be on a VIP bus so you pay extra for this privilege, but you do get more space as there are only three seats to a row as opposed to the standard four seats.
Taking the bus from Penang to Cameron Highlands takes somewhere between 4 and 5 hours, depending on the company you're traveling with, and where you're starting from. There are pickup points right in George Town, or to the south of George Town in Sungai Nibong, on Penang Island. You could also start your trip from the mainland in the Butterworth area. The buses arrive into Tanah Rata, the largest town in the Cameron Highlands, and there are multiple departures throughout the day, starting as early as 7:30am.
Penang to Cameron Highlands by Train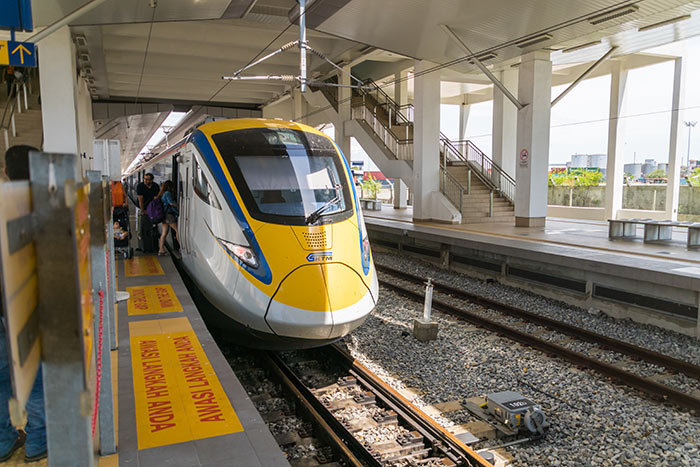 While traveling by train from Penang to Cameron Highlands isn't ideal in terms of convenience, it's still a good option if you don't mind changing from the train to a bus or taxi and shelling out the extra expense.
Traveling by train you get a different experience and often see more and better scenery from the comfort of a train than you would when following a highway. Train tickets vary in cost depending on which class of ticket you decide to buy. There are usually Gold and Platinum options available for this route, with Platinum costing a few dollars more because snacks are included.
Traveling by train is comfortable and it's a nice option for anyone who doesn't like traveling in the confines of a bus because you can get up and walk around on the train. But, going by train is not without its drawbacks, the biggest being that it won't take you right into Cameron Highlands.
Book your train through 12Go, the same as the buses, and you'll see all the different departures for your day of travel, allowing you to compare prices and schedules. The trains are all operated by KTM and depart from Butterworth on the mainland. So, if you're staying in George Town you will first need to cross the water to get to the train station. They arrive in the city of Ipoh which is then a further 90 kilometers (56 miles) from the highlands, and their main town of Tanah Rata. So, you will have to take a bus or taxi from Ipoh, adding to the cost and the time. The trains from Penang to Ipoh take only about 1 hour and 40 minutes, then a bus from Ipoh to Tanah Rata could take another 2 hours and 45 minutes. The bus is cheap but when combined with the train it is already costing more than simply catching a bus all the way from Penang to Cameron Highlands, and it will take more time especially if you have to wait a while for a bus to leave.
For time, convenience, and cost we would recommend taking a bus from Penang to Cameron Highlands, but if you enjoy traveling and seeing different scenery, you don't mind spending a little more and taking more time, catching a train from Penang to Cameron Highlands via Ipoh could be a good option for you.
How useful was this post?
Click on a star to rate it!
Average rating / 5. Vote count: