The capital and largest city of Laos, Vientiane is a colorful and welcoming place filled with temples and wats, including the country's most important national monument: That Luang. Although large, Vientiane has a laid-back atmosphere that invites you to take your time, strolling the streets of its Old Quarter and sitting back enjoying a coffee in one of its many cafes. From Vientiane, a popular next stop is Luang Prabang. Much smaller though no less desirable, Luang Prabang was the royal capital of Laos and is popular with tourists for its many historical and natural sites that include waterfalls, caves, temples and palaces. Travel between Vientiane and Luang Prabang is easy with several different transportation options available.
Read about:
• Boat from Vientiane to Luang Prabang
• Bus or Taxi from Vientiane to Luang Prabang
• Flights from Vientiane to Luang Prabang
Options for Getting from Vientiane to Luang Prabang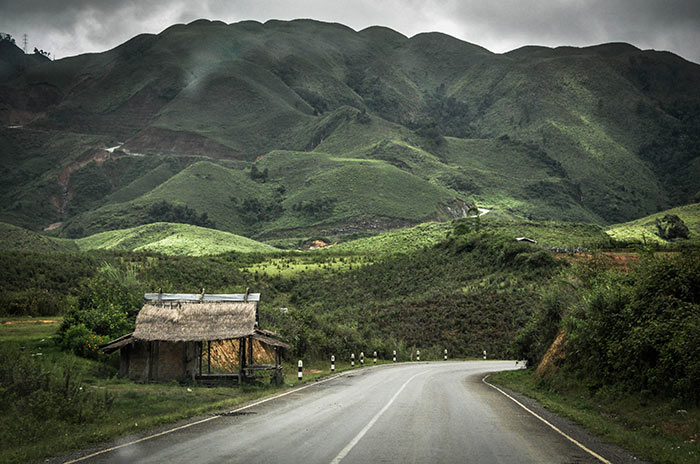 Getting from Vientiane to Luang Prabang doesn't seem as though it should take too long when you look at a map; after all, it's only around 360 kilometers (225 miles) between these two cities. Catching a flight is a very fast way to travel the distance, if you have the budget for an expensive flight, and you can travel by road or by boat as well, although be prepared for a long journey. The road between them meanders its way up mountains and through valleys with some very winding sections that probably wouldn't suit someone who gets travel sick. As a result, traveling by road takes between 10 and 13 hours. There is also a boat, but traveling by boat won't save you any time and isn't always recommended. Whichever mode of transport you're interested in, read on because we have full details of each of them.
By River Boat from Vientiane to Luang Prabang
We'll start with the river boat because, as mentioned above, traveling by boat isn't always recommended in a country like Laos where there may not be as many safety precautions as you're used to. Several websites do mention a river speedboat that travels from Vientiane in the morning and takes roughly 11 hours to get to Luang Prabang. This high-speed boat can take 6 passengers and seems relatively affordable, and, if you enjoy traveling on the river this could be a good option. However, passengers have mentioned feeling unsafe on these boats, which is why we would not recommend traveling this way.
From Vientiane to Luang Prabang by Bus or Taxi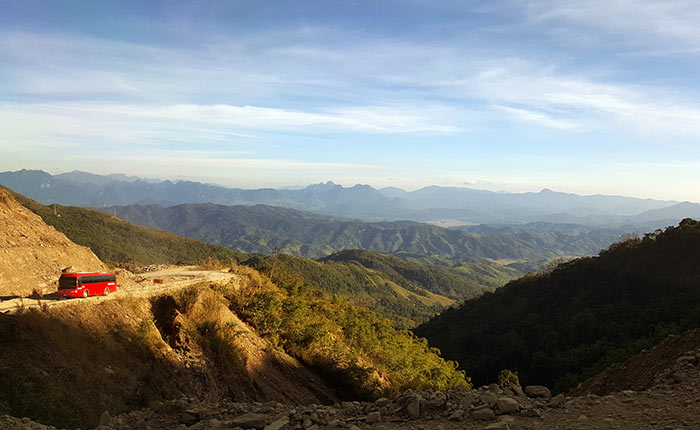 Buses are safer and can be more affordable, and they allow you to see plenty of passing scenery along the way. Considering that going by boat doesn't actually save you any time, bus travel is, for us, the most sensible way to get from Vientiane to Luang Prabang.
There are ample companies offering bus and van services, giving you plenty of different options for day and time of travel. Prices appear to be quite comparable between the different operators so there isn't one that stands out as being particularly cheaper. Usually you'll save a few dollars if you travel by regular bus as opposed to a sleeper bus but consider these savings carefully and weigh up if it's really worth it. In a regular bus you'll have a standard seat with not much space to stretch out, while on a sleeper bus you can stretch your legs right out and lie down, giving you a much better chance of catching some sleep! Considering the journey will be around 12 to 13 hours, the sleeper buses should give you a much higher level of comfort.
There are two bus companies, both of which have express and sleeper buses from Vientiane to Luang Prabang: Soutchai Travel and Naga Travel. Soutchai arrives at Luang Prabang Northern Bus Terminal, while Naga arrives at the Southern Bus Terminal so this could be a consideration for you as well when deciding which company to travel with.
Going by road from Vientiane to Luang Prabang you also have the option of traveling by taxi. Ken Taxi Service operates between Vientiane Airport and takes you to any hotel in Luang Prabang. It's an expensive option but could be good for a family or a small group of friends as you pay a fixed price no matter how many passengers there are.
Flights from Vientiane to Luang Prabang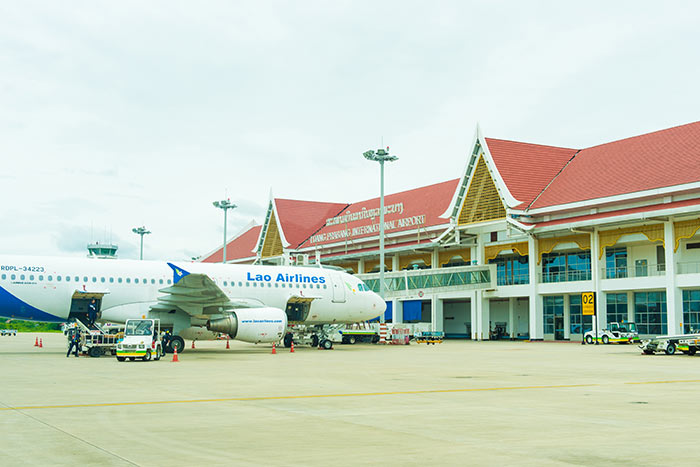 If money isn't an issue for you and you prefer to get to your destination quickly and comfortably, a flight from Vientiane to Luang Prabang could be the best bet for you. Flying takes only about 45 minutes so if you caught a morning flight you could be in Luang Prabang in time for lunch!
There's no doubt that you'll be saving yourself a very long and arduous bus ride, however, many travelers recommend the bus because of the great scenery you'll be seeing along the way. You can't get the same perspective on the scenery when looking out of the window of a plane, but, on the plus side, with flying being so fast you're not losing a day out of your vacation.
Two airlines have flights from Vientiane to Luang Prabang: Lao Airlines and Lao Skyway. The latter flies every day with two flights each day, while Lao Airlines flies every day also, but with different flight times depending on the day of the week. You'll be departing from Wattay International Airport in Vientiane – it's just a few kilometers outside the city center, making it easy and affordable to get to. Luang Prabang International Airport is also close to its city center, so travel to and from the airport shouldn't add much time to your total journey time.
Flights are easily the most expensive way to travel from Vientiane to Luang Prabang, but if flying is the way you prefer to travel, try to book your tickets as far ahead as you can for the best deals.
How useful was this post?
Click on a star to rate it!
Average rating / 5. Vote count: