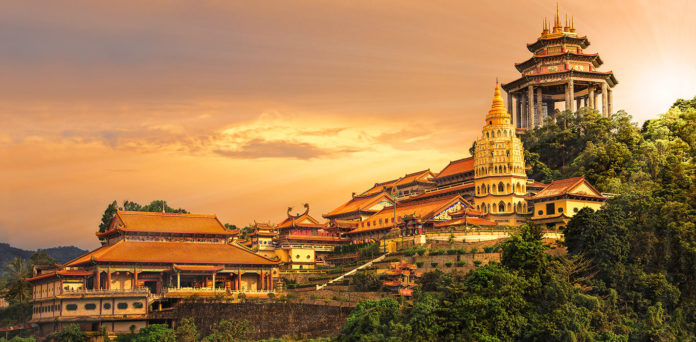 The bustling and modern capital city of Malaysia, Kuala Lumpur, is quite a contrast to the smaller city of Penang with its colonial heritage and coastal setting, but both should definitely be on your list of places to visit in Malaysia. Separated by about 355 kilometers (222 miles), the journey between these two cities can be quite fast, depending on which method of transport you choose.
Kuala Lumpur to Penang by Flight, Train or Bus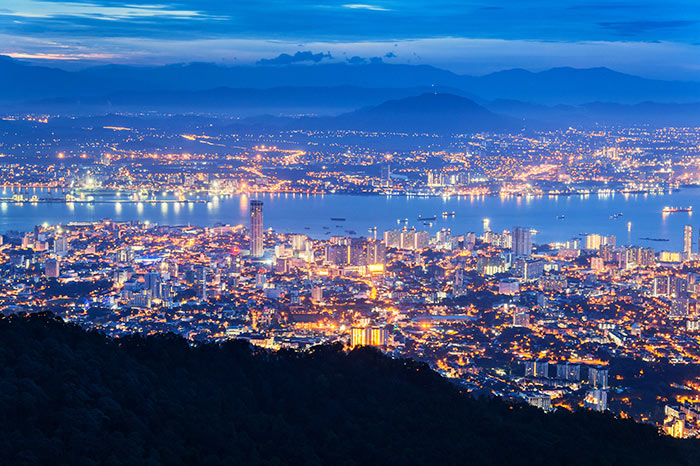 Read about:
• Kuala Lumpur to Penang by Flight
• Kuala Lumpur to Penang by Train
• Kuala Lumpur to Penang by Bus
Unless you would like to drive yourself, which is possible, the three ways you can get to Penang from Kuala Lumpur are by flying, by bus, or by train. Surprisingly, there is not a massive difference in price between all three transport options, and, on this route, trains are actually very slightly faster than buses which may come as a surprise to some travelers who know how agonizingly slow trains can be in this part of the world! Read on to discover more insider tips about all three options.
Flights to Penang from Kuala Lumpur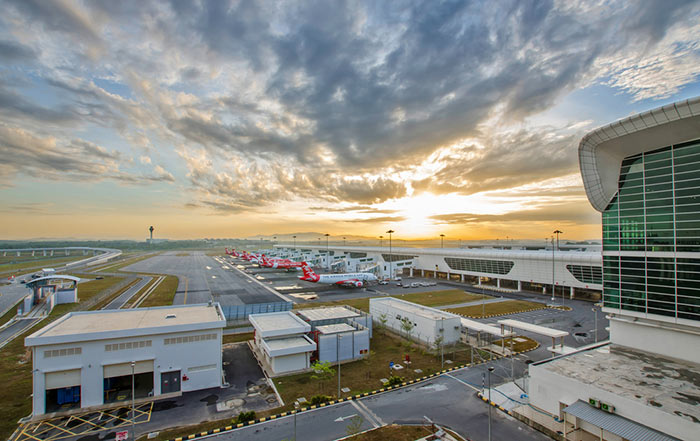 Usually flights are a lot more expensive, which makes this option restrictive for travelers getting around on a budget, however, a flight from Kuala Lumpur to Penang can actually be very affordable. Partly, this is because there's plenty of competition between the airlines, and ample flights departing each day. You can choose a flight to Penang with AirAsia, Malaysia Airlines, and Malindo Air, all flying from Kuala Lumpur International, or for even more choice you could fly from Subang with Malindo Air and Firefly.
Shop around for the best prices – often AirAsia comes out top for affordability and good reviews, plus they have in the region of a dozen different flights every day so there should always be an option that fits in well with your schedule. All flights from Kuala Lumpur International Airport take less than an hour, and they arrive at Penang International Airport which is just a short way south of George Town, the capital city of Penang. From here it's a quick and cheap bus ride or catch a taxi.
Because of the affordability, catching a flight to Penang from Kuala Lumpur is a great idea if you want to get there quickly, and, if you've just arrived at Kuala Lumpur airport from somewhere else, it makes sense to catch another flight rather than leaving the airport and taking a different option.
The Train from Kuala Lumpur to Penang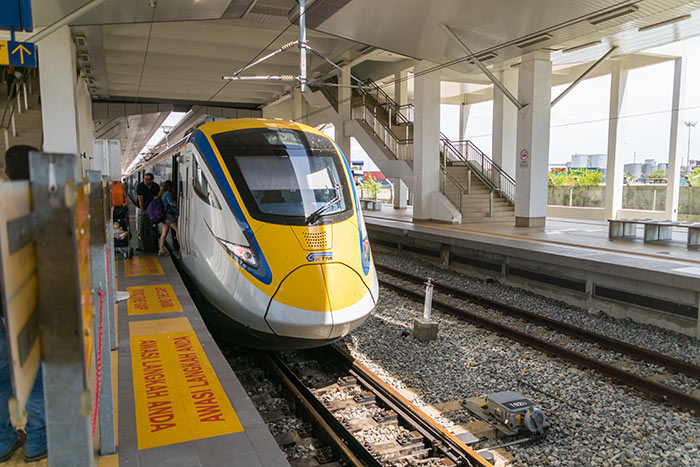 Train journeys in Malaysia tend to be a lot faster than train journeys in other southeast Asian countries, so while this is usually a slow option in Thailand, for example, the train from Kuala Lumpur to Penang is actually pretty quick.
KTM is the Malaysian national railway company and they offer four train services per day departing from the Kuala Lumpur Sentral station. The journey time is usually between 4 hours, and 4 hours 15 minutes, depending upon which service you take, and there are options for a couple of different ticket types – Gold or Platinum. Platinum tickets are a little more expensive and give you comfier seats.
At the Penang end, the train arrives at the Butterworth Railway Station, on the mainland. From here, if you want to visit the main part of Penang, where George Town is located, you can take a quick ferry ride across the water to Penang Island. The ferry itself is just a short walk from the train station and it's easy to buy tickets on the day. Be advised though, you should consider what time the ferries stop running if you're catching a train from Kuala Lumpur later in the day.
The train to Penang from Kuala Lumpur is a popular choice for anyone who has a little more time on their hands and is a great way to see more of Malaysia than you would on a plane. It costs a little more than the bus, but reviewers do state that the train journey is usually nicer and more comfortable than the buses.
Catch a Bus to Penang from Kuala Lumpur
Now to the cheapest way to get from Kuala Lumpur to Penang: the bus. For anyone traveling on a tight budget, buses are always a great way to get from A to B because of their affordability and reliability. The route between Kuala Lumpur and Penang is such a popular one that there are dozens of different options for taking the bus, including a number of bus companies, lots of scheduled departures, and several options for departure points.
The majority of buses from Kuala Lumpur will depart from the bus station, Terminal Bersepadu Seletan, but if you're at Kuala Lumpur International Airport and want to take the bus to Penang, there are options for doing this too, however, the bus ticket prices are about double what it would be from the bus terminal.
The next choice to make is, would you like the bus trip to end at Butterworth, or would you prefer to go all the way to Penang Island and get off the bus at Sungai Nibong? Sungai Nibong is the new bus terminal on the island, located about 12 kilometers (7.5 miles) south of George Town, so whichever option you choose you will still have a transfer into George Town itself. From the bus terminal this is no problem thanks to the Rapid Penang bus services.
Once you've narrowed down your route, choose your bus company. Most of the services are very similar, offering comforts such as air conditioning, snacks, a toilet, and steward service, plus some will also have TVs. The different bus companies to consider include: Billion Stars Express, KPB Express, Konsortium Bas Ekspres, Seasons Express, Transnasional, Sri Maju Group, and Mayang Sari Express, so there really is no shortage of operators!
With services departing throughout the day, finding an option for getting from Kuala Lumpur to Penang is never difficult; narrowing down your choices between flights, trains or buses is the difficult part!
How useful was this post?
Click on a star to rate it!
Average rating / 5. Vote count: