The island of Sri Lanka has so much to see and do, from the beautiful scenery that fills this island, to the historic cities and cultural sites. If you enjoy cities and scenery then Colombo and Kandy should both be on your list of places to visit in Sri Lanka. Colombo, the Commercial Capital and largest city, sits on the west coast of the island. Here you'll find contrasting architecture that, on the one hand shows Colombo as the financial heart of Sri Lanka, while on the other reflects its long colonial history. Parks and gardens are still plentiful and there are good beaches too. From here, travel inland to Kandy. The last capital of the ancient king's era of Sri Lanka, Kandy is a beautiful city with a lake and is surrounded by lush green hills. A UNESCO World Heritage Site, it's home to the Temple of the Sacred Tooth Relic and lots more.
Read about:
• By Car or Taxi from Colombo to Kandy
• Train from Colombo to Kandy
Options for Travel from Colombo to Kandy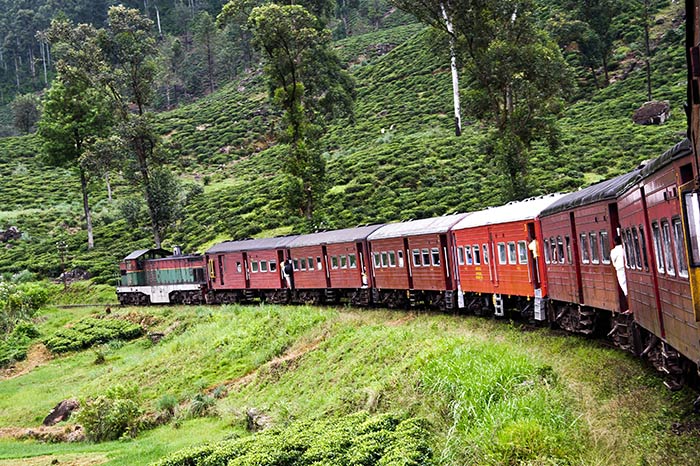 These two popular tourist destinations are relatively close together, so getting from Colombo to Kandy is really quite straightforward. By road, the shortest distance is just 116 kilometers (72 miles), but the road is quite winding in places so it may take longer than you would expect. Private car, taxi or van are all good options if you like traveling by road, but there's also a train that travels from Colombo to Kandy which must be booked at least 32 days in advance. It's affordable and a highly recommended experience which we'll tell you more about in a moment!
By Car or Taxi from Colombo to Kandy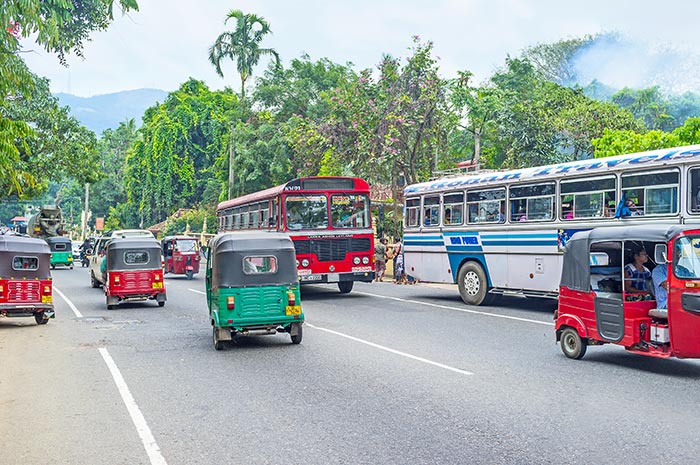 Even though it's only 116 kilometers from Colombo to Kandy, you need to allow a fairly substantial amount of time to get from one city to the other. As mentioned above, the road can be quite winding in places as it meanders up until the hills and through Tea Country, treating you to some excellent views along the way, but, the road is well traveled and can be quite busy at times, adding more minutes to the drive.
You could rent a car if you prefer to do everything at your own pace, allowing you to make stops along the way for photos, but, be aware that the main route, the A1, does have tolls along the way so come prepared with change. Even if you drove right through without stopping, you're probably looking at between 2.5 and 3.5 hours, depending on traffic and weather conditions.
A better way would be to get a taxi or van from Colombo. This may seem like a pricey option but if you're traveling with a few friends or family, it can work out quite affordable when the cost is divided between you. The advantage with a taxi service is that you will be traveling from door to door and not have to worry about getting yourself to the train station or finding your hotel once you arrive in Kandy, so taxis are great for convenience.
Stef Lanka Tours have three different options to think about, depending on how many people you're traveling with. A regular comfort vehicle that holds two passengers is the same price as a minivan suitable for up to 4 passengers, or, if there are more of you, a regular van can take up to 8 passengers. It costs more, but then the price will be split between more people. The posted journey time is 5 hours, and although it probably wouldn't take this long, allow the maximum amount of time just in case.
Train from Colombo to Kandy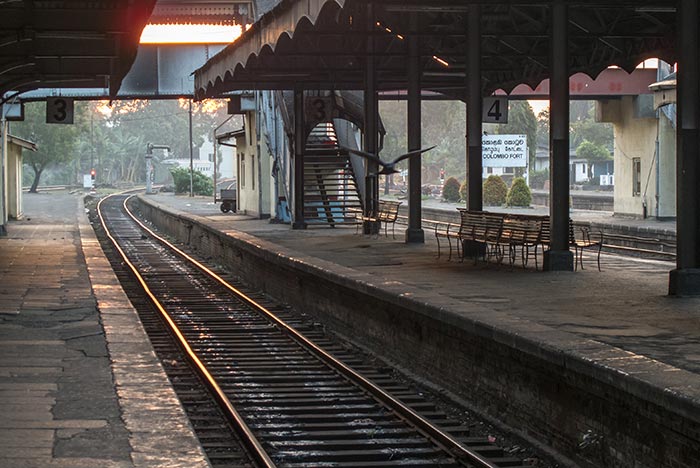 While the drive from city to city is scenic, you're going to see even more scenery if you travel by train! Trains in Sri Lanka have two major advantages over other forms of transport – they are very affordable and they're fun! Add to this the great scenery that you'll be traveling through in Tea Country, and you can see why most travelers would recommend the train over anything else.
Trains are operated by Sri Lanka Railways. If you've traveled around by train a lot in Asia you'll know that there can be a great contrast between trains in one country compared to another. Here in Sri Lanka, the carriages are fairly basic. There are no sleeper cabins, and general facilities are limited, but the trains are comfortable and clean all the same, and, when you're going to be looking out of the window for most if not all of the journey, it doesn't too much!
Tickets for seats on Sri Lanka Railways must be booked at least 32 days in advance, so this is an important factor to consider when you're looking at ways to travel from Colombo to Kandy. Be sure to leave the designated 32 days between when you book and the day you want to travel. The good thing is that there are multiple trains each day and you have the choice between a seat in 1st class or 2nd class. Both are very reasonably priced and on most trains there's not much difference between the two classes. First class seats will be a bit more comfortable, and on some of the trains there will be air conditioning.
The train from Colombo to Kandy departs from Colombo Fort as early as 5:55am, with a number of other departures across the morning, and a few in the afternoon. The scheduled travel time ranges from 2.5 hours to 3 hours 17 minutes, depending on which train you're on.
As well as giving the opportunity to see the wonderful Tea Country scenery, traveling by train in Sri Lanka is a cultural experience. Taxis are good for groups, but the train from Colombo to Kandy is what we and many other travelers would recommend. Remember that 32 days booking rule though if you decide on the train!
How useful was this post?
Click on a star to rate it!
Average rating / 5. Vote count: