Singapore has long been a popular tourist destination, known for its British colonial influences in its architecture and its culture, but also today as one of the world's major financial centers, home to skyscrapers, shopping malls and a great range of tourist attractions. It's a busy yet attractive place with one of the lowest crime rates in the world! If you want to spend a day or two away from Singapore, why not head to the island of Batam? Batam is part of Indonesia yet it lies only a short distance from Singapore. Although it's an industrial hub it does have a range of attractions for tourists too. Best known as a place for discount shopping and nightlife, you could say that Batam is a grittier version of Singapore yet it also appeals to families looking for resorts, to spend time on the beach or enjoying water sports, a day of golf, or an evening at one of the many seafood restaurants.
Options for Travel from Singapore to Batam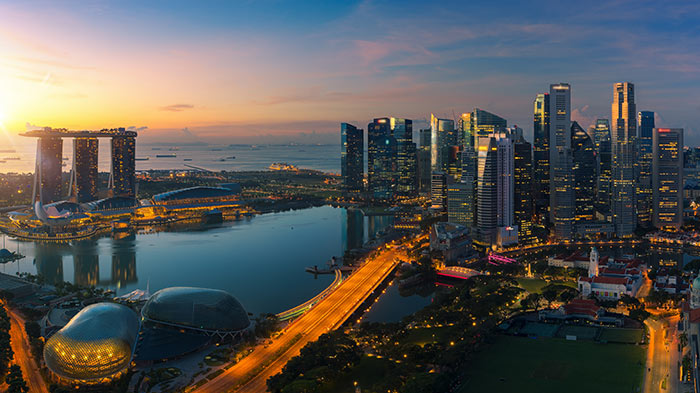 The great thing about traveling from Singapore to Batam is the short distance. Depending on where exactly on Batam you're traveling to, the distance from Singapore to Batam is only about 20 kilometers (12.5 miles), so getting across to Batam should take very little time. This is one of the reasons why Batam appeals so much because you could easily pop over just for a day, or even just for the evening if you wanted to try one of its famous seafood restaurants! Your best option for getting from Singapore to Batam is to go by ferry, but if you're someone who likes to travel in the lap of luxury, you could also look into a helicopter charter!
Singapore to Batam by Ferry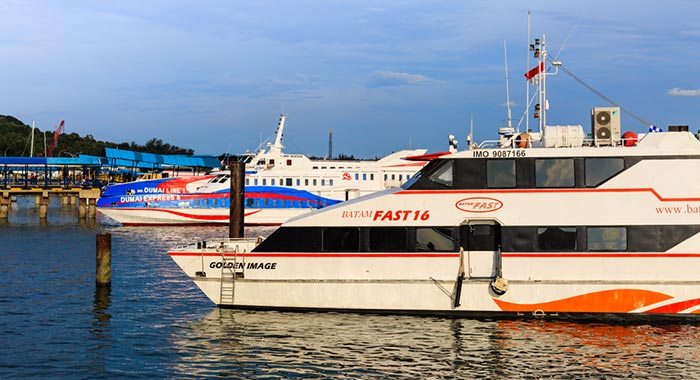 Assuming you don't have big bucks to spend on chartering a helicopter, you're probably going to be getting a ferry from Singapore to Batam! This is how almost everyone will travel between these two destinations, and because it's a popular route there are multiple ferries every day, making it easy and affordable to catch a ferry.
Batam Fast Ferry is one of the main ferry companies, although there are several others you could choose from as well. The advantage with Batam Fast Ferry is that you can easily book your tickets online in advance on the travel website 12Go.asia, so you can do a search, check the schedules and the arrival points, and the prices of course, and book your tickets ahead of time.
There are several arrival points on Batam, so do check a map to see which one of these will suit you best, depending of course on where you're heading to and what your plans are. There are also a few different departure points in Singapore too, so again, check which ones are most convenient for you. For example, there's the Tanah Merah Ferry Terminal which is conveniently located very close to the Singapore Changi Airport. You can get a ferry from here to the Harbour Bay Ferry Terminal on Batam, which is at Sungai Jodoh, near the center of the island, or go to the more northerly point of the island and arrive at the Nongsapura Ferry Terminal. This would be a good choice if you wanted to visit the quieter parts of Batam. There are several beaches close by as well as golf courses and restaurants. The ferry time from Singapore to Batam's Nongsapura Ferry Terminal is around 55 minutes, while it takes a little longer to get to Harbour Bay Ferry Terminal, usually around 1 hour and 10 minutes.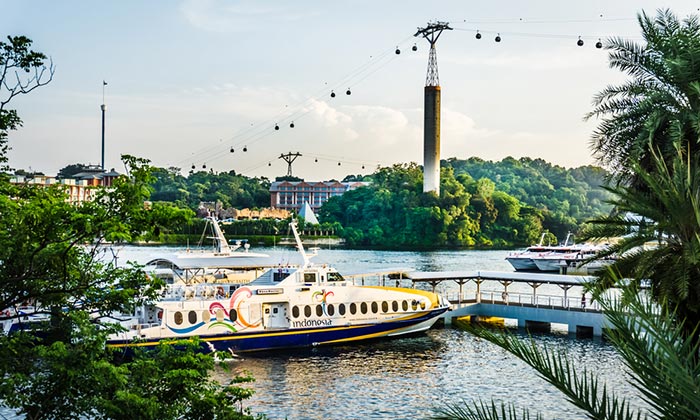 You can also consider departures from Singapore to Batam from HarbourFront Port. This is more centrally located to Singapore, and as the name suggests, it's in the HarbourFront area of the city. From here there are three different ferries from Singapore to Batam – to the Batam Center Ferry Terminal, the Sekupang Ferry Terminal, and the Harbour Bay Ferry Terminal with ferries taking between 1 hour and 5 minutes and 1 hour and 20 minutes.
It's good to know that it doesn't matter which ferry terminal you start and end at, the prices for tickets on Batam Fast Ferry are all priced exactly the same. The ferries themselves are modern and clean, and they all include washrooms and have stewards onboard too. You just need to decide where you want to start and end your journey from Singapore to Batam!
How useful was this post?
Click on a star to rate it!
Average rating / 5. Vote count: