As the gateway to the awe-inspiring Angkor region, Siem Reap is one of the top destinations in Cambodia and is often the place where most tourists spend the majority of their time. However, Cambodia has many other beautiful destinations that are well worth visiting as well, such as Sihanoukville, one of the country's best known coastal towns. With its attractive beaches that rival some of the better known beaches in Thailand, Sihanoukville is the ideal place to spend a few days relaxing and unwinding following your exploration of Angkor. If you're not ready to leave Cambodia just yet, consider heading south from Siem Reap to Sihanoukville. Read on for details of how to travel between them.
Read about:
• Siem Reap to Sihanoukville by Flight
• Siem Reap to Sihanoukville by Bus
• Siem Reap to Sihanoukville by Van
Getting to Sihanoukville from Siem Reap, the Options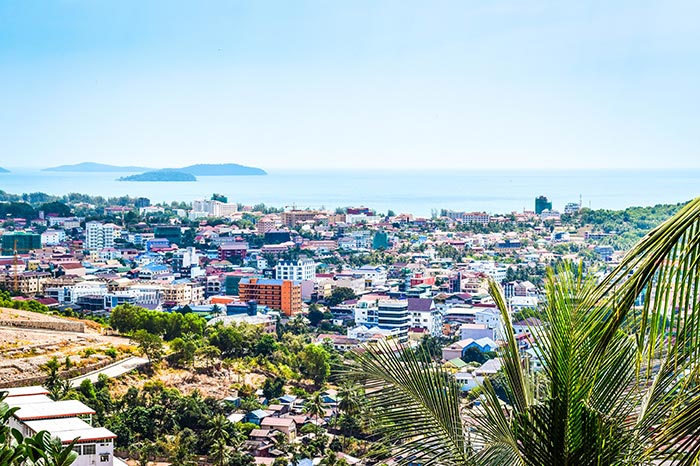 Traveling by road from Siem Reap to Sihanoukville is a long distance, largely because you cannot drive in a straight line, instead having to travel quite a long way east or west to follow the main roads. The route to the east is the shortest, but it's still around 520 kilometers (325 miles), so even if you were driving in a private vehicle and not stopping anywhere, it would take between 8 and 9 hours. Buses and vans are available though, so you don't have to do any driving, but these take even longer than traveling in a private car, so is there a faster alternative? Yes, luckily there is! You can also catch a flight from Siem Reap to Sihanoukville and this will save you an entire day of traveling.
Take a Flight from Siem Reap to Sihanoukville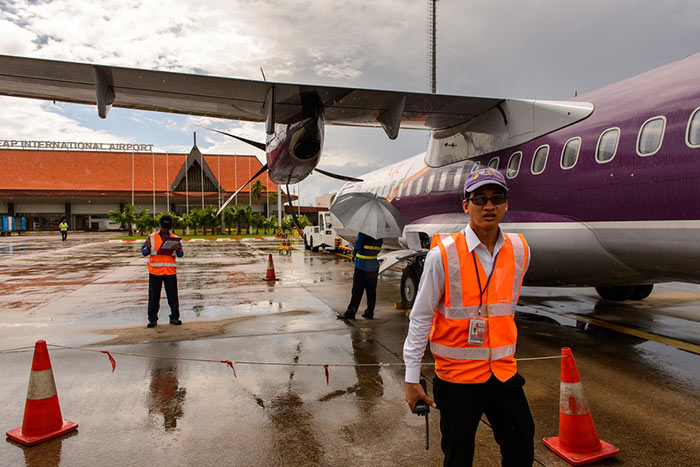 Let's start with the fastest way to get from Siem Reap to Sihanoukville. Because there are airports at Siem Reap and at Sihanoukville, flying between these two cities is a very viable and fast option, and it's the perfect way to travel if you're pushed for time. The flight from Siem Reap to Sihanoukville is only 50 minutes, so, even when you add in the time it takes to get to and from the airport, check-in and go through security, it still easily beats any other way of getting from Siem Reap to Sihanoukville.
There are several different airlines offering services too, which means that there is some competition between the airlines and this gives you the opportunity to save some money by shopping around for the best deal. The price is the downside of course. Flying from Siem Reap to Sihanoukville is the fastest, but it's also the most expensive mode of transport, so if you're trying to stick to a low budget, catching a flight probably won't be for you.
JC International Airlines, Cambodia Angkor Air, Cambodia Bayon Airlines, and Lanmei Airlines, all offer flights from Siem Reap to Sihanoukville. The first two have one flight per day, so there are ample chances to catch a flight that fits in with your schedule.
Siem Reap to Sihanoukville by Bus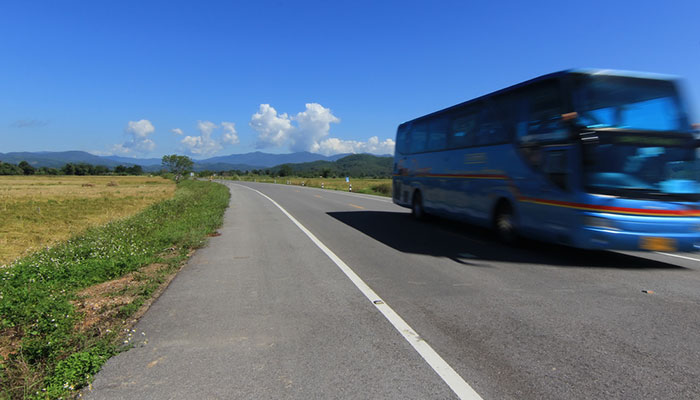 Because flying is so expensive, many tourists opt to travel by bus from Siem Reap to Sihanoukville. You could argue that you get to see more of the scenery and culture of Cambodia when traveling by bus, but the journey is lengthy and probably not great for someone who does like to be cooped up in a small-ish space for a long time. The bus takes around 10 hours, and it travels overnight. The advantage of overnight travel is that it's cooler, and you might be able to get some sleep, but, the disadvantage is that sleeping is not always easy on a bus, and while it's dark you're not enjoying the scenery!
On the plus side, buses operated by Giant Ibis Transport are comfortable and well equipped. Their night bus actually has reclining seats that are almost as good as an actual bed, so sleeping may not be too difficult after all. Their record for safety and reliability is very good too, and buses are equipped with wifi and toilets, and snacks are available. The Giant Ibis Transport bus departs from Siem Reap at 2030, and arrives in Sihanoukville around 0630 the next morning.
As an alternative, Virak Buntham Express also has buses from Siem Reap to Sihanoukville. Their sleeper VIP buses have bed-like seats, TVs, steward service, toilets, and snacks. The offer a number of different departures each day, with each departure taking a different length of time to get there. Their fastest service is the overnight one leaving Siem Reap at 2000 and arriving in Sihanoukville around 0800 the following morning, but there are also later and earlier departures.
By Van from Siem Reap to Sihanoukville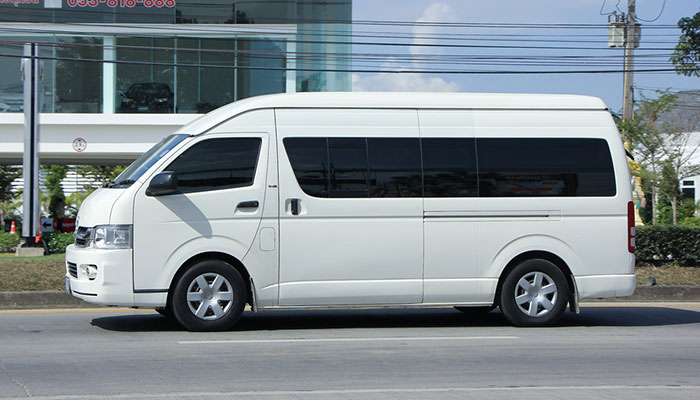 Traveling by van from Siem Reap to Sihanoukville is another option. The aforementioned Virak Buntham Express company operates van service as well as the buses. The advantage with a van over a bus is that it can be faster, and that it feels a little more personal compared to sharing a larger bus with lots of strangers. This could therefore be a good option for anyone traveling in a group as you could probably arrange to fill the van, however, tickets are sold on an individual basis, so you wouldn't be saving any money by choosing this type of transport.
The drawback with vans is that because they are smaller you won't have any services onboard and they can feel a little cramped, so you'll need to weight up the pros and cons when deciding. From Siem Reap to Sihanoukville by van takes around 11 hours, so it can be faster than some buses. These vans only operate during the daytime, departing from Siem Reap on the hour at 0600, 0700, 0800 and 0900 so you will at least get to see plenty of scenery along the way!
How useful was this post?
Click on a star to rate it!
Average rating / 5. Vote count: