Two of the best highlights of Cambodia are the capital city, Phnom Penh, and the resort town of Siem Reap, gateway to the spectacular Angkor region. The route between Phnom Penh and Siem Reap is therefore one of the most traveled routes in the country of Cambodia, giving tourists plenty of different options from getting from one city to the other.
Read about:
• Phnom Penh to Siem Reap by Flight
• Phnom Penh to Siem Reap by Bus
Ways to Get from Phnom Penh to Siem Reap
Travelers of all budgets, from backpackers to luxury, can easily take the trip north from the capital because there are so many different tour companies to choose from. Unless you want to drive yourself the roughly 320 kilometers (200 miles), you'll be taking a bus, minibus or flight from Phnom Penh to Siem Reap, and, unusually for a bus service there are overnight options which actually have beds in them! Read on to find out more about these sleeper buses and all the other transport options.
Flights to Siem Reap from Phnom Penh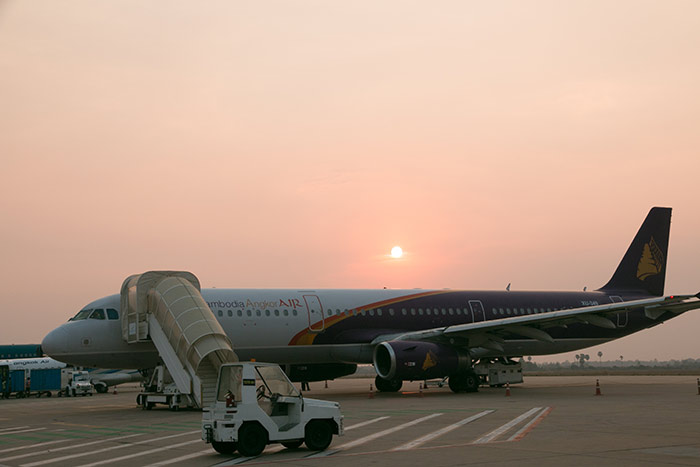 The quickest way to get from Phnom Penh to Siem Reap is to fly. You'll be departing from the largest airport in Cambodia, and arriving in the second largest airport, so these are large international airports with all the services you could possibly need. The Siem Reap-Angkor International Airport is just 7 kilometers (4 miles) from the town of Siem Reap, so it's easy to get from the airport to your hotel or for onward travel to Angkor, and as the flight takes just around one hour you'll arrive in Siem Reap fast and refreshed!
Being such a popular route there are a number of different airlines offering flights to Siem Reap from Phnom Penh. Not all of these airlines fly every day of the week, so if you're restricted to traveling on a certain day this will impact your choice of airlines. Also, if you can be flexible on the time of day that you travel, you can save a lot of money on the ticket as there can be very large differences between morning, evening and daytime flights.
Cambodia Angkor Air has flights usually four times per day and are generally reliable with a good service. Other airlines include JC International Airlines, Bassaka Air, and Lanmei Airlines. As mentioned, prices do vary substantially, so shop around to find a good deal.
From Phnom Penh to Siem Reap by Bus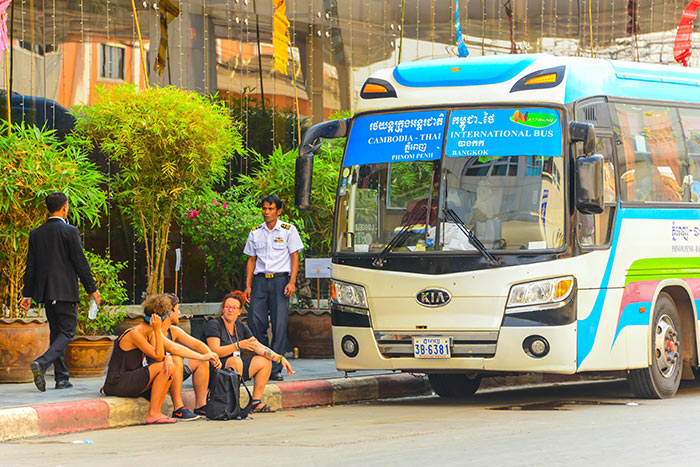 If you're happy to spend somewhere between 5 to 6 hours on a bus, you can travel from Phnom Penh to Siem Reap quite a bit cheaper than catching a flight. And, if you compare the different bus companies you can save yourself even more money by opting for the cheapest service. Cheap isn't always the best, but if you're traveling on a budget, saving a few dollars here and there can really add up!
So, what bus companies can you choose from? For a standard seat on a bus, you could buy a ticket with Giant Ibis Transport, Mekong Express, or PSD Xpress. All of these companies offer an express bus from Phnom Penh to Siem Reap with similar onboard services. Mekong Express, for example, provides air conditioning, snacks and a steward service. PSD Xpress has the same with the addition of TV's on board. Giant Ibis Transport has two options for their bus services – the Universe Luxury service is a daytime service that includes wi-fi, air conditioning, and snacks, while the Kia Grandbird service operates overnight and, as mentioned earlier, actually includes beds so you can lie back and get some rest.
Reviews of the Kia Grandbird service are generally very good. The beds are basic, but if you're looking for something that is more comfortable than a standard bus seat, this does the job. These buses all offer air conditioning, snacks, a toilet, and wi-fi.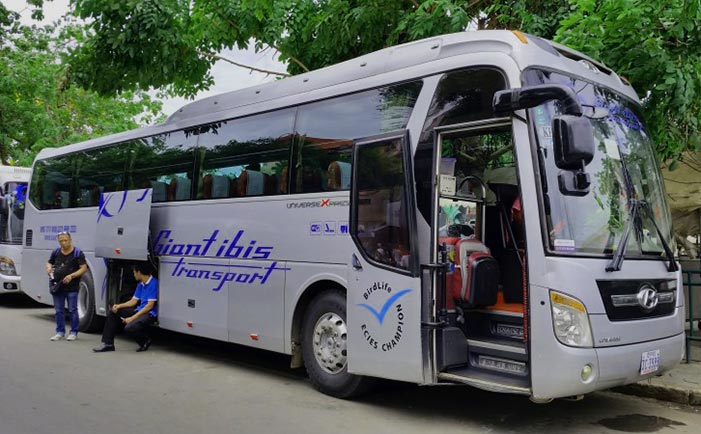 One thing to note about Giant Ibis Transport is that they advertise the schedule as taking 7 hours for a bus from Phnom Penh to Siem Reap. Sometimes, during busy periods on the roads it could take as long as 7 hours but the majority of the time it's more like 6 hours. If you are arranging a pick-up with your hotel to pick you up from the bus station you may want to bear this in mind. If you give them the advertised time of arrival you could be waiting at the bus station for an hour in the early morning.
There is another option if you would like to travel by bus to Siem Reap from Phnom Penh. Minibus services are offered by Thero Express and they depart four times per day. A minibus may be more preferable in you're traveling with a group as you may even have the bus to yourselves, however, if you're stuck in a full minibus it can feel a little more cramped than on a larger bus with limited luggage space to store your belongings. The good thing is that the minibus is usually a little faster getting from Phnom Penh to Siem Reap, taking around 5.5 hours, and it does include air conditioning; also, minibuses with save you a few more dollars if you're trying to stick to a tight budget.
So, with four different airlines, three different bus companies, and a minibus company to choose from, you can see that your options for getting from Phnom Penh to Siem Reap are far from limited! Whichever way you choose to travel, remember to book your seats in advance if you can so that you have the best choice when it comes to schedules and pricing.
How useful was this post?
Click on a star to rate it!
Average rating / 5. Vote count: