Hong Kong is a truly spectacular place to visit! Busy, vibrant, crowded, yet beautiful in its own way, this former British colony is now a Special Administrative Region of China that has grown from its origins as an area of fishing villages and farmland into one of the world's most important financial centers and one of the most densely populated places in the world. Known for its tall skyline and bustling harbor, Hong Kong has much to see and do; views from the landmark Victoria Peak, a day at ocean park theme park or Disneyland, shopping at Temple Street Market and enjoying the great food. From here, there are many places you could visit in China, but a popular next stop is the city of Guangzhou. Also known as Canton, this city has a history spanning over 2,200 years and is full of impressive architecture, both historic and modern, including temples, mosques, squares, and the highlight Canton Tower, as well as parks, museums, theme parks, a zoo and a thriving food scene.
Options for Travel from Hong Kong to Guangzhou
As the crow flies, it's only about 130 kilometers (81 miles) from Hong Kong to Guangzhou so these two destinations are really quite close. By road, it's a little further as you have to follow the road past waterways and rivers on your way north to Guangzhou, but even then, it's only about 180 kilometers (112 miles). Traveling by road is one option, and you can take a bus which is a very affordable way to get from Hong Kong to Guangzhou. If you're happy to pay a little more to get there faster, you can also go by train, or for the most expensive way to travel from Hong Kong to Guangzhou, catch a flight.
Before booking your travel to Hong Kong or the Chinese mainland, be sure to check what the current visa requirements are for nationals of your country. Although Hong Kong is technically part of China, there are different visa requirements for the two, and when you try to get from Hong Kong to Guangzhou, you will be passing across a border. Check what you need to do beforehand to avoid disappointment.
Flight from Hong Kong to Guangzhou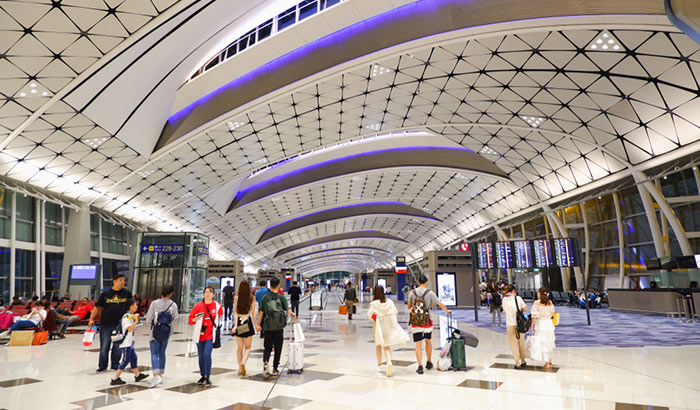 Let's start with the most expensive option, a flight from Hong Kong to Guangzhou. Yes, it is the most expensive way to travel but it's also the fastest, on paper, anyway – the flight itself takes only about an hour, but when you're trying to decide which method of transport to choose for your trip, there are a few things you should definitely bear in mind when looking at flights.
At the Hong Kong end, you'll be departing from Hong Kong International Airport which is a good 30 kilometers (19 miles) or so from the main center of Hong Kong, on a different island. So, you will need to factor in the time it takes to get to the airport from the city although there are fast ways to travel between the two, such as the Airport Express high-speed rail link, which would be recommended. You also need to allow yourself plenty of time at the airport. This is one of the largest and busiest airports in the world so getting through check-in and security and getting to the gate could take longer than you're used to.
Once you get to Guangzhou, you'll be arriving at Guangzhou Baiyun International Airport, which is north of the city. It too is a very busy airport so expect it to take longer to get through and pick up your luggage. There are transport connections into the city including airport express buses and the metro.
With so much time added to your journey to get to and from the airports, and through the airports, traveling by plane from Hong Kong to Guangzhou actually can end up taking longer than the train or bus would take, so carefully consider whether it's worth booking a flight and if you do decide to go ahead, you can compare flights with buses and trains on the travel website 12Go.asia. There are two flights per day with Cathay Dragon, by the way.
Hong Kong to Guangzhou by Bus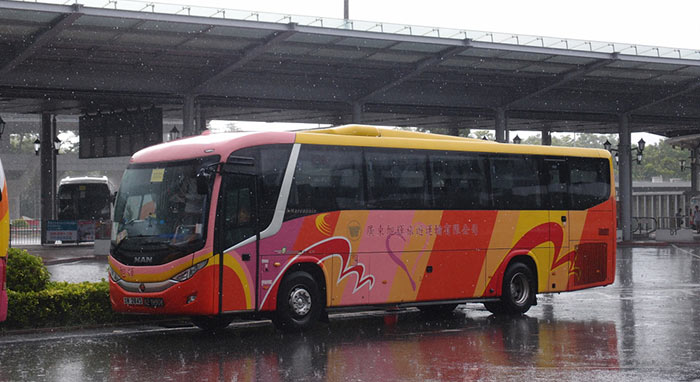 Traveling by bus from Hong Kong to Guangzhou is the cheapest form of transport and while it may seem that it takes longer to travel this way, according to the bus schedules, it takes around 2 hours depending on where you get on and off the bus.
Take a look at 12Go as they provide several departure and arrival points, all with reputable Chinalink Bus Company. They operate regular air conditioned buses that are modern and perfectly comfortable for a journey of around 2 hours, and can be booked online. Departure points include Hong Kong Airport, TST West Elements, and Wan Chai, so you have the opportunity to book your trip from the most convenient departure point, depending on where in Hong Kong you're staying. The buses all arrive close by to the Haizu Square Metro Station in Guangzhou, which is also very convenient for getting to other parts of the city.
The only slight uncertainty with traveling by bus is that you do have to cross the border into China, so it's possible that there could be some delays there if you're traveling at a busy time of the day. Making sure you have met the visa requirements will really help to have this part of the journey go smoothly and quickly.
Hong Kong to Guangzhou by Train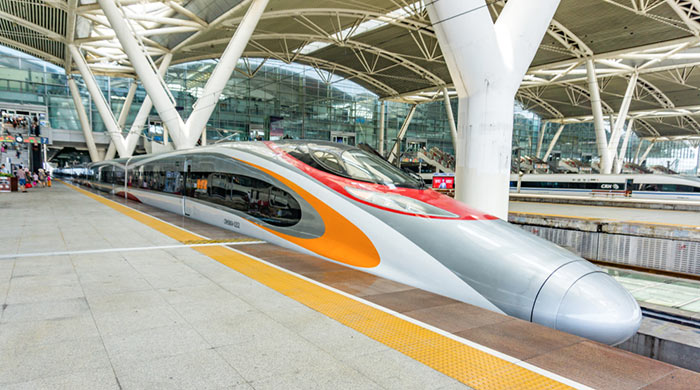 The final option is also affordable and convenient. Trains from Hong Kong to Guangzhou do cost more than buses, but they get you there faster. Most trains take around one hour and you can choose which ticket type is best for your budget from First Class or Second Class. With multiple trains every day this also adds to the convenience as you can choose to travel at the time of day that works best with your existing schedule.
Trains from Hong Kong to Guangzhou depart from Hong Kong West Kowloon Railway Station which is on the Guangzhou-Shenzhen-Hong Kong Express Rail Link, and you'll arrive at Guangzhou South Railway Station. It will take a little time to get to and from each railway station, but there are fast connections into and out of the city that make this easy and quick. The trains are operated by China Railway, by the way, and they all have air conditioning, washrooms and stewards onboard, and the trains are modern and comfortable.
Getting from Hong Kong to Guangzhou is quite quick, affordable and easy, whichever way you choose to travel. For best affordability you cannot beat the buses, but trains are reasonably priced too, especially when compared to flying, the most expensive way to get from Hong Kong to Guangzhou.
How useful was this post?
Click on a star to rate it!
Average rating / 5. Vote count: