Fondly referred to as just JB, the city of Johor Bahru lies right at the southern end of the Malaysian Peninsula. Many will tell you there's really nothing here for the tourist as JB is more of a transportation and manufacturing hub than anything else, but, if you're traveling around Malaysia and want to visit Singapore, the chances are, you'll be starting from JB. You may also prefer to fly out of Singapore's airport if you're getting toward the end of your vacation, as there are better connections from here, rather than traveling a long way back into Malaysia. Of course, you could just be visiting Singapore because it's a cool place to visit! It's a city of contrasts, where British colonial mixes with the most modern skyscrapers and shopping centers yet there are still wide open spaces with parks, gardens, a zoo and plenty of places to walk.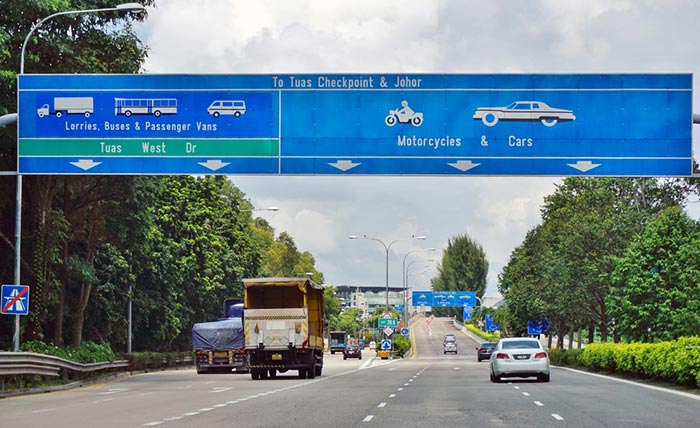 Options for Travel from Johor Bahru to Singapore
Johor Bahru and Singapore are separated by only a short stretch of water, named the Straits of Johor, so in effect, getting from one to the other is very quick and easy. In reality, it's not quite so quick and easy though, as you have to remember that you're crossing an international border so you're going to run into all the complications associated with that. When you look at the entire distance from Johor Bahru to Singapore proper – meaning, right into the heart of Singapore – the travel distance is still only about 23 kilometers (14 miles), so distance-wise it's not a lot. Aside from taking a taxi (which would have to be a specially licensed one by the way), the two most popular ways to travel from Johor Bahru to Singapore are by train and by bus, and we'll give you all the facts on both of these options.
Johor Bahru to Singapore by Bus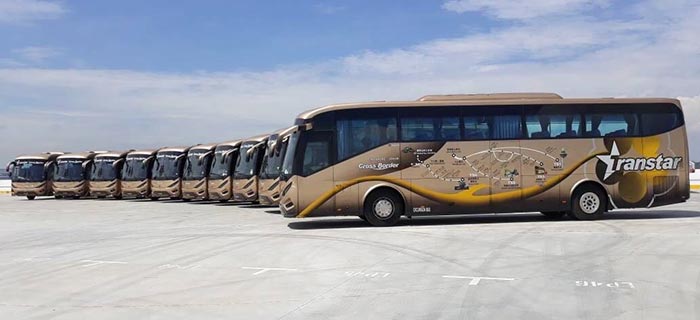 With the frequency and number of buses connecting Johor Bahru to Singapore increasing, traveling by bus has become a popular way to get between these two destinations. But, in all honesty, there is not much to separate buses from trains as they are very similarly priced. Trains actually cost a little less than the buses, but when we're talking about such affordable prices anyway, a dollar here or there is not going to make too much difference!
So, what are the buses from Johor Bahru to Singapore like? Well, there are several different types. Express buses are going to cost you considerably more but could be a good idea if you want to travel to the Woodlands area of Singapore. This is basically the closest part of Singapore to Malaysia, so it's an area you'll be traveling through no matter where you want to go. Non-express buses are more plentiful and include public buses and private operators, and there are plenty of both. Transtar Cross Border is one example – they operate ample services each day, starting as early as 5am and running as late as 9:15pm. Their buses depart from JB Sentral in Johor Bahru, and they go to Terminal 2 of the Changi Airport in Singapore, so it's great if you want to go direct to the airport, but not so convenient if you don't!
The scheduled journey time for these buses is 55 minutes, but in reality it could take several hours. This depends largely on how busy the border crossing is as you can sometimes wait a few hours here, especially during the busiest times which are usually Sunday evenings when going from Johor Bahru to Singapore.
The Transtar Cross Border buses can be booked online ahead of time, which is great for peace of mind, through the travel website 12Go.asia where you can see all of the scheduled departure times and costs.
Johor Bahru to Singapore by Train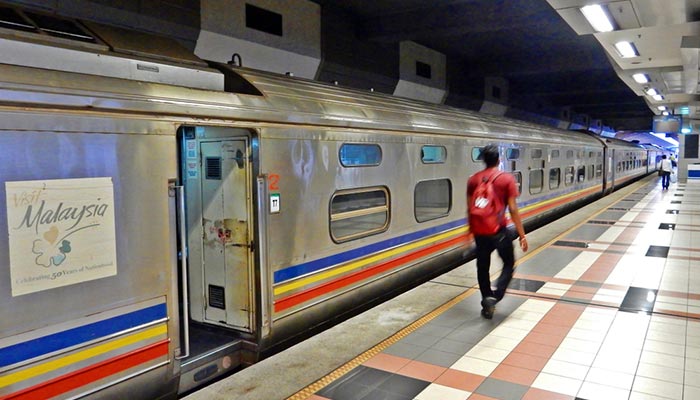 With there not being much difference in the price of tickets between buses and trains from Johor Bahru to Singapore, you may be wondering whether there's any reason to consider going by train. The simple answer is yes! There are actually quite a few advantages to traveling by train from Johor Bahru to Singapore.
KTM, the Malaysian state railway operator, introduced a new shuttle rail service in 2015 in order to take some of the traffic away from the roads and hence away from the Causeway where the busiest border crossing between Johor Bahru to Singapore is located. As well as helping to reduce the amount of traffic, it has also sped up the process for tourists and locals to cross into Singapore. This is because you clear customs before you even get onto the train!
This pre-clearance of customs means you get all of the paperwork out of the way in advance, and the whole process is far more streamlined. The gates open 30 minutes prior to the train's departure time for this purpose, and close 10 minutes before departure.
Once you get on the train, it takes just 5 minutes to travel from Johor Bahru to Woodlands in Singapore so will easily save you time over taking a bus, or driving yourself. Of course, you will only get so far as Woodlands so you will then need to transfer to travel right into the heart of Singapore, but this is easy to do.
There are over a dozen trains from Johor Bahru to Singapore every day, so you have plenty to choose from, but be aware that this has become a very popular way to travel and the trains can get booked up a week or more in advance. For this reason, we strongly recommend that you book your train tickets in advance which you can do online on the travel website 12Go. Their website will show you all the available departures and will allow you to book with instant confirmation.
With the more streamlined process for getting through immigration available on the trains from Johor Bahru to Singapore, this can really save travelers a lot of time over taking the bus. Going by train definitely avoids a lot of the uncertainty as to how long your journey will actually take, which can be a problem if you're traveling to the airport to catch a flight.
How useful was this post?
Click on a star to rate it!
Average rating / 5. Vote count: