Capital of the Philippines, the City of Manila is sure to surprise you with its exciting mixture of architecture, both old and new, and its vibrant and welcoming atmosphere. Known as the Pearl of the Orient, this trend-setting city offers something for everyone in its many museums, historic buildings, family-friendly attractions, and some of the best shopping in Asia. Once you've experienced the best of Manila, head south to Cebu City. Its collection of historic colonial buildings make this a popular tourist destination too, and it's also well known for its lively bar and club scene which helps to make this city appeal to a younger crowd of travelers. Well connected by ferry or flights, getting from Manila to Cebu is really quite easy.
Read about:
• Flights from Manila to Cebu
• Ferries from Manila to Cebu
The Options for Travel from Manila to Cebu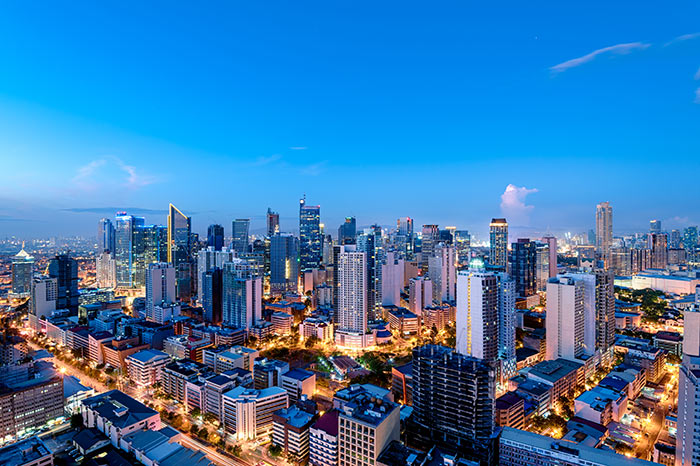 If you know anything about the Philippines, you'll know that the country is full of islands… around 7,640 to be precise! This means that long distance travel by road can be a challenge with so many stretches of water to cross along the way, and, if you're planning a trip from Manila to Cebu, traveling by road is very indirect, adding in the range of 300 kilometers (187 miles) to an already long journey. For this reason, there are just two feasible options for getting from Manila to Cebu, by air, or by ferry. A flight is the most direct route, and of course the quickest, covering a distance of approximately 570 kilometers (356 miles), but of course with speed and convenience comes an increased cost. Ferries are better for the budget-conscious traveler, but not for anyone who's in a hurry. Read on to find out more about flights and ferries from Manila to Cebu.
Flights from Manila to Cebu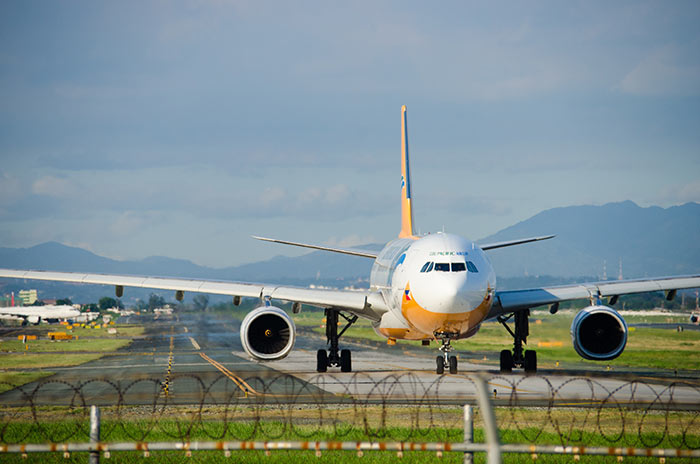 It's easy to catch a flight from Manila to Cebu whatever day of the week you choose to travel because there are so many airlines competing for your business on this busy route. On any given day you can expect there to be around 30 different flights leaving the capital city, so there's always going to be a flight that fits your schedule. Of course, cost is a drawback, and if you're trying to travel around the Philippines on a budget, you may find that flights are just too expensive. The good news is that with a larger selection of airlines to choose from, prices are lower than they might otherwise be on a less traveled route.
The first thing to consider when looking at flights from Manila to Cebu is which airport you would like to depart from. The main airport serving the capital is the Ninoy Aquino International Airport (formerly known as Manila International Airport). From here you can fly with Cebu Pacific, AirAsia Zest, and Philippine Airlines. The first two are budget airlines so you're more likely to get a better deal with them, but do watch out for extra expenses such as checked luggage and charges for food and drinks onboard. If you can travel just with hand luggage you can save yourself some money and save time having to wait for your suitcase in Cebu!
The second airport you could consider is Clark International Airport. It serves Manila as well but it is a substantial distance from the capital; approximately 80 kilometers (50 miles). Because it is cheaper for airlines to fly from here, the cost savings on a ticket are passed to the passenger, however, because it's quite a distance from the city you really need to weigh up whether you're saving any money if you have to pay extra to get to the airport in the first place.
Whether you go from Clark International Airport or from Ninoy Aquino International Airport, you're likely to get the best deals if you book your flight as soon as you can, leaving plenty of time before your day of travel. The flight takes between 1 hour 15 minutes, and 1 hour 30 minutes.
Ferries from Manila to Cebu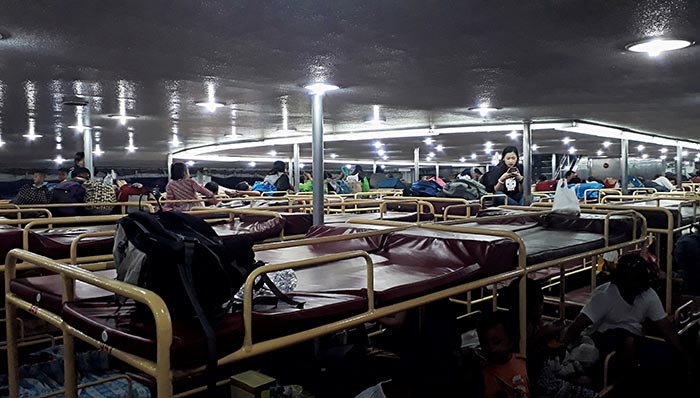 If getting from Manila to Cebu in record time is not your priority, take a look at the ferries that travel between these two cities. This is definitely the more relaxed way to travel, so if you have the time and patience, and you enjoy getting places by boat, a ferry could be the best option for you.
From the Port of Manila to the Port of Cebu it is around 770 kilometers (481 miles) and the journey by ferry is going to take about 22 hours. Along the way you will get to see some passing scenery although this is not renowned as an especially scenic route, so do bear this in mind when considering your options.
2GO Travel is the ferry operator and their ferries are modern and fairly comfortable with a selection of sleeping options to choose from, depending on your budget. The ferries also have facilities and services onboard that vary with the particular boat you're on, but will include dining options at a minimum.
The cheapest way to travel from Manila to Cebu is by booking a bunk in a common area. Similar to dorms in hostels, these large spaces are equipped with dozens of bunks but do not offer any privacy. For a slightly more private experience you can book a shared cabin which may sleep up to 6. These cabins are ideal if you're traveling as a family or with friends as the space could be entirely private for your group. Cabins also have the benefit of en-suite bathrooms and are similar in many ways to hotel rooms. The drawback is that a more private cabin could cost you as much as a seat on an airplane, so you really do have to weigh up whether the ferry journey is worth the cost when compared to the speed of flying from Manila to Cebu.
Finally, also consider the limitations for which day you travel. 2GO does not operate ferries from Manila to Cebu on Tuesdays or Saturdays, but does travel every other day of the week.
How useful was this post?
Click on a star to rate it!
Average rating / 5. Vote count: