Puerto Princesa is known as one of the cleanest and greenest cities in the Philippines and is renowned for its amazing diving opportunities and beautiful beaches. Nicknamed The City in the Forest, Puerto Princesa has everything you need for shopping and dining, featuring excellent seafood restaurants and many beach resorts. If diving and beaches are your thing, be sure to also head north to the smaller city of El Nido. A quieter alternative to Princesa, El Nido has spectacular beaches and scenery and it also is renowned for its great diving. Getting from Puerto Princesa to El Nido is easy and relatively cheap by road.
Read about:
• Bus from Puerto Princesa to El Nido
• Van from Puerto Princesa to El Nido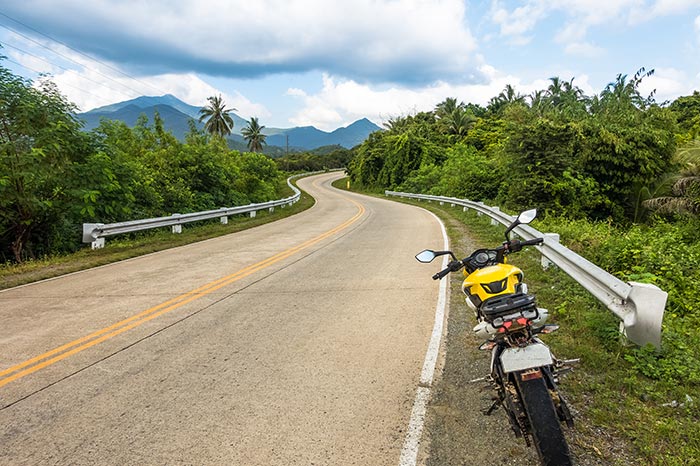 The Options for Travel from Puerto Princesa to El Nido
If you're already planning to visit Puerto Princesa, El Nido is not too far away and comes highly recommended if you love beaches, scenery and diving. The distance between these two cities by road is around 230 kilometers (144 miles), and while the road is generally in good shape, it does wind along the coast and mountainsides so may take a little longer than you would expect. The advantage is that you'll be enjoying the beautiful lush green scenery and seascapes as you go, so it's definitely a scenic drive! Be aware that there is one particular stretch of road that becomes quite rough so this adds time to journey, and if you're prone to travel sickness you may want to take something before leaving Puerto Princesa.
By road is the only way to get from Puerto Princesa to El Nido, but don't worry, the two transport options – public bus and shuttle van, leave frequently so you shouldn't have any trouble finding a ride.
Bus from Puerto Princesa to El Nido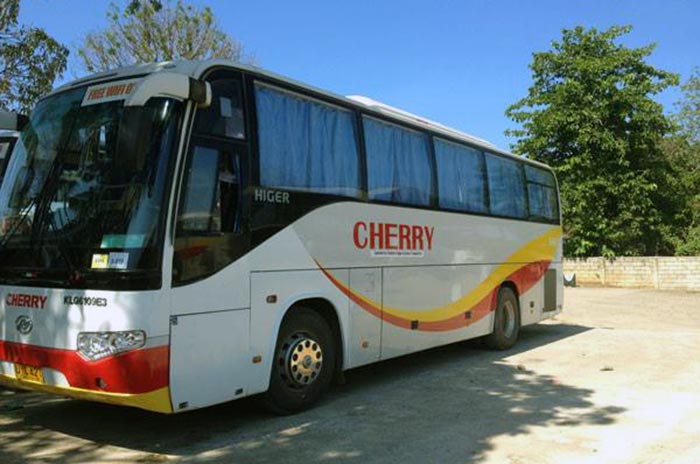 As you might expect, public buses are always the cheapest way to travel from Puerto Princesa to El Nido, but the journey takes significantly longer than it would if traveling by van. So, weigh up the pros and cons between time and cost when considering whether to take a bus.
If you're happy for the trip to take longer – it could be anywhere from 6 to 9 hours depending on traffic and time of day that you're traveling – buses are a very good option. If you have a driver who is happy to stop and pick up passengers along the way, you could be stopping multiple times and this can be very frustrating. However, the buses are quite modern and safe, and the better equipped Cherry Bus features wifi onboard as well as TVs and air conditioning. Cherry Bus also has cheaper buses without air conditioning, as does the other bus company, Roro. Between these two there are departures every two hours during the day with the first leaving around 4am and the last around 10pm. Usually there's an Express bus option which can cut about 30 minutes off the trip, but considering how much more expensive this is, you will need to decide whether it's worth the extra money.
Also bear in mind that if you're catching a bus, they only depart from the San Jose Bus Terminal so if you're arriving at Puerto Princesa airport and you want to head straight to El Nido from there, you will need to take a 15-minute tricycle ride to the bus terminal. It's not a big deal, but just another segment of the trip to think about.
For the budget conscious who want to save the cost of a night in a hotel, you can travel overnight on the bus from Puerto Princesa to El Nido. You won't get to enjoy the passing scenery, but it will save you money. Note that all buses will make one stop for everyone to get off, stretch their legs, and get something to eat.
Van from Puerto Princesa to El Nido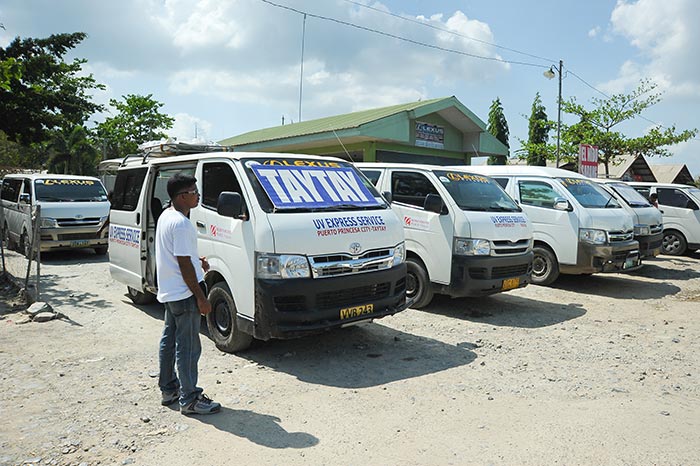 The second option for traveling between Puerto Princesa and El Nido is by van. You'll likely hear that this is the preferred way for tourists to travel, mainly because it can be a lot faster than traveling by bus, but, before you go ahead and book your tickets, read on for the small print!
Puerto Princesa to El Nido by van can take as little as 4 hours, but you should probably count on an average of 5 hours. Even at the longer end, you should be saving yourself a few hours over the bus. Remember to add in some time for a stop, as the vans make one stop along the way, just like the buses do.
A big benefit with traveling by van is that there are more van companies offering this route so you have plenty of options for departure times and shouldn't usually have a problem finding a seat. That being said, for peace of mind we would recommend that you arrange your trip from Puerto Princesa to El Nido in advance, to be on the safe side.
If you're staying in Puerto Princesa, some of the van companies will offer free pickup from your hotel so this can be a great advantage over buses, saving you time and hassle. Or, if you're arriving at the airport and want to drive straight to El Nido there are always vans there to meet the airplanes arriving. There is one important thing to bear in mind with getting a van from the airport though: even after buying your ticket for a specific van, you may be sitting waiting on that van for an hour or more before it actually departs. This is because the driver will wait until his van is full, or nearly full, before leaving, and this could mean waiting for the next airplane to arrive. With this in mind, vans may get from the airport to El Nido faster than a bus, but if you have to wait a considerable amount of time before departing, you may not actually be saving yourself any time.
For this reason, it may be better to spend a few days in Puerto Princesa before driving to El Nido and that way you can get a convenient pickup from your hotel!
How useful was this post?
Click on a star to rate it!
Average rating / 5. Vote count: