The cities of Yangon and Mandalay are among the top tourist destinations in Myanmar. Yangon, the largest city in the country and most important commercial center, is home to the beautiful gilded Shwedagon Pagoda and has a very well preserved colonial-era heart, while Mandalay, further to the north, is Myanmar's cultural center. Formerly the last royal capital of the country, Mandalay has a restored palace, wonderful pagodas and temples, and a bustling atmosphere. With these cities linked by road, rail and air, getting from Yangon to Mandalay is easy and affordable.
Read about:
• Bus from Yangon to Mandalay
• Trains from Yangon to Mandalay
• Flights from Yangon to Mandalay
Options for Getting from Yangon to Mandalay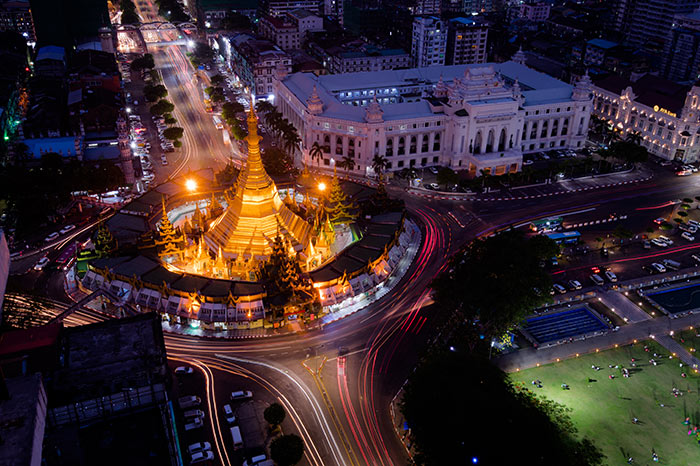 By road, the most direct route from Yangon to Mandalay is about 625 kilometers (390 miles) and there are buses departing several times a day if your preference is to travel this way. But, this is not the only way to go. Myanmar Railways operates trains between these two cities as well, and, if money is not an issue for you there are also flights. Flights from Yangon to Mandalay are easily the most expensive way to travel but are great if you need to get there quickly. Trains, on the other hand, plod along at leisurely speeds, allowing you to take in the passing countryside, providing a wonderful, relaxed way to travel!
Bus from Yangon to Mandalay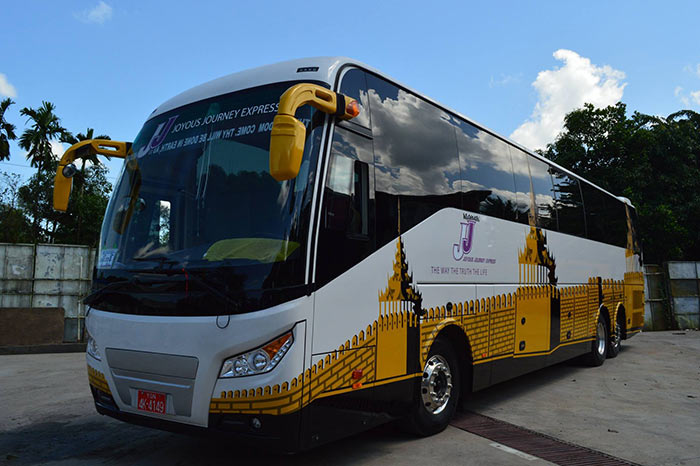 Let's start with the buses as this is the cheapest way to get from Yangon to Mandalay. JJ Express operates both an Express and a VIP bus service between these two cities and there are four departures a day: two in the morning and two in the evening. If you opt for the Express service you'll get a very affordable ticket on a comfortable bus that features air conditioning and a steward service so you have someone to talk to if you need to ask any questions along the way! The VIP service takes the level of service and amenities up a couple of notches, providing you with even more comfortable seats that feature TVs in the seatbacks, plus snacks are served along the way too. The only drawback is that the price of a seat on the VIP bus is almost double that of the Express service, so if you're looking to save some pennies, you may decide that it's not worth spending the extra for the VIP service.
Buses are a good option as they are a lot faster than the trains, taking somewhere between eight and a half, and nine hours to get from Yangon to Mandalay. In the mornings, the VIP and Express buses both depart at 9am, arriving around 6pm. In the evenings, the Express bus departs at 9pm and arrives in Mandalay at 5:30am, while the VIP bus departs at 9.30pm and arrives at 6am. In Yangon you'll leave from the Aung Mingala bus station and you'll arrive at the Chan Mya Shwe Pyi Highway Station in Mandalay.
Trains from Yangon to Mandalay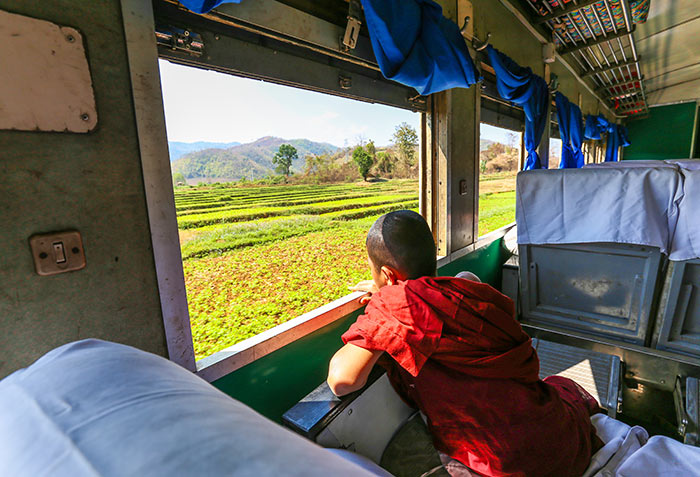 Look around at reviews of travel between Yangon and Mandalay and you'll probably find that the majority of travelers going this route preferred to use the railway. There's no doubting that there's something special about traveling by train and here in Myanmar there's no exception to that rule! The trains are affordable, with ticket prices for a seat in Upper Class coming in somewhere between the cost of the Express and VIP buses mentioned above, plus there's a good option for a Sleeper cabin too.
Trains from Yangon to Mandalay are operated by Myanmar Railways, and, depending on which train you catch you're looking at a journey time of between 14 and 15 hours. This definitely is not the fastest way to travel, but it's great for anyone looking to take their time and enjoy the passing scenery as you go from Yangon Central to Mandalay Central Railway Station.
If you opt for Upper Class you'll have a comfortable seat and you can easily wander around the stretch your legs whenever you need to – something that you can't really do on a bus. Trains depart at 6am, arriving around 9pm the same day, or you can take an overnight train departing at 3pm and arriving at 5:10am or departing 5pm and arriving 7:45am. The drawback with traveling overnight is that you wont get to enjoy the beautiful scenery, but you will be saving yourself money as you won't be needing a hotel that night.
If you prefer to travel overnight you may be better getting a Sleeper cabin so that you have a full bed to lie down on, and hopefully get some sleep. The cost is more, but it's actually comparable to the cost of the VIP buses so rather than paying for a seat on a bus, consider the train from Yangon to Mandalay instead.
There's just one thing you'll need to bear in mind if you want to go by train. You have to book your tickets at least 5 days in advance although we would recommend booking them as far ahead as possible, just to be sure that you get the train and ticket that you want.
Flights from Yangon to Mandalay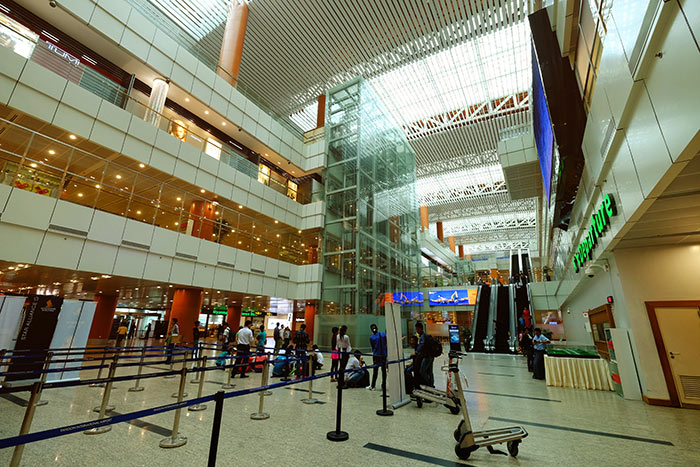 When you're pushed for time, trains and buses just aren't a good option. In these circumstances catching a flight from Yangon to Mandalay makes the most sense. It is substantially more expensive than traveling by bus or train, but if you're not able to spend an entire day or night traveling, flying is a good idea. There are several airlines to choose from as well, so finding one that fits in with your schedule shouldn't be too difficult. A few words of advice though – be sure to check what each airline offers you within the ticket price. The cheaper airlines don't always give you any luggage allowance so if you have a large suitcase that has to go in the hold, look into whether this included or charged at an extra cost.
The airlines you can choose from include: Air KBZ, Air Mandalay, Asian Wings Airways, Mann Yatanarpon Airlines, Myanmar Airways International, Myanmar National Airlines, and Yangon Airways.
So, when you can take your time, take the train, but if you're in a hurry and you have the money, a flight from Yangon to Mandalay is sure to be the best option for you!
How useful was this post?
Click on a star to rate it!
Average rating / 5. Vote count: