Fast paced, exciting and fun are three ways you could describe both Hong Kong and Macau. Separated by an inlet of the South China Sea, these two 'special administrative regions' are now part of China but only for the past few decades. Hong Kong was a British territory until 1997, and Macau was Portuguese until 1999. Wander around the older parts of each city and you'll still find colonial influences, yet it's the modern high-rises and glistening landmarks that mostly attract tourists today. Ocean Park, Hong Kong Disneyland, and Victoria Harbour are main attractions in Hong Kong, while Macau is known as the Las Vegas of Asia thanks to its many giant casinos and malls, and its towering landmark, the Macau Tower.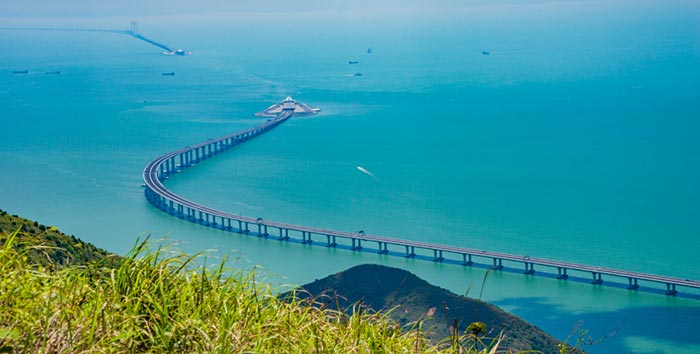 Options for Travel from Hong Kong to Macau
If you only wanted to travel by land from Hong Kong to Macau, your options were very limited up until a little while ago, but that changed when the Hong Kong – Zhuhai – Macau Bridge opened in 2018, drastically shortening the distance by road and providing an alternative to the ferries. This 55-kilometer (34-mile) long bridge and tunnel system is the longest sea crossing in the world and it's quite a spectacle to behold if you choose to travel by bus. But, going by ferry is still a very good option too, and there are plenty of ferry options you can select from. A final way to travel, if you want to enjoy some luxury and very cool views along the way, is to travel from Hong Kong to Macau by helicopter!
Hong Kong to Macau by Bus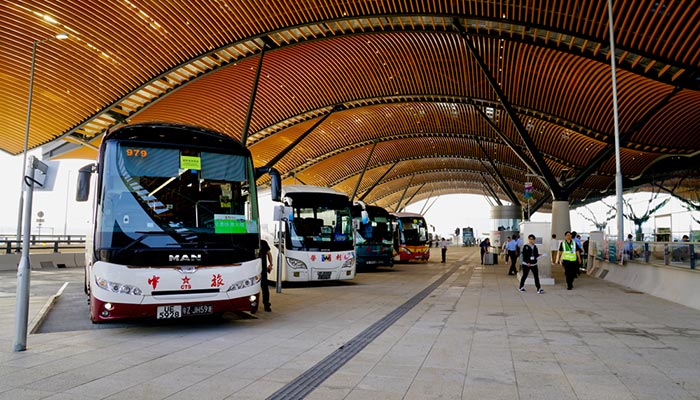 Traveling by bus from Hong Kong to Macau is a great option for anyone looking to save a few dollars over the cost of the ferries, as bus travel is the cheapest transport option. And with the new bridge connecting Hong Kong to Macau, traveling by road is now very feasible.
You can book a bus with bus company Chinalink, through the travel booking website 12Go.asia. Search for buses from Hong Kong to Macau and you will see plenty of options for departure times as well as several different departure points and arrival points, allowing you to book the ones that suits you best depending on where in Hong Kong you are starting from, and where in Macau you want to arrive.
Travel time does depend on those departure and arrival points too, ranging from an hour and 15 minutes, to 2 hours for most routes. And the pricing is very similar – just add a few more dollars if you're traveling from East Point City in Hong Kong to Galaxy or Venetian Macao.
The buses are all modern and comfortable and have air conditioning, so they're perfect for a journey of this length, and there are departures throughout the day, depending again on your departure and arrival points, but usually the earliest bus will leave Hong Kong at 8:15am while the latest will depart at 8:15pm.
Hong Kong to Macau by Ferry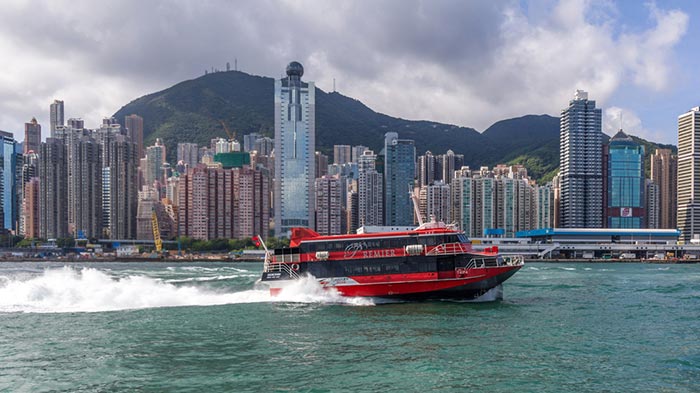 When we talk about the ferry from Hong Kong to Macau we're actually talking about several different ferry companies. Up until the opening of the bridge, traveling by ferry was the most popular way to get from Hong Kong to Macau and the only really feasible option for the vast majority of travelers, unless you have a lot of money wand wanted to go by helicopter!
Although buses are cheaper than ferries and the buses are quite flexible, ferries are still a very good option. There's something about the thrill of traveling across the water, and if you choose one of the services offered by TurboJET, you'll enjoy a high-speed crossing! You could argue that the scenery is better from a boat, but as the bridge crosses a similar stretch of water, you won't actually be seeing much different, however, as you leave Hong Kong and approach Macau, you will be treated to some great views of the city skylines when coming in by boat.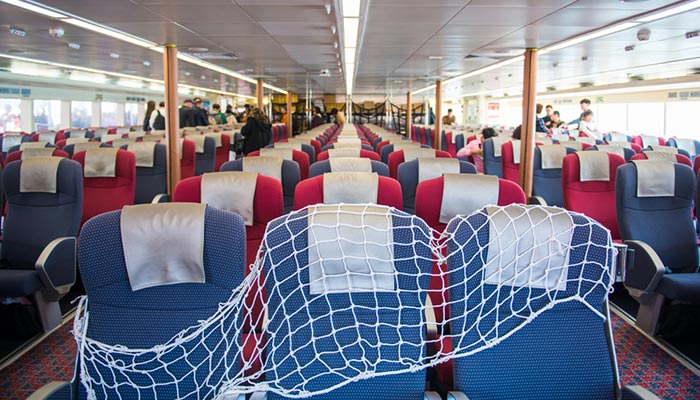 Traveling by ferry from Hong Kong to Macau also gives you several options for the class of travel you would like. Economy Class is most popular as it's an affordable price that is just a few dollars more than the buses. You'll be sitting in the main area of the ferry, in rows of comfortable seating that are reminiscent of airplane seats. The good thing is that you do have the opportunity to get up and walk around, and gaze out the windows if you want to, or use the washrooms – something you cannot do on a bus.
The next ticket up from Economy is Super Class which is almost double the price of Economy seats. For the extra price you're getting a smaller and therefore more intimate lounge area and slightly more comfortable seats, so you may decide it's not really worth the extra cost.
Going by ferry from Hong Kong to Macau the most expensive tickets are Premier Grand Class. This is kind of the equivalent of traveling in Business Class on an airplane – the seats are wider and more comfortable, and you're in an even smaller cabin that you'll be sharing with a small number of fellow passengers. But, for the increased cost, you may again decide it's just not worth spending the extra money.
All ticket types offered with TurboJET on the Hong Kong to Macau ferry can be booked easily online through 12Go, so you can compare the ticket prices and make up your own mind. Depending on your departure and arrival points, the ferry crossing will get you to Macau faster than the buses, taking between 40 minutes to an hour.
While TurboJET is a good and fast option, don't forget that there are other ferry companies you could look at as well, with even more frequent departures. However, most of the other ferries are not as high-speed as TurboJET so bear that in mind.
Hong Kong to Macau by Helicopter
Although this is more of an option for elite travelers, we wanted to include it! Getting from Hong Kong to Macau by helicopter is an amazing experience – it's the fastest way to travel, getting you from Hong Kong to Macau in only about 15 to 20 minutes, but of course it is also by far the most expensive way to go. For the experience though, and the chance to see both of these amazing destinations from the air, a helicopter from Hong Kong to Macau is a one in a lifetime experience offered by Sky Shutle Helicopter Ltd.
To save money, if you're traveling on a budget, taking the bus from Hong Kong to Macau is recommended and it's convenient too. Ferries are still a great option though and tickets are comparable to the buses, especially considering the high-speed ferry will get you there faster.
How useful was this post?
Click on a star to rate it!
Average rating / 5. Vote count: