Batangas City and Province are just a short distance south of the country's capital, Manila, making them an easy to reach and popular tourist destination. Home to Taal Volcano and Taal Heritage Town, the province also features many great beaches, providing a good assortment of attractions for visitors of all ages. From here, you can go south to visit many more of the Philippines top tourist destinations. There's the tropical island of Boracay with its gorgeous white sand beaches and crystal clear waters and it's easily accessible from Caticlan, a small tourist town that acts as a transport hub for ferries and flights to the area.

Options for Travel from Batangas to Caticlan
To get from Batangas to Caticlan you have to cross another island and two stretches of water, if you wanted to try driving there, that is. There are bus routes available if you wanted to cover as much of the distance on land as you can, but this is by no means a straightforward journey, with two buses and a ferry, and it does add a lot of distance onto your trip as you would have to follow the road which is incredibly winding in points. There are two, more sensible options: to fly or take the ferry, but there are of course drawbacks to these as well.
Batangas to Caticlan by Ferry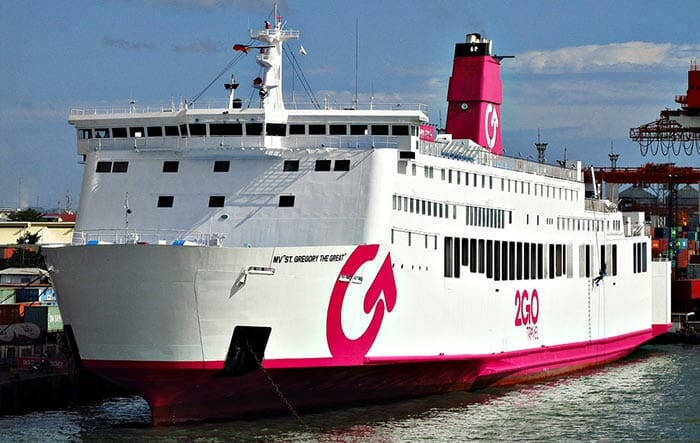 Let's start with the ferry option because, all things considered, this is the easiest way to travel from Batangas to Caticlan. It's easy because there are direct ferries that depart from Batangas Port and arrive right at Caticlan Jetty Port, so in a sense it's a door-to-door service! Of course, you will have to make your way to the port in the first place, and then figure out where you need to go once you arrive at Caticlan, but these are both major transport hubs for the region, so there will always be options for getting to and from the ports by public transport or taxis.
Getting from Batangas to Caticlan by ferry is not necessarily the fastest way to get from A to B. It should take around 9 hours to travel the distance, but this may vary a little if the conditions are not so good. Ferries do generally operate throughout the year though, so you can usually guarantee that there should be a service even if you're visiting in the off season.
There are now two ferry operators to choose from on the Batangas to Caticlan route: 2GO and Starlite Ferries. This gives you more choice for departures, adding to the level of convenience. There is not much to separate these two companies – both have a variety of accommodation options and their prices are quite similar. Some travelers may argue that the service is a little more upscale with 2GO compared to Starlite. With 2GO your accommodation options include Super Value Class – the cheapest ticket, Tourist Class, Cabin for 4, or a Suiteroom for 2. While with Starlite you could buy tickets for Reclining Seats, Tourist Bunk Beds, or a Cabin for 4.
If you prefer some privacy for the trip, or you think you may suffer from sea sickness, buying tickets for a Cabin for 4 is recommended, especially if you're traveling with your family or friends. It does cost more, but for the extra comfort, it's probably worth the cost. Of course, if you're trying to save money, the cheapest ticket is Super Value Class, but do consider this carefully as the next grade up – Tourist Class – is only a few dollars more and offers more comfort.
Tickets for ferries from Batangas to Caticlan with 2GO can be through the travel website 12Go.asia where you can see prices and schedules, and select the type of ticket you want.
Flight from Batangas to Caticlan
If you don't like the idea of spending 9 to 10 hours on a ferry, the next best option for getting from Batangas to Caticlan is to catch a flight, however, as mentioned above this is not as easy as taking a ferry. To start with, there is no airport at Batangas so you will have to get back to Manila and the Ninoy Aquino International Airport. There are public buses that will get you there from Batangas, but it will involve changing buses along the way and can be a bit of a headache if you're not used to traveling by bus and need to find the correct ones to board. You could also grab a taxi from Batangas to the airport but it will cost more, adding to the expense of a flight, which is already going to potentially cost significantly more than the ferry anyway.
Even so, getting a bus to the airport and then catching a flight to Caticlan should still save you some time, and if you get sea sick this is probably the best way to travel as there are no ferries involved! The flight itself will only take around an hour and it arrives right into Caticlan. A word of warning on the airport, as it can get confusing. Caticlan's airport is called Godofredo P. Ramos Airport but was also known as Caticlan Airport. More recently though, it's adopted the name Boracay Airport because this is the airport you would use to access the island of Boracay, so you may actually see any of these three names used!
The good thing if you choose to get a flight from Batangas to Caticlan is that there are five airlines who fly this route. This can help to keep ticket prices a little lower than they might otherwise be, and it gives you more choice of flights throughout the day, allowing you to find one that suits your schedule best. The airlines are: Cebu Pacific, Cebgo, Philippine Airlines, Philippines AirAsia, and SkyJet.
For reasonable cost and convenience, we would recommend taking a ferry from Batangas to Caticlan and paying the extra for a Cabin for 4 if you want extra privacy. But, if you don't travel well on the water, catching a flight after taking a bus from Batangas to the airport could be a good idea for you.
How useful was this post?
Click on a star to rate it!
Average rating / 5. Vote count: