The island city-state of Singapore is an adrenaline-filled destination that could keep you busy for weeks. From its colonial core with grand architecture, an impressive Chinatown, and beautiful temples, to its global financial center with modern skyscrapers, Singapore is a place of history and modernity. Several hours to the north west, the Malaysian city of Malacca offers some similarities to Singapore with its Chinatown, temples, and interesting colonial architecture, but Malacca is more laid-back than the go-go-go atmosphere of Singapore. Come here to stroll the night market and browse its antique shops in this enticing UNESCO World Heritage Listed city.
Options for Travel from Singapore to Malacca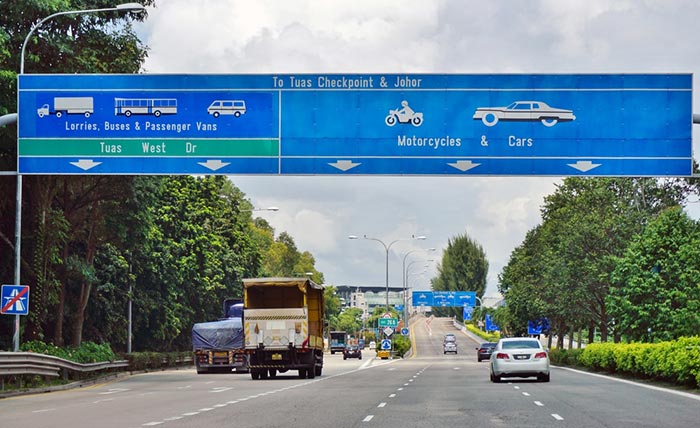 The distance from Singapore to Malacca is around 240 kilometers (150 miles) so these two cities are not especially far apart. There are no flight options to get you from Singapore to Malacca so traveling is basically limited to land, but do remember that you will be crossing an international border as Malacca is in Malaysia, while Singapore is an independent city-state. If you want to travel by road your options are to drive yourself, catch a bus, or take a private taxi service, or going by train is also possible despite not getting you all the way into Malacca City.
Train from Singapore to Malacca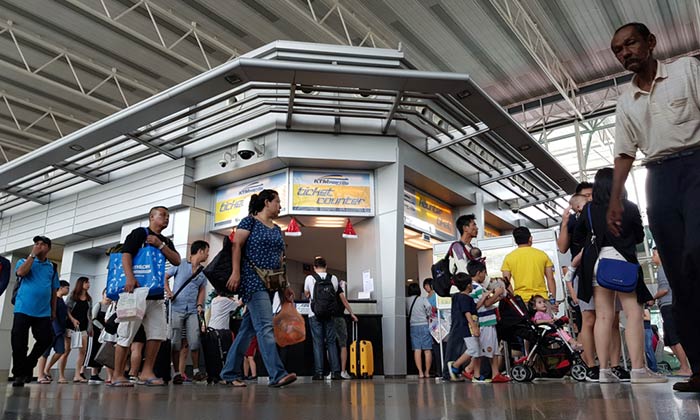 Let's start with the train from Singapore to Malacca. This is a feasible option, but as we mentioned above, the train does not go all the way into Malacca City, if that's where you're hoping to get to. Still, it's a feasible option that's preferred by some travelers who don't wish to travel by road, however, there is another drawback – you will also have to change trains once, and the whole journey can be time-consuming.
If you're still interested, here are the steps you will need to take, to travel from Singapore to Malacca by train. Firstly, catch a train from Woodlands Train Station in Singapore, going to JB Sentral Station in Johor, Malaysia. Once at Johor you will need to change onto another train that travels north, passing through Tampin, where you get off at the Pulau Sebang Station. This section of the journey is reputed to take up to 5.5 hours because sometimes the trains travel extremely slowly, so do bear this in mind. After getting off the train in Tampin, you will still have about another 40 kilometers (25 miles) left to reach Malacca City and you'll have to travel this distance by local bus service, or by taxi.
There are currently no combined tickets available to buy to get from Singapore to Malacca by train, so each section of your journey will be completely independent meaning you will have to buy the tickets yourself. Add this to the amount of time that traveling from Singapore to Malacca by train takes, and you may come to the same conclusion as us – it's not a highly recommended way to travel!
Bus from Singapore to Malacca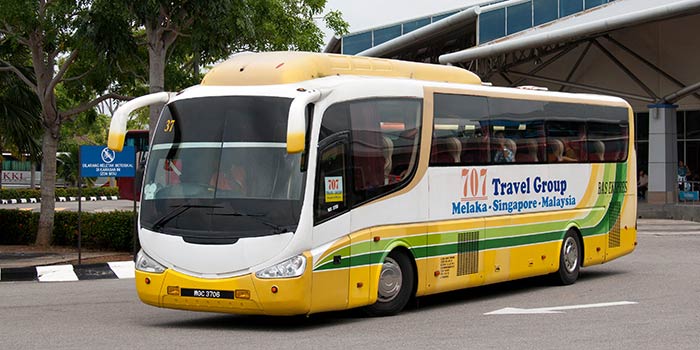 Catching a bus from Singapore to Malacca is a far more common way to travel between cities, as highlighted by the large number of bus companies and buses that operate along this route. With so many buses to choose from, it's usually very easy to find one to suit your schedule, and traveling from Singapore to Malacca by bus is also great for anyone on a budget as bus travel is so much cheaper than other forms of transport.
You'll find that there are a good four or five reputable bus companies you can choose from, and of those there are two that are offered for sale through the travel website, 12Go.asia. If you book your tickets through 12Go you get extra peace of mind as you can book tickets easily in advance, and you can compare times and ticket prices all on one page. 12Go work with StarMart Express and 707 who between them have more departures times and options than you could ever need! There are many popular pick-up points in Singapore, such as Golden Mile Tower, City Plaza, Queen Street, and Boon Lay, so you're not limited to having to find your way to a central bus station first.
Book with 707 if you're fine with an Express bus and you don't need any extra creature comforts on board. These buses are a few dollars cheaper than those offered by StarMart Express; theirs are VIP 24 buses which have wider and more comfortable seats, and provide a steward service with snacks.
Travel time varies depending on the time of day and the amount of traffic on the roads, and on where you are starting from in Singapore, but posted travel times range from 3 hours and 50 minutes, to 4 hours and 15 minutes.
It's important to note that even though there are many buses from Singapore to Malacca, they go get very booked up in advance on weekends and especially on holidays. Malacca is extremely popular as a weekend getaway destination for Singaporeans, so if you're planning to travel to Malacca on a Friday or Saturday, we would either advise that you change your plans, or you book it a long way in advance.
Taxi from Singapore to Malacca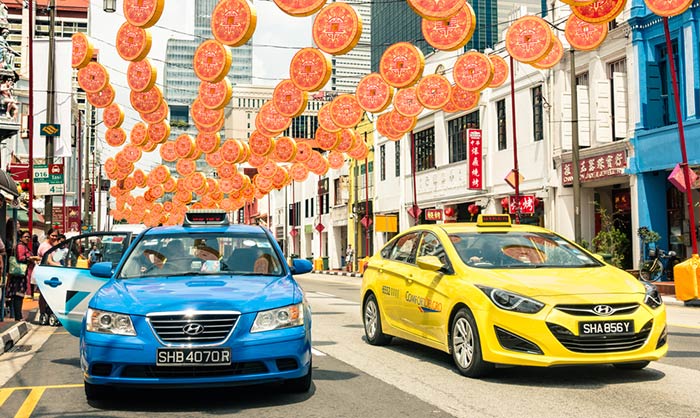 A final option you may like to consider when traveling from Singapore to Malacca is to take a private taxi. The main drawback with this mode of transport is the cost – it will easily overshadow trains and buses as being the most expensive, but if you're traveling as a family or in a group and can split the cost of the car between you, it may work out to be affordable after all.
The great thing about travel from Singapore to Malacca by taxi is that it's completely independent. You can be picked up directly from your hotel in Singapore, and get dropped off at the door of your hotel in Malacca. You could also pre-arrange to have some stops along the way, if you wanted to. There is a recommended company who offers these private transfers from Singapore to Malacca, SGMYTAXI, and you will have to book with them directly.
In conclusion, bus is usually the most affordable way to travel from Singapore to Malacca. It's also convenient, with multiple pick-up points, and easy to book online with 12Go.
How useful was this post?
Click on a star to rate it!
Average rating / 5. Vote count: