The Philippines' bayside capital city is a delightful mix of old and new that holds something for everyone. Manila has Spanish colonial architecture dating back to the 16th century that includes Fort Santiago and the baroque-styled San Agustin Church, while all around Intramuros (the historic heart of the city) you'll find many more historic gems. And then there's the modern side to this city – bustling, busy with traffic all day and night, and filled with skyscrapers, modern Manila is home to shopping malls, fancy restaurants, museums and more. Hundreds of kilometers south, the city of Bacolod is like a smaller version of Manila. On the surface, this former sugar-boom city looks like it doesn't have much to interest the passing tourist. It's a good transportation hub, after all, but Bacolod does have a lot to see and do through its historic sites, museums, parks, and as a base for exploring Mount Kanlaon Natural Park. Bacolod is also known for its great cuisine, perfect if you enjoy sampling local foods.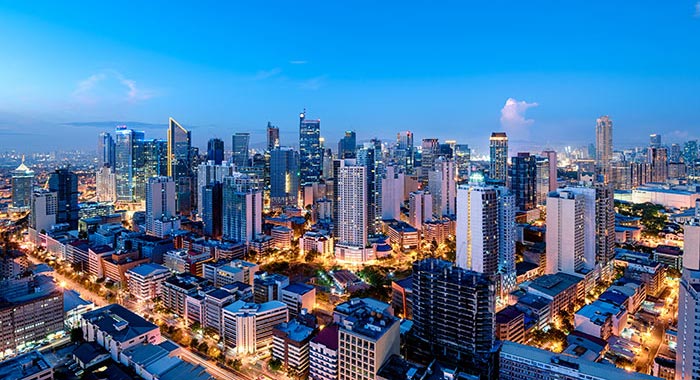 Options for Travel from Manila to Bacolod
Typical for traveling around the Philippines, your journey from Manila to Bacolod will involve crossing numerous islands and stretches of water, so it's always an interesting journey! There are plenty of flights from Manila to Bacolod, and flying is the quickest and easiest way to get from one city to the other. By plane, the distance is only around 480 kilometers (300 miles), but if you choose to travel by road or by ferry, it adds a considerable number of miles to the trip. Going by road is an option, but one that we really wouldn't recommend as you would be doing a lot of driving across islands, and then hopping onto ferries to make the crossings. This could be an interesting way to travel if you are renting a vehicle and really want to take your time exploring the Philippines, but really, your best choices are to fly or to catch a ferry that does the entire trip in one go. Ferries do take a long time compared to flying, but they offer quite a different experience. Read on to find out which way to get from Manila to Bacolod is best for you.
Flights from Manila to Bacolod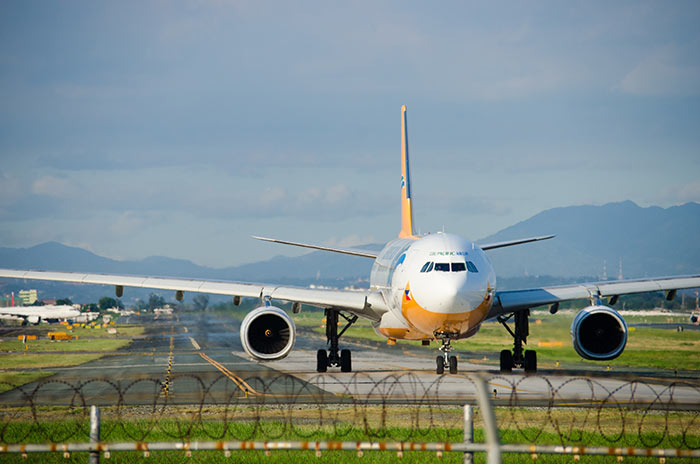 It's easy to see why catching a flight from Manila to Bacolod is so appealing. Flying is very quick compared to the ferry, and although airline tickets will usually cost you more than the ferry, a flight is not actually that much more expensive. Bearing in mind the reasonable additional cost, this makes flying even more appealing when you think how much time you will be saving.
When you're comparing travel options, always remember to add in the time the journey will take in addition to the flight itself. So, this means traveling from Manila to the Ninoy Aquino International Airport – the airport is close to the city center but you will need to use public transport to get there. This is no problem, with jeepneys, buses, and rail connections into and out of the city. Then you have the time it takes to check-in and go through security, before finally boarding the plane. The flight is only a little over an hour, and there are multiple airlines to choose from, meaning you have better chances to find cheaper tickets. Book as far as you can in advance for the best deals, and if you're flexible on time of day, and day of the week that you fly, you can usually save some money there too.
Flights from Manila to Bacolod can be booked through the online travel booking website 12Go.asia. Search for options from Manila to Bacolod and it will show you all the flights available for your chosen day, as well as the ferry options too, so you can compare them all and make your decision after reading passenger reviews, all one the same page.
The airlines you can choose from are: Cebu Pacific, Philippine Airlines, and Philippines AirAsia, and there are multiple flights with all of these airlines every day of the week.
Once you get to Bacolod, you'll arrive at the Bacolod-Silay Airport which is around 15 kilometers (9 miles) from the city. You can transfer into Bacolod by Public Utility Vehicles. These are shuttle vans and their prices are cheaper than taxis.
With the transfers and time getting through the two airports added in, the most it should take to get a flight from Manila to Bacolod is half a day, so if you leave on a morning flight you will definitely be in Bacolod for an early dinner!
Ferry from Manila to Bacolod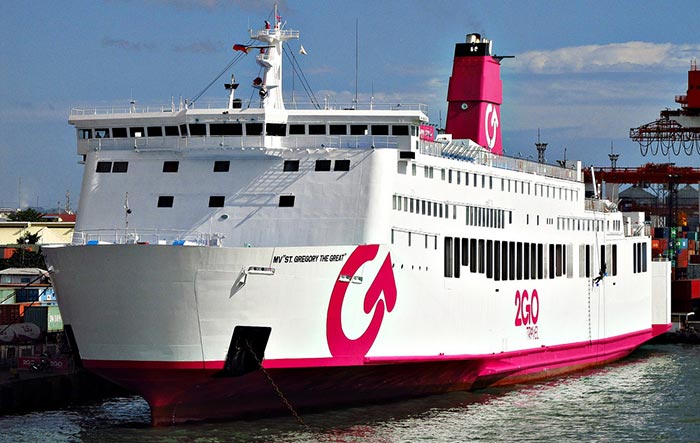 Taking a ferry from Manila to Bacolod may be far more time-consuming, but this is also a popular way to travel between these two cities. You'll find a greater number of local people will travel by ferry because it's a more affordable option than flying, but there are also plenty of tourists who have wised-up to using the ferries in the Philippines too! There's the cost saving, after all, but it's also a very different experience, perfect for tourists who have more time on their hands and want to enjoy the journey as much as the destination they're heading to.
2GOTravel operates direct ferries from Manila to Bacolod, operating three times per week. With space for hundreds of passengers at a time, the ferries certainly do take a lot of people, and it's great that there are several different classes of ticket you can purchase, depending on your budget. As mentioned above, you can book ferry tickets through the online travel website, 12Go, as well as flights, so look at the different ticket class options and compare the prices before making a decision. Booking in advance is recommended, especially during the peak season, because they do get booked up. You could find there are only limited options available if you leave it to the last minute.
Catching a ferry from Manila to Bacolod, the journey takes around 20 hours from port to port, so you will be traveling overnight. Ferry travel is a great way to see more of the Philippines though, and to spend time absorbing the culture of the people. The ferries are fully equipped with places to eat and entertainment, so you're unlikely to get bored, but be sure to choose your ticket class wisely, especially if you enjoy your privacy because many of the cabins are shared with other passengers.
With multiple operators, getting from Manila to Bacolod is easy, you just need to decide whether you want to spend a little more and take a quick flight, or sit back and watch the passing scenery on a ferry!
How useful was this post?
Click on a star to rate it!
Average rating / 5. Vote count: