There are many great cities in India that are worth visiting, but one of the most remarkable and beautiful cities in the country has to be Jaipur. Known as the Pink City because of the pink hue that many of its buildings have, Jaipur is full of spectacular architecture, like the City Palace, Hawa Mahal, Amber Palace and Jantar Mantar, and it is steeped in history since its founding in 1727. Jaipur is the capital of the state of Rajasthan and it's part of the Golden Triangle tourist circuit, making this city well worth a visit. After Jaipur, head to the southern edges of Rajasthan and visit the smaller city of Udaipur for a whole new experience.
Beautiful in a different way, Udaipur is known as the City of Lakes with seven lakes surrounding it and mountains close by, Udaipur has an almost European feel to the city until you look at it its tourist attractions that include the vast City Palace complex and plenty of things to see within the old city. Spend time on its lakes and climb to higher elevations for spectacular views of the city.
Options for Travel from Jaipur to Udaipur
The straight line distance between Jaipur to Udaipur is about 330 kilometers (206 miles), but when you're following roads and railways tracks, quite a few extra miles are added to the trip. By road, you're looking at a shortest route of around 410 kilometers (256 miles) while the railway adds a further 14 kilometers. So, traveling by road (bus) and railway are both options, but flying is also a possibility. A flight from Jaipur to Udaipur will get you there much faster than a bus or train, but a flight is likely to be quite a bit more expensive.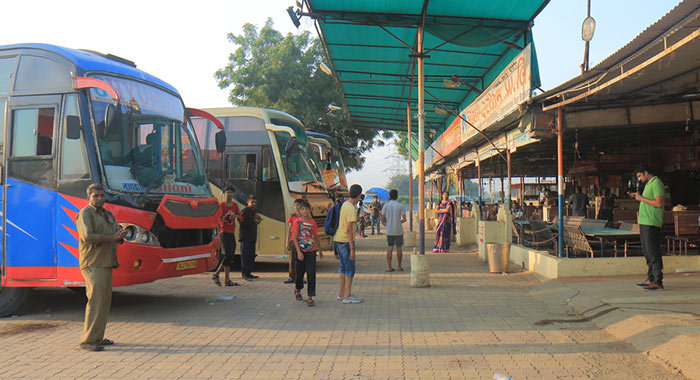 Traveling by bus from Jaipur to Udaipur has several advantages; first, there are so many buses traveling this route every day that finding a ticket on a bus should not be difficult. There will always be lots of choice when it comes to traveling by bus from Jaipur to Udaipur, giving travelers better scheduling options so you can leave Jaipur at a time that suits you. With so many buses operating, it helps to keep prices lower because there is competition between the different bus companies. Bus travel is the cheapest way to get from Jaipur to Udaipur anyway, so you'll be saving money by taking a bus – great if you're trying to travel on a fixed budget.
But, with affordability there are inevitably some drawbacks to bus travel in India. One drawback is the time it will take to get from Jaipur to Udaipur. Advertised travel times do seem to vary quite substantially, and there are differences between the state and private operators, as well as whether the bus you're on is considered to be an 'express' service. So, travel times could be as little as 7.5 hours to as much as 12 hours.
The official (state) bus operator for the state of Rajasthan is the Rajasthan State Road Transport Corporation (RSRTC), and they operate around a dozen buses each day from Jaipur to Udaipur. So, if you stick just with RSRTC buses you already have a lot of choice, but there are also many private bus companies too, opening up a wealth of possibilities.
Bus travel prices do vary across the different companies but generally you're going to find it be very affordable. We would recommend that you avoid the very cheapest options because these will tend to be non-air conditioned buses, and they may drive on back roads that are not in good shape, rather than the national highway. These buses will take the longest time because of the poor road conditions and multiple stops.
Flights from Jaipur to Udaipur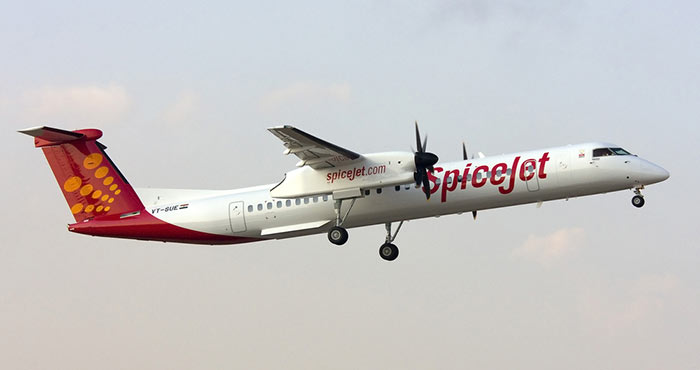 Although it's going to cost you more than traveling by bus or by train, flying from Jaipur to Udaipur saves you a lot of time and allows you to spend more time exploring Udaipur. Flights take only about an hour, so even when you add in the time to get to the airport, check-in, security, boarding, then picking up your luggage and transferring to your hotel in Udaipur, you should still arrive far quicker than you would on the bus or train.
The good news is that although this isn't a major flying route, there are daily flights from Jaipur to Udaipur with SpiceJet, leaving Jaipur at 10am. A second option is to fly with Alliance Air. They depart three times per week, so although it's not quite as flexible as SpiceJet, it does give you another option to consider.
From Jaipur you'll be departing from the Jaipur International Airport which is about 13 kilometers (8 miles) from Jaipur itself, in the suburb of Sanganer. You can get to the airport by bus, which takes about an hour, or for a faster journey, take a taxi.
At the Udaipur end you'll be arriving at the Maharana Pratap Airport which is in Dabok, 22 kilometers (14 miles) from Udaipur itself. You have the same options here for getting into the city – public bus (Route 5), taxi, or auto-rickshaw.
Jaipur to Udaipur by Train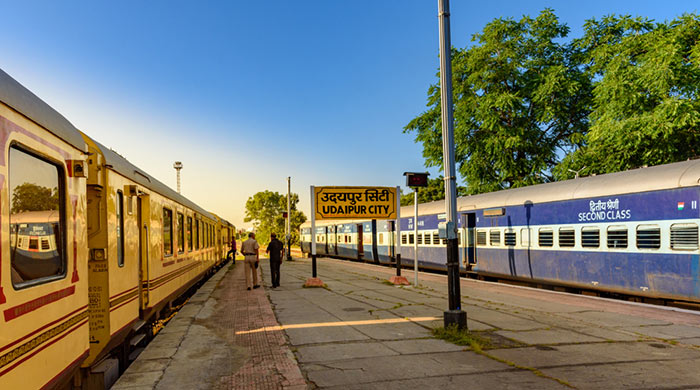 Traveling by train in India is quite an experience. It's a very popular way to travel long distances between major cities as it can be very affordable, especially for the basic seats in a carriage that does not have air conditioning. However, unless you enjoy very hot and uncomfortable surroundings, we would not recommend traveling this way! Instead, opt for a more expensive ticket that gives you an air conditioned carriage, or even go one better than that and get a berth so that you can happily take an overnight train and get some sleep. Of course, as you might expect, there are different classes when it comes to sleeper berths as well, starting with beds that have very little padding on them, all the way up to a First Class Sleeper that will give you privacy and more comfort.
Schedules can change, but generally there will be two direct trains from Jaipur to Udaipur each day, plus a number of other trains running on select days of the week. So, you can guarantee at least two departures per day, with as many as six on some days. This gives you a lot of choice, but, seats on trains from Jaipur to Udaipur can get booked up in advance so it's a good idea to try to book your tickets as early as you can to make sure you get a seat or a sleeper berth. Tickets can be booked online through 12Go.asia where you can easily compare tickets types and prices, and this saves you having to find websites specifically for railway travel. The two direct trains per day take around 7.5 hours, and we would recommend the night train, departing at 11pm from Jaipur, arriving at 6:35am the next morning in Udaipur, saving you the cost of a night in a hotel.
A final option for traveling from Jaipur to Udaipur is to take a private taxi. These can also be booked through 12Go but they are expensive and only really become affordable if you're traveling with a group of people. Trains in India are renowned for being late, so bear this in mind, and remember that buses do take a long time, while flying gets you from Jaipur to Udaipur quickest.
How useful was this post?
Click on a star to rate it!
Average rating / 5. Vote count: