The city of Albury in New South Wales, Australia, may not be known around the world like some of Australia's other cities but regardless of this it's a great place to visit. If you're touring around this part of Australia, Albury makes a great stopping point on your way north to Canberra, as it's about half way from Melbourne, and being an attractive place with a variety of things to see and do, spending a few days in Albury is highly recommended. Beautiful botanic gardens and parks can be found right in the city, along with historic buildings and museums, and Albury is also a gateway to nearby lakes, forests and mountains if you enjoy hiking. After this, head to the country's capital, Canberra. Reminiscent of Washington DC, this planned city has monuments, parks, gardens, memorials and museums; enough to keep a family busy for several weeks!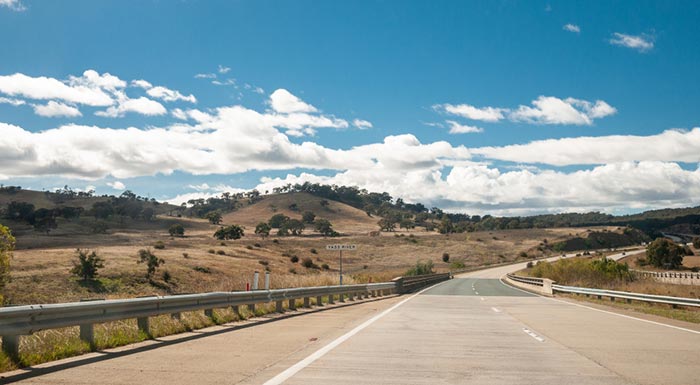 Options for Travel from Albury to Canberra
On a map, it doesn't look too far to travel from Albury to Canberra, but as Australia is such a large country, appearances can be deceptive! The straight line distance between these two cities is around 220 kilometers (137 miles), which is only possible if flying, but when traveling by road, the distance is increased quite substantially to around 340 kilometers (212 miles) as you have to follow where the road goes. The motorway actually travels quite a bit to the west and north before coming back around to Canberra due to there being mountains and a national park in the way! Unfortunately though, flying is not an option as there are no direct flights from Albury to Canberra. Albury does have its own airport but currently only has flights from and to Sydney and Melbourne. Of course, you could fly from Albury to Sydney and then take a connecting flight to Canberra, but this would take a lot of time and could cost a lot of money. Trains are also a possibility from Albury to Canberra, although most travelers choose to go by bus because it is easy and affordable. We'll give you the details of both these options anyway, and you can make your own mind up.
Albury to Canberra by Train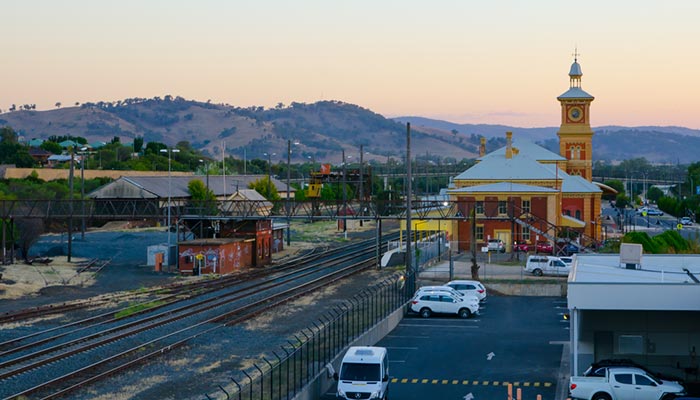 While a search online makes it seems as though you can catch a train directly from Albury to Canberra, this isn't actually the case. Albury Station is the terminus for V-Line railway services which travel north from Melbourne. At Albury, passengers would get off the train and get on a bus instead for the trip to Canberra. Traveling further north by train is possible on NSW TrainLink services, however, these go from Albury to Sydney without forking off towards Canberra. So, if you wanted to catch a train from Albury to Canberra you would have to change trains at Goulburn Railway Station. Although this doesn't sound like it would be too much of an issue, Goulburn is a considerable distance beyond Canberra meaning you will be backtracking when you get on the Goulburn to Canberra train. Because of this, the journey will take far longer than it would by direct train (if there was indeed a direct train to take!) and because you're traveling on several different trains, the price of the tickets will go up.
With the inconvenience of changing trains, waiting for the next train, and then having to double back by quite some distance, we wouldn't recommend trying to travel by train from Albury to Canberra.
Albury to Canberra by Bus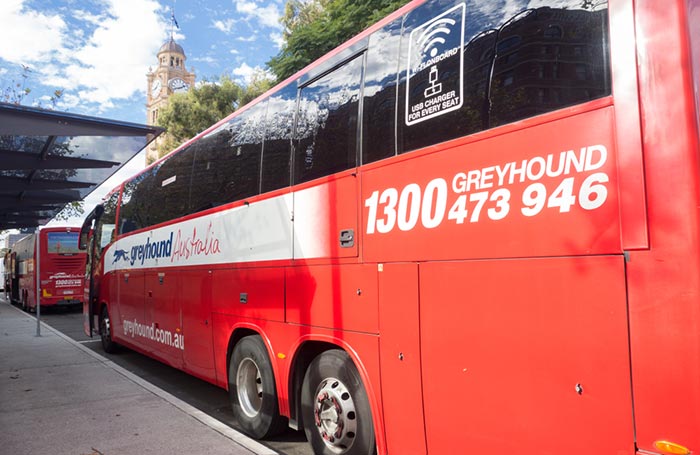 Going by bus is a different story though. This is the most popular way to travel from Albury to Canberra because it's easy, affordable, and there are multiple services to choose from each day, offered by several different companies.
Greyhound Australia is one of those companies, and a great choice if you want to travel with a reputable operator. Their modern buses (generally referred to as coaches in Australia) are comfortable for a journey of this length, and they have a few departures from Albury to Canberra each day. One is a night service, so this could be a good choice if you don't want to waste any daylight while on your vacation. Traveling on a bus overnight also means that you save the cost of another night in a hotel, so this makes the ticket price seem even more reasonable.
You can book your tickets with Greyhound from Albury to Canberra through the travel website, 12Go.asia. They give you search results for the available buses each day, and there is a choice of two departure points from Albury. The first is a more central location within the city, at Albury Railway Station. These buses depart at 1:30am, arriving in Canberra at 6am, and at 12:30pm, arriving in Canberra at 5pm. The other departure point is on the way out of the city at a motorway service area just off the M31 which is referred to as Albury Meal Break. Buses depart from here at 2:20am and 1:20pm and the scheduled journey time from here is shorter, with buses taking just 3 hours and 40 minutes as opposed to 4.5 hours from the center of Albury. Booking is fast, easy and convenient online through 12Go, and you'll get instant confirmation of your ticket purchase.
As we mentioned earlier in the travel by train section, one of the railway companies operates a bus service from Albury to Canberra which ties in with their train from Melbourne that terminates at Albury. This bus service can be used by anyone, so it isn't restricted to people who have already traveled by train, giving you another option if you don't fancy traveling by Greyhound or their buses are already full when you try to book.
With V-Line there is just one bus per day, leaving from Albury Railway Station at 11:20am, and arriving in Canberra at 3:35pm. The journey takes around 4 hours and 15 minutes, including 6 stops along the way, so the trip duration is similar to Greyhound but ticket prices tend to be cheaper on the V-Line buses.
So, while a flight from Albury to Canberra is possible via Sydney, it won't save you any time or money so we wouldn't recommend this. The same goes for the train because there isn't a direct service and you would have to change trains. Buses are a far easier and affordable option, getting you from Albury to Canberra in good time, so we would recommend catching a bus between these two cities.
How useful was this post?
Click on a star to rate it!
Average rating / 5. Vote count: