North Queensland, with its Great Barrier Reef, rainforests, and Whitsunday Islands has plenty for tourists to see and do, and at the heart of North Queensland is the city of Townsville. Home to many of its own attractions, like The Strand, an aquarium, museums and more, Townsville is also a great base for exploring the nearby national park of Magnetic Island. When you're done exploring here, head north, further along the Sunshine Coast to the city of Cairns, gateway to the Great Barrier Reef. The warm tropical climate here makes this a favorite place to swim by day and socialize by night in the resorts and bars, but it's also a laidback city that attracts backpackers on the one hand, and cruise ship passengers on the other.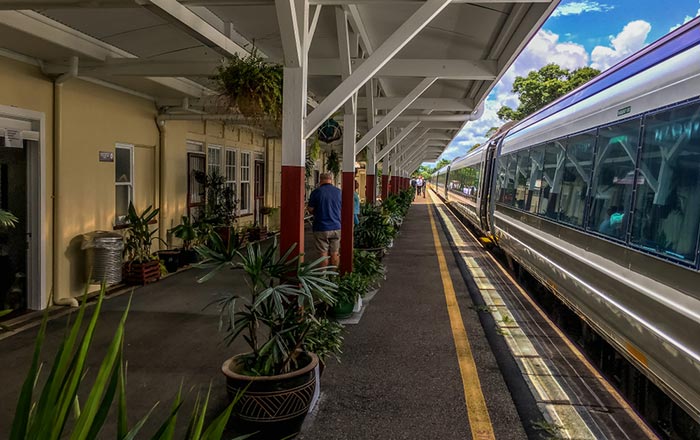 Options for Travel from Townsville to Cairns
It's easy to forget just how far it is from one city to the next in Australia! Look at a map, and the distance from Townsville to Cairns seems insignificant, but in reality, going by road it's close to 350 kilometers (219 miles) between these two cities, and that's not insignificant by any stretch. Luckily, this is a very popular route so you have several different options for traveling from Townsville to Cairns. Flying is one option which, while fast, will cost you a lot more than the other options. Going by bus is far cheaper but takes longer, and there's the train to consider too with its variable ticket choices.
Flights from Townsville to Cairns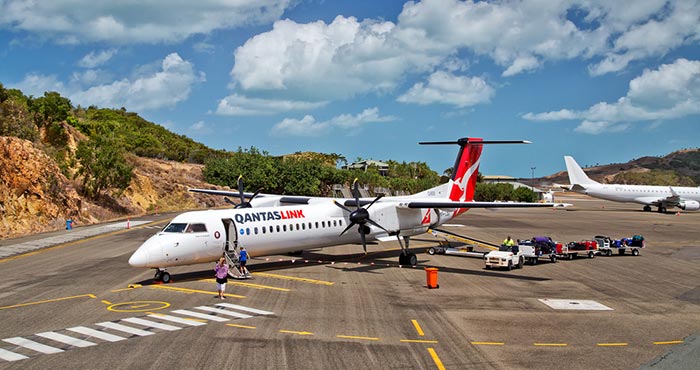 When you're traveling in such a large country, taking a flight often makes the most sense so you can cover larger distances in a shorter time. This is true of getting from Townsville to Cairns as a non-stop flight between these cities takes only around an hour, so it saves you several hours over driving or catching a train. But, while there are a couple of airlines who fly from Townsville to Cairns, this doesn't mean that prices will be affordable, and the high price is likely to dissuade a lot of people from traveling this way.
Even so, if you're in a hurry and want to get to Cairns much faster, catching a flight makes sense. You can fly direct with Qantas Airways and Rex. Qantas has more flights each day to choose from, so their offerings could suit your schedule better. Of their five daily flights, three are in the morning, one around lunch time, and one in the evening, but be aware that morning flights – at a more sociable time – are usually the most expensive. To save yourself some money, try to book your flight as far in advance as possible, avoid the expensive morning flight, and maybe be a little flexible on your day of travel as around weekends will usually be most expensive.
Townsville Airport is quick and easy to reach from the city itself, lying just a few miles outside of the center, and there are public buses that you can use to travel there. Cairns Airport is also pretty close to the center of the city, and it too is served by buses and taxis. Check with your hotel in cairns as to whether they offer an airport shuttle, as several of them do.
Townsville to Cairns by Bus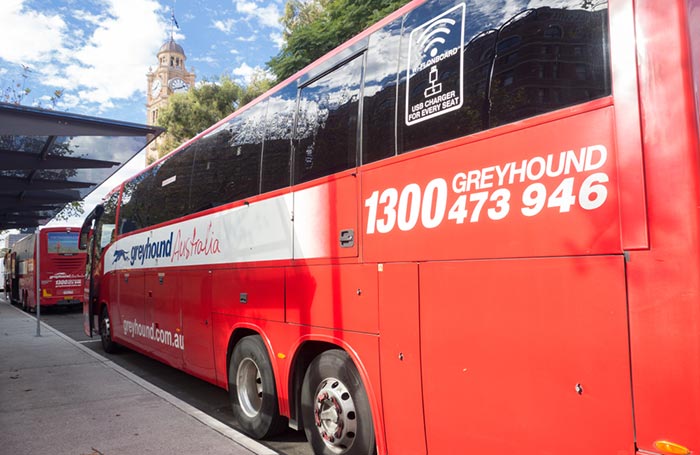 Going by bus from Townsville to Cairns is sure to save you money over the cost of a flight, but unlike in some countries, traveling by bus in Australia isn't especially cheap. The market is mostly dominated by Greyhound Australia who operate modern and fairly comfortable buses with air conditioning, but not much else. The buses are safe and reliable though, and there are always a number of departures from Townsville to Cairns every day, with differing arrival points available in the Cairns area. Depending on where you get off the bus, you're looking at a journey time of between 4 hours and 45 minutes, to 5 hours and 35 minutes.
One of the biggest advantages over going by bus compared to flying, is the amazing scenery you're going to see along the way. The bus will travel along the Bruce Highway, going through smaller towns and past several national parks.
Buses and flights from Townsville to Cairns can be booked online on the travel website 12Go.asia, so you can search for and book your tickets all in one place. It's easy to make a comparison between flying and traveling by bus, and check schedules as well as passenger reviews.
Townsville to Cairns by Train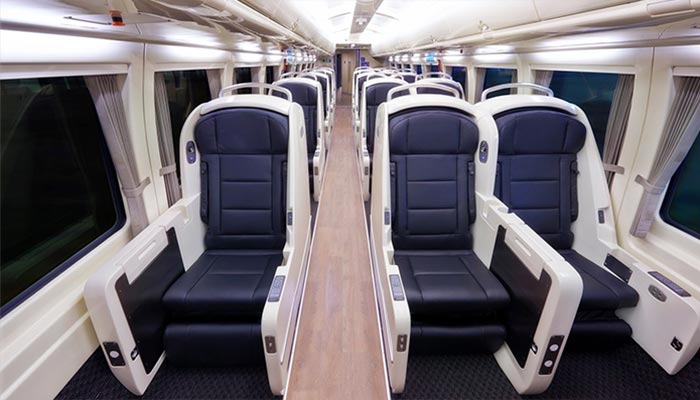 At certain times of the year, you can also book the train from Townsville to Cairns on 12Go, or directly with QueenslandRail. Timetables may change, but at the time of writing, you can travel by train from Townsville to Cairns on Tuesday, Wednesday, Thursday, Saturday and Sunday, with a departure from Townsville at 9:53am, arriving in Cairns at 4:30pm. This means that traveling by train takes several hours longer than even the bus does, so it's by no means a faster option, but for anyone who likes to be able to get up and walk around while traveling – something you cannot safely do on a bus – traveling by train has its advantages.
You could argue that trains are more comfortable anyway, and, like the buses, they allow you to see plenty of passing scenery. There are a couple of different ticket options to consider, both Economy. The B Quick Fare are advanced purchase value fares that have limited availability, while the A Choice Fare tickets are sold at standard full price, so the B Quick will give you the better deal on price. Both can be booked online, but QueenslandRail say that advance booking is not necessary. We would always recommend getting your tickets in advance, just in case, and because it can often save you money over buying and traveling on the same day.
With three good options to travel from Townsville to Cairns, the cost of the tickets is probably going to influence your decision on how to get there. Opt for speed and catch a flight, but it will cost you a lot more than the other options. Trains and buses can be quite comparable on the cost, but trains take longer.
How useful was this post?
Click on a star to rate it!
Average rating / 5. Vote count: