Modern, busy, loud, colorful, and fun are just five adjectives we could use to describe Osaka; the second largest metropolitan area in Japan (after Tokyo) and one of the largest in the world. This port city is thoroughly modern in its architecture, with Osaka Castle providing some historical interest, while attractions like Universal Studios, Osaka Aquarium, and the open-air viewing deck on the Umeda Sky Building, coupled with great street food, shopping, museums, parks and temples continue to attract tourists in their droves.
Meanwhile, to the north-east of Osaka, the city of Nagoya offers a similar atmosphere – large and modern, Nagoya features many museums as well as the partly reconstructed Nagoya Castle. You'll find modern architecture and attractions here too, such as the famous Nagoya TV Tower, Legoland, and shopping malls, and with parks, a zoo, botanical gardens and more, Nagoya includes a great amount of natural beauty too.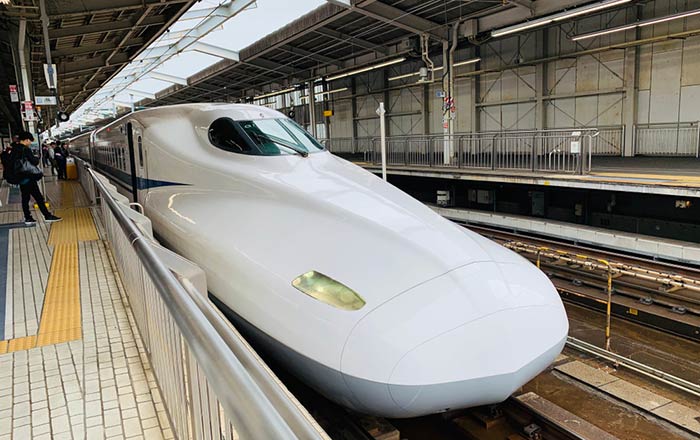 Options for Travel from Osaka to Nagoya
It's quite quick and easy to get from Osaka to Nagoya because both cities are located on the Japanese island of Honshu, and they are relatively close together. In a straight line, it's only about 140 kilometers (87.5 miles) between the two, but this distance is added to when traveling by road or rail, the two main ways to make this trip. Taking the famous Shinkansen (Bullet) train in Japan is always the quickest way to travel, although it is expensive when compared to the alternative of going by bus. There are ample buses traveling from Osaka to Nagoya, which, by road is a distance of about 180 kilometers (112.5 miles).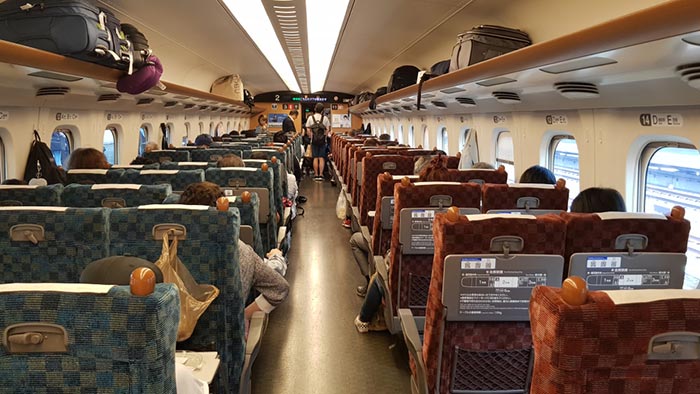 Whether this is your first time visiting Japan, or your tenth, traveling on the famous Shinkansen Bullet Train is an experience not to be missed when you're exploring this beautiful country. Obviously the main idea behind the bullet train is that it's fast, getting you from Osaka to Nagoya in about 50 minutes which is very impressive considering the distance it needs to cover in that time. As the scenery rushes past you it can be a little difficult to sightsee when you're traveling at such high speeds, but people travel on Japan's railways because they are fast, efficient and mind-blowingly reliable, allows traveling to their schedules. Because of this, Shinkansen trains in Japan can always be relied upon to get you where you need to go, on time!
Because the trains from Osaka to Nagoya are so good, they do cost more than the alternatives, but you're paying for such a fast and efficient service. Single journeys on the Shinkansen can add up quickly, if you're buying tickets each time you travel. This is why buying a Japan Railway Pass is a very good idea because it allows you to take multiple journeys and can save you a lot of money over buying individual tickets. You can purchase both options online from 12Go.asia, where you can make an easy comparison between the cost of just getting the train from Osaka to Nagoya, as opposed to buying a multi-day pass, and then decide if it's worth it for you, depending on how many trips you might be taking. Just be sure to check which trains you can travel on, as usually the fastest Bullet Trains are not included in the pass. Read our Travel by Train in Japan guide, to find out more!
If you do travel by train from Osaka to Nagoya, you'll have plenty of choice. There are usually 16 trains per day traveling this route, so you can choose a time of day to travel that fits in with any existing plans you have. As we said earlier, Shinkansen trains are so reliable that you could set your watch by them, so this makes it easy to know exactly when you will be arriving in Nagoya! The train takes just 50 minutes to go from the Shin-Osaka Station to Nagoya Station, which, incidentally, is the largest train station in the world!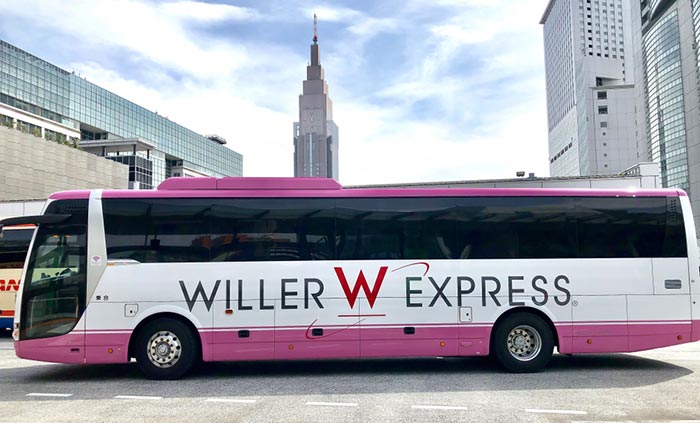 When you're traveling around Japan on a budget, or you have time to spare and aren't in a rush to get from Osaka to Nagoya, traveling by bus can be a great alternative to the train. Public transport in Japan is not as cheap as it is in some Asian countries, so if you're used to very affordable bus transport that you might have experienced in Thailand or neighboring countries, be prepared to spend more on the bus from Osaka to Nagoya. Having said this, it's still a lot cheaper than taking the train, and the service is very good. The buses are new, safely maintained, clean and comfortable, but taking the bus will be a considerably longer journey than it would going by train.
There are a few different bus companies you can travel with. Willer Express has the most buses operating from Osaka to Nagoya, with multiple departures every day. They have two departure points in Osaka: Umeda Shin and Namba Tennoji, so you can choose which one is best for you, depending on where you've bene staying in Osaka. The schedule times given by Willer Express have quite a lot of variation in them, with some buses from Osaka to Nagoya taking just 3 hours and 5 minutes, while others can take as long as 6 hours and 25 minutes. It does depend on where you leave from though – Namba Tennoji buses tend to take longer, but again, there is a lot of variation.
Check ticket prices and schedules, and then make your booking, online with 12Go, where you can then compare and decide which bus suits you best. You can also book tickets with an alternative bus company, Syoei Bus, but they have far fewer departures to choose from.
So, when you're traveling around Japan, taking the Shinkansen can be a great idea and it can be relatively affordable if you're traveling to multiple places and buy a Japan Rail Pass. As a single journey the Bullet Train is expensive compared to the bus though, but for getting you from Osaka to Nagoya in the fastest possible time, the train is definitely the way to go!
How useful was this post?
Click on a star to rate it!
Average rating / 5. Vote count: