Situated in central Vietnam, and once the capital of the Nguyen Dynasty, the city of Hue is best known today for its massive 19th century citadel with the Imperial City and Forbidden Purple City contained within its strong stone walls. Listed as a UNESCO World Heritage Site, Hue has plenty of impressive things to see. And when you're done with the sights in Hue, travel a little to the south along Vietnam's coast, to the city of Hoi An. Also a World Heritage Site, Hoi An is impressive too with its old town and covered Japanese Bridge along with grand architecture that represents its time as an important port. The journey from Hue to Hoi An can be extremely scenic, depending on which way you travel, but read on to learn more!
Read about:
• From Hue to Hoi An by Train and Bus
• From Hue to Hoi An by Bus
• From Hue to Hoi An by Taxi
Options for Travel from Hue to Hoi An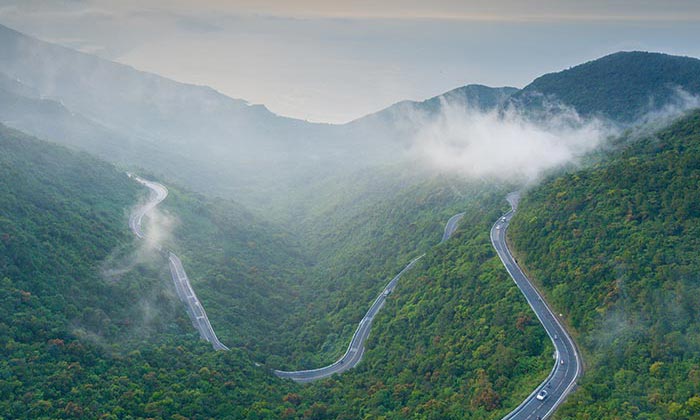 The distance between Hue and Hoi An is just 122 kilometers (76 miles) by road, but don't let this short distance fool you. Traveling by road in Vietnam can take time as often the roads are not in the best condition, however, the route from Hue to Hoi An has been drastically improved in recent years as there's now a tunnel through the mountain which cuts out the very winding road through Hai Van Pass. This has made most journeys faster than they would previously have been. More on the Hai Van Pass below. Anyway, your options for travel from Hue to Hoi An will be restricted to some road transportation as there are no trains that cover the entire distance, only partway, and, even if there was an airport at each city, it would be too close to fly!
From Hue to Hoi An by Train and Bus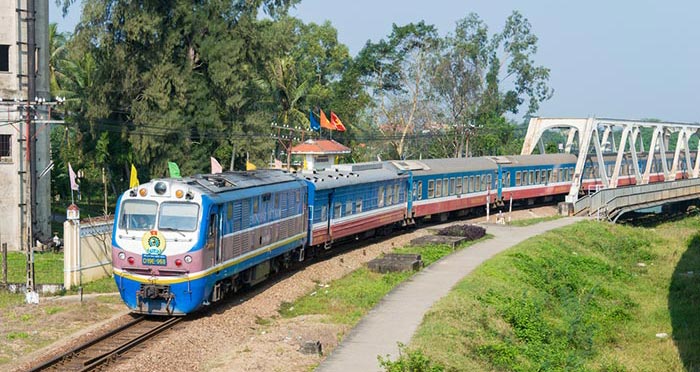 To be honest, it doesn't make too much sense to travel from Hue to Hoi An by train and bus. If you could travel the entire distance to Hoi An on the train then this would be a feasible, and very good option, but from Da Nang, the railway line cuts inland and avoids going to Hoi An, hence the need to get on a bus from Da Nang. Having said this, if you're not pushed for time and want a different experience, you may enjoy taking the train and bus.
When you board the train in Hue, you will be following the main road for the first section of your trip, so it's not going to be much different than getting the bus all the way, however, after a while the tracks do diverge from the road and you'll be treated to some different scenery. The railway meanders out towards the coast on the east side of the Marble Mountain providing you with some fabulous coastal scenery that you wouldn't get to see on an express bus service.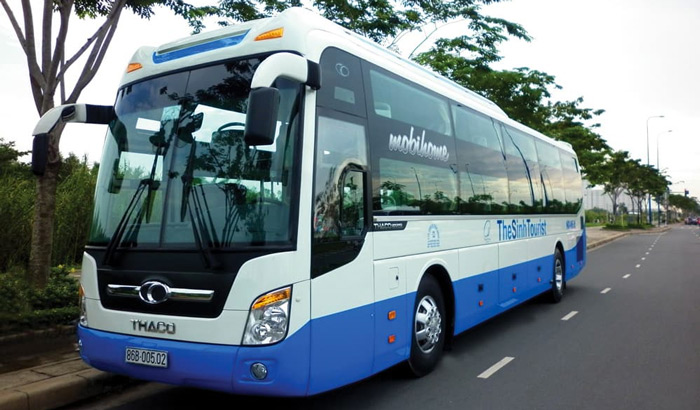 The scenery could arguably make this a worthwhile journey by train from Hue to Hoi An, but it is time consuming. It takes 2.5 to 3 hours just to get to Da Nang, and then in Da Nang you'll have to transfer onto a bus which takes a further 1.5 hours to get you to Hoi An.
By Bus from Hue to Hoi An
You may decide it's just easier to get a bus the entire way from Hue to Hoi An. Admittedly, you won't have to make any changes, and traveling by bus all the way is the cheapest way to get from Hue to Hoi An so it's great if you're traveling on a budget.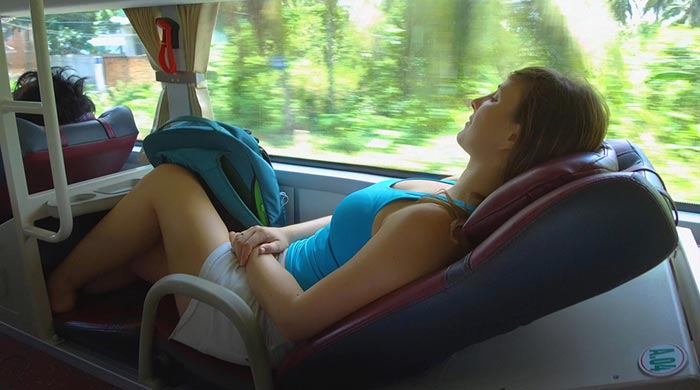 Book your tickets with 12Go.asia and you'll get several different bus company options along with several different bus types. The standard buses have been described as a little cramped for taller Westerners, so if you want the extra legroom then it would be better to book a ticket on a Semi Sleeper as you get reclined seats that allow plenty more legroom over standard seats, and for just a couple of dollars more. These types of seats are available with The Sinh Tourist, a well known and respected bus company, booking through 12Go, or you can also book standard seats Hanh Café, or opt for the smaller buses operated by Hue Tourist.
When booking your tickets you might like to first check which route the bus will take. As we mentioned at the beginning of this guide, the main road from Hue to Hoi An originally crossed the mountains on the Hai Van Pass. Today, the mountain road is still accessible and it's a popular tourist route. Some buses will just go straight through the tunnel, avoiding the pass, and will get to Hoi An faster, while others actually give you a tour, stopping in a few different places so you have a chance to get off the bus and take photos. The journey by bus from Hue to Hoi An should take between 4 and 5 hours, depending on the company.
From Hue to Hoi An by Taxi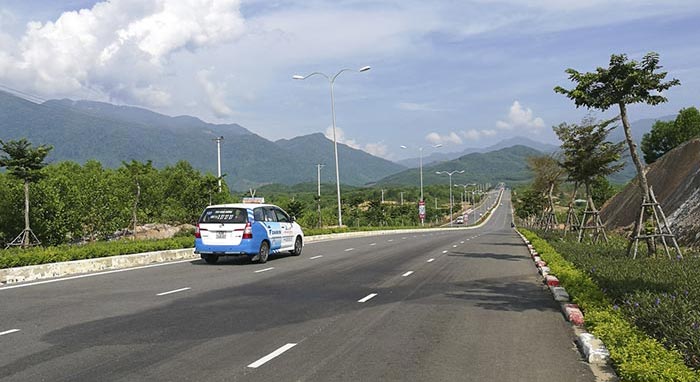 Although it is a lot more expensive, there are plenty of tourists who decide that this journey from Hue to Hoi An is a good time to splash out on a taxi. The private taxi services can be booked through 12Go as well, so you can easily book, hassle free if that's a concern for you. The great thing with the taxi is that it can run entirely to your own schedule, including when and where you are picked up, which route you take (whether it's the tunnel or the Hai Van Pass), and you can ask the driver to stop whenever you want to. This makes it a great option for anybody who really wants to take their time and enjoy the scenery.
As you would probably expect, there are several different vehicle types you can book including standard size cars and minivans that hold four passengers. For a family, this could be a good option, and when you divide the cost between four people it brings the price down to a reasonably level per person. Without many stops, you would expect the taxi to take between 2 and 3 hours.
Getting from Hue to Hoi An doesn't seem like a long way, but all transportation options are going to eat into your day, whichever one you choose. The fastest and most expensive is a private taxi. Buses are the cheapest way to travel and can be good for sightseeing, while trains and buses take a long time but give you a different view.
How useful was this post?
Click on a star to rate it!
Average rating / 5. Vote count: