The largest city in Vietnam is also the country's most visited. Ho Chi Minh City is still commonly known by its former name of Saigon and is home to over 8.6 million people. This bustling city pulsates with energy 24 hours a day and offers great opportunities to experience the culture and history of Vietnam. Famous for its French colonial architecture, vibrant markets and street food stalls, and for its role in the Vietnam War, Ho Chi Minh is a must-visit! And when you're done here, head north-east to the smaller city of Da Nang. It too has a French colonial feel, and its coastal location means there are some lovely sandy beaches to spend time relaxing on. Da Nang is also surrounded in beautiful scenery including the Marble Mountains where you'll find secret pagodas and caves.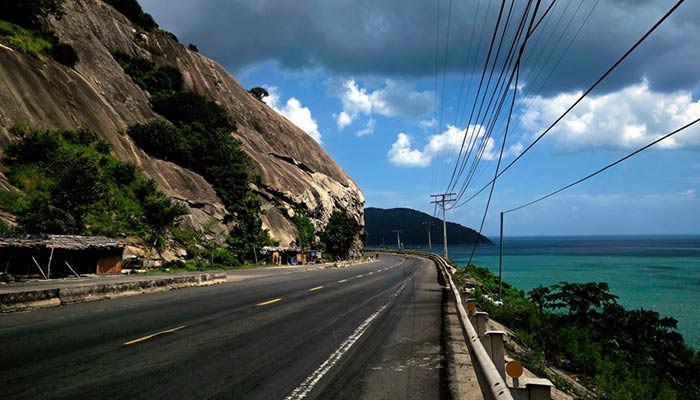 Options for Travel from Ho Chi Minh to Da Nang
The route between Ho Chi Minh to Da Nang is a popular one so there are always numerous different options for traveling between these two cities. You're bound to bump into many fellow tourists along the way, and, depending on how you travel, you'll be rubbing shoulders with plenty of the locals as well! If you travel from Ho Chi Minh to Da Nang by road there are two major routes you could take – the inland route is the shortest in distance but can take a little longer, and while the coastal route adds some miles to your journey it is usually faster. The distance is between 850 and 965 kilometers (530 to 600 miles) by road, while flying – as it's a more direct route – will cover less distance and get you to Da Nang much faster. Funnily enough, flying from Ho Chi Minh to Da Nang is an affordable way to travel, but you can save more money if you go by bus, while trains vary in cost depending on the class of travel.
Train from Ho Chi Minh to Da Nang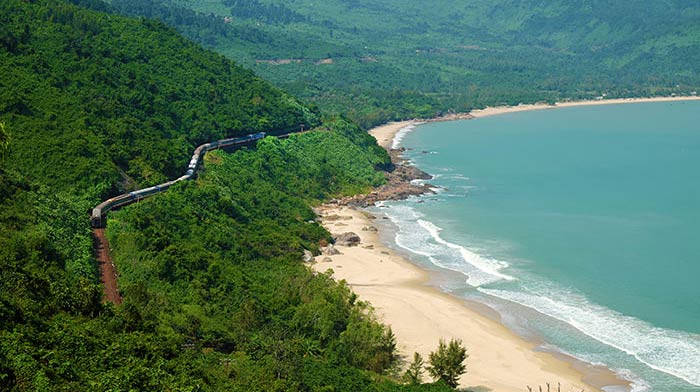 Vietnam Railways operates the train services across Vietnam so you can always be sure of fair pricing and consistent service standards across the various routes. Ho Chi Minh to Da Nang is one of the most popular routes so there are frequent trains traversing the countryside and, at times, hugging the coast to give passengers wonderful views of the passing scenery. If you're not in a hurry to get to Da Nang we would highly recommend traveling by train because you get to enjoy that passing scenery but you also get to experience more of the Vietnamese people and their culture.
There are six trains from Ho Chi Minh to Da Nang each day, and depending on which one you go by, the journey will take somewhere between 16 hours and 17.5 hours. If you leave Ho Chi Minh early morning on the 6am train, you should arrive into Da Nang around 11pm. The advantage of this train is that you're traveling through the day so you will have plenty of time to look at the scenery through the window. Trains also depart at 9am, 11:50am, 2:40pm, 7:55pm, and 9:55pm, but be aware that if you opt for the 9am departure, you will arrive in Da Nang at 2:23 the next morning, which isn't a very good time!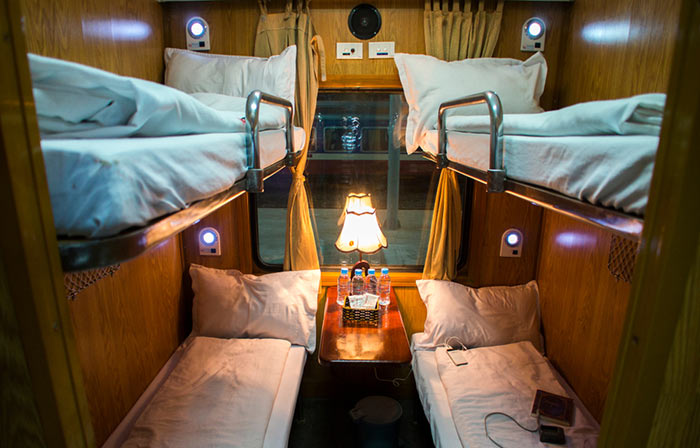 You have three ticket options on the train from Ho Chi Minh to Da Nang – 2nd class seats, 2nd class sleepers, and 1st class sleepers. We would recommend sleepers even if you're traveling through the day as they are more comfortable and spacious than 2nd class seats, however, seats are best if you're trying to stick to a tight budget.
From Ho Chi Minh to Da Nang by Flight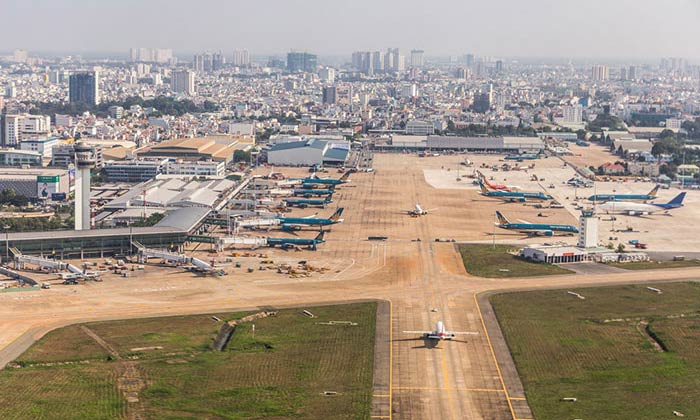 Going by train is perfect if you have the time to spare as it really is a lovely journey, but when you need to get to Da Nang much faster, flying is your best option. VietJet Air, Jetstar Pacific and Vietnam Airlines all offer regular flights from Ho Chi Minh to Da Nang, and with a flying time of only 1 hour and 20 minutes, you can leave Ho Chi Minh in the morning and be in Da Nang in time for lunch!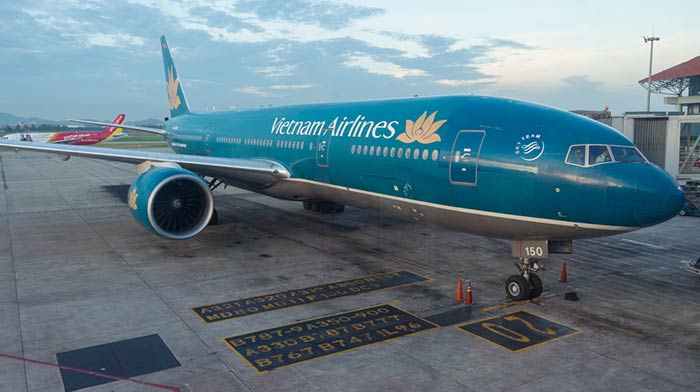 Prices vary across the three airlines with VietJet Air usually being the cheapest, followed by Jetstar Pacific. If you choose to travel with Vietnam Airlines, expect to pay a premium as their tickets are quite a lot more expensive but they do include 20kg of luggage allowance while the other two airlines do not. There are departures throughout the day, starting as early as 5:35am and going as late as 10:05pm. Prices vary depending on the time of day you leave Ho Chi Minh. If it's early morning or later in the evening, you'll usually save money, and if you want to save more, be sure to book as far in advance as you can and look for cheaper prices on certain days of the week. Book your tickets through 12Go and you can easily see all of the flight options and prices across the three airlines and you'll be able to compare prices against the cost of the train and the bus as well. All three modes of transport from Ho Chi Minh to Da Nang can be booked with no hassle at all through 12Go.
Bus from Ho Chi Minh to Da Nang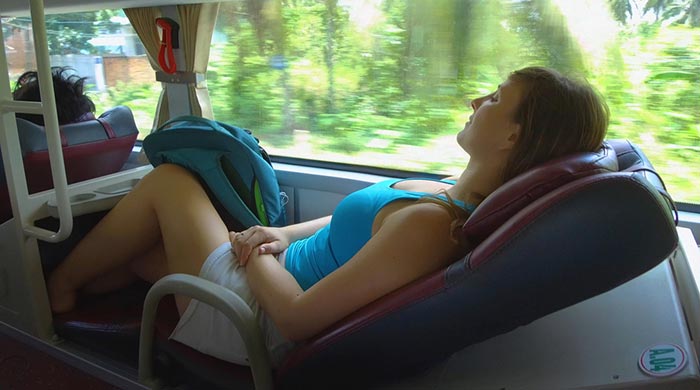 Traveling by bus on such a long journey can be uncomfortable and a little claustrophobic, so if you don't like being confined then we'd suggest taking the train or flying. That being said, the bus company Hoang Long do operate sleeper style buses that allow you to stretch out your legs and recline rather than being stuck just on a standard bus.
If you're looking to save money, traveling by bus from Ho Chi Minh to Da Nang is the cheapest way to travel, but for just a little more you could get a 2nd class seat on a train instead, or pay out a few more dollars on top of that and you could be flying there!
Going by bus from Ho Chi Minh to Da Nang takes around 20 hours, so this is also the slowest way to go, and buses are quite well equipped with washroom, TVs, a steward, air conditioning, and snacks, plus you'll get several stops along the way where you can get off the bus and stretch your legs.
With all modes of travel from Ho Chi Minh to Da Nang being reasonably priced you may find it difficult to make a decision! Our recommendation would be to take the train if you have the time to spare, but if you only have a few days, catch a flight and get to Da Nang much faster!
How useful was this post?
Click on a star to rate it!
Average rating / 5. Vote count: